Your Exclusive Look At Olivia Rodrigo's New Short Film Write Your Heart Out
In Vevo's short film, the Sour artist opens up about penning her No. 1 album and growing up.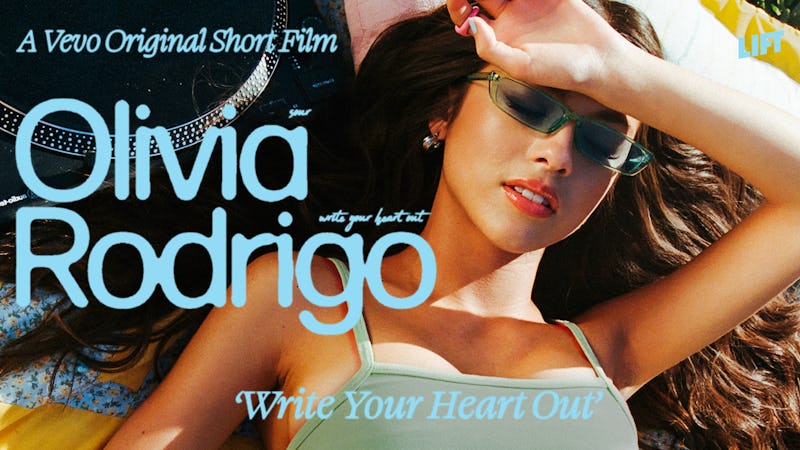 Olivia Rodrigo/Vevo
Thanks to the success of her breakout hit "drivers license," two successful follow-up singles, and her unapologetic debut album Sour, Olivia Rodrigo has been lifted to superstardom. Rodrigo is Vevo's first LIFT artist of 2021, meaning she's collaborating with the music video platform on exclusive performances and insightful behind-the-scenes videos. Bustle has your exclusive look at a new short film — "Write Your Heart Out" — that reveals how she truly felt while creating her chart-topping Sour, which just hit the top spot on the Billboard 200 albums chart, earning the highest sales week of 2021 for any artist or act so far.
"I spend a lot of time by myself. I come up with my best ideas when I'm truly alone, and I think that's sort of why I fell in love with songwriting," says the 18-year-old star of High School Musical: The Musical: The Series in the captivating new film, explaining how penning lyrics helps her navigate life. "I've always been super emotional, I've always felt things really deeply. So writing has really been a way for me to process those emotions and make them a little less confusing. Things become so much clearer when you write them down."
This especially was the case for the widely speculated events that inspired Sour, an angsty, fiery breakup album. She won't say who she wrote about (most fans believe it's her HSMTMTS co-star Joshua Bassett), but rest assured, writing helped her get over whatever may have happened: "I really used it as a way to process so many uncomfortable emotions, and so many emotions that aren't really publicly fun or acceptable to express — jealousy and anger and spite."
Now, the creation process has made her more confident in her words and less susceptible to criticism, particularly the speculation surrounding her No. 1 hits "drivers license" and "good 4 u."
"Making music has taught me how to have confidence in my point of view and my choices," she says. "I'm never gonna sacrifice writing truthful, authentic, personal songs for fear of what a couple people on the internet are going to say."
Vevo's LIFT shines a light on young artists that are actually about to blow up, with Rodrigo joining the likes of alums Billie Eilish, SZA, and Doja Cat. Yes, their track record is very good, and if those trajectories are any indication, Rodrigo is only going up from here, professionally and mentally.
"I'm so not the girl that I was when I wrote Sour," she admits. "I remember writing it being so sad and so insecure. I have moments all the time where I just remember where I was and how I was feeling, and I'm just so far from that now and so proud of that." The short film, above, reveals how Rodrigo got to that healing place, while the "favorite crime" video, below, shows off her vocals.