Pauly Shore Reacts To Encino Man Oscars Joke After Brendan Fraser & Ke Huy Quan Win
The three actors appeared together in the 1992 cult classic.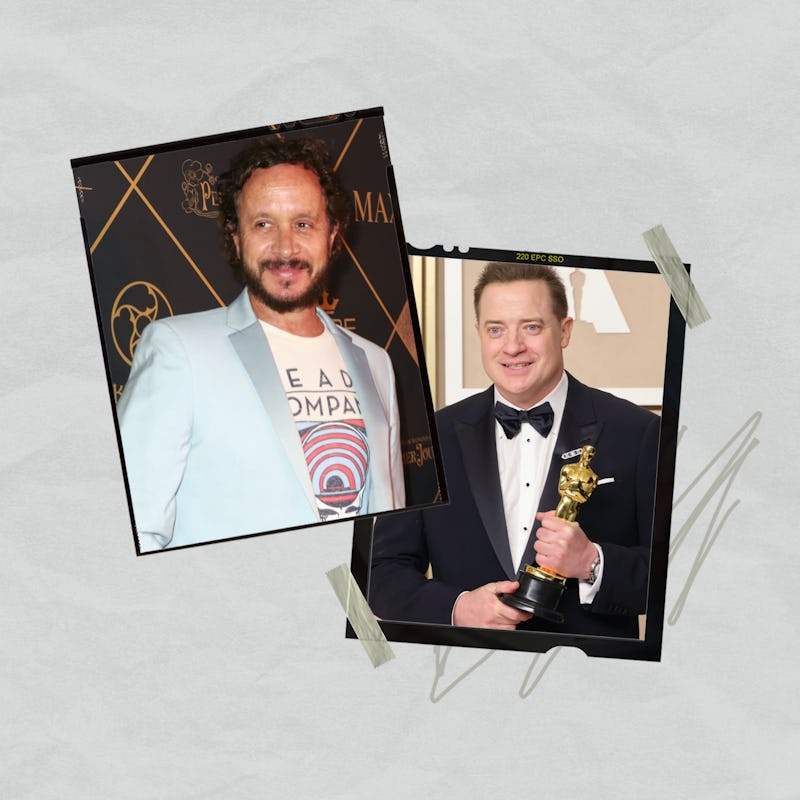 Tasia Wells/Getty Images Entertainment/Getty Images & Rodin Eckenroth/Getty Images Entertainment/Getty Images
More than 30 years after Encino Man came out, co-stars Brendan Fraser and Ke Huy Quan won major acting awards at the 2023 Oscars for other roles. Even Pauly Shore, who starred in the 1992 movie with them, got a shoutout during the March 12 ceremony. In Jimmy Kimmel's opening monologue, the host mentioned the cult classic and hurled a joke at Shore. "Two actors from Encino Man are nominated for Oscars," Kimmel said. "What an incredible night it must be for the two of you, and what a very difficult night for Pauly Shore. Maybe it's time to reboot Bio-Dome."
After the Oscars, Shore had contrasting feelings about the joke. On Twitter, Shore tweeted, "I don't know if you guys saw the @TheAcademy Awards ... but @jimmykimmel poked fun at me in the monologue. I loved it." However, Shore then told Page Six on March 14 that he felt otherwise. "We love to hate people when they're on top. People wanted to smash me down and they did. I was always nice to everyone, always cool, I put my heart into all my films," he said. "You're buying and selling a human being. Human beings have feelings, it's not like selling real estate."
The 55-year-old actor also celebrated his Encino Man co-stars' major wins in his tweet. "But what I REALLY loved is that my old buddies from back in the day, Brendan Fraser and Ke Huy Quan, took home the Oscars! Never quit on your dreams." Fraser won Best Actor for The Whale, while Quan won Best Supporting Actor for Everything Everywhere All At Once.
Encino Man starred Shore and Fraser, the latter portraying a caveman who came back to life and tries to adapt to life in the '90s. Quan had a supporting role as a fellow high school student.
Despite the jokes, Shore is thrilled for Quan, 51, and Fraser, 54. "It's a big deal, I'm happy for these guys," he said. "We did a movie together years ago, and I'm glad that people still talk about it 30 years later. It's crazy."
Shore previously praised them on Good Morning America the day of the Oscars. "I'm very excited for my two co-stars from Encino Man," he said. "It's quite remarkable, it's an insane story. These guys — what a comeback. It's almost like they were Encino Men and they dethawed them, and they're coming back to life."