Peloton Removes Its Chris Noth SATC Ad Amid Sexual Assault Allegations
"Every single sexual assault accusation must be taken seriously," a company spokesperson said.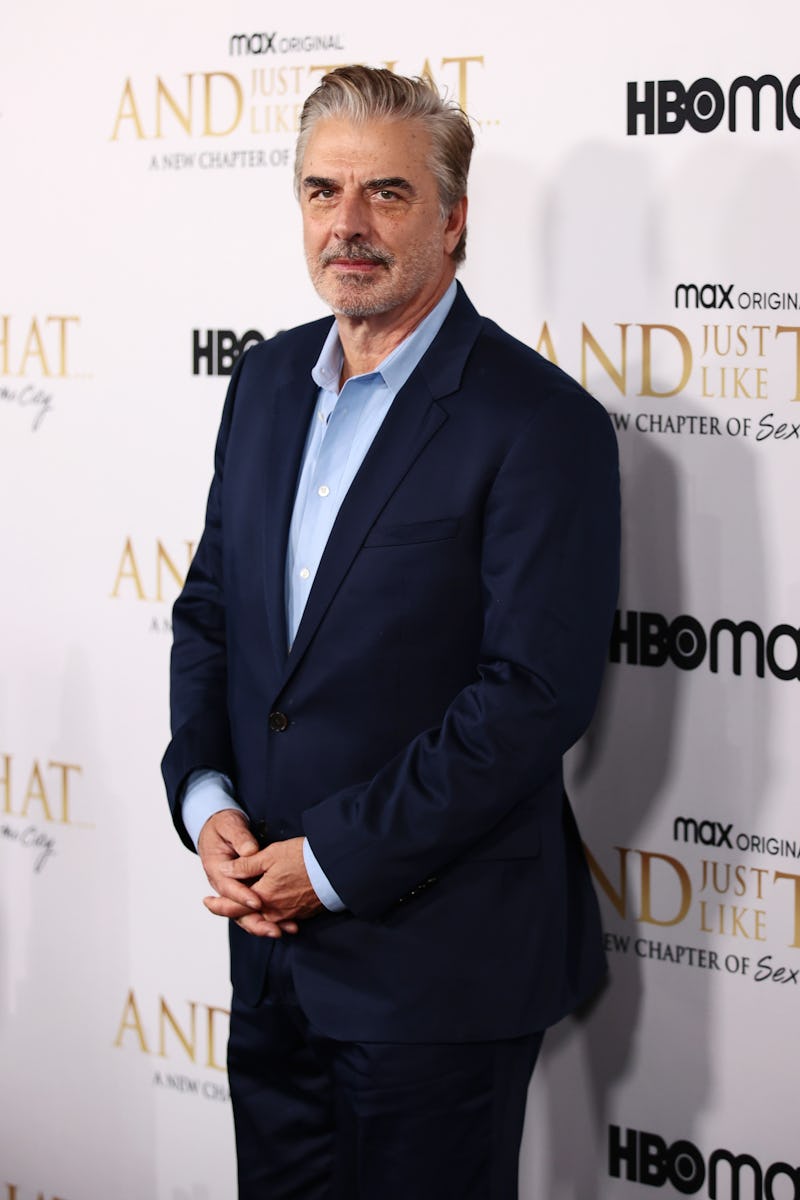 Dimitrios Kambouris/Getty Images Entertainment/Getty Images
Trigger warning: This article contains descriptions of sexual assault that may be disturbing to some readers.
After Peloton gave a defensive PR statement following, HBO's controversial use of one of its bikes in the first episode of And Just Like That..., the exercise company promptly recruited Mr. Big (Chris Noth) himself for a new commercial released Dec. 12. But that ad was short-lived. On Thursday, Dec. 16, just a few days after its release, two women came forward via The Hollywood Reporter to accuse Noth of sexual assault. Calling the accusations "categorically false," Noth denied the report via a statement to THR. "These stories could've been from 30 years ago or 30 days ago — no always means no — that is a line I did not cross," he stated. In response to the allegations, Peloton immediately removed the ad from its social media accounts.
Here's everything to know about the Peloton And Just Like That... story arc, the sexual assault allegations against Noth, and Peloton's response:
Big's And Just Like That... Death
In case you haven't seen the Dec. 9 premiere episodes of the Sex and the City spinoff, the new series saw Mr. Big shockingly die of a heart attack following his 1,000th Peloton ride. Carrie Bradshaw (Sarah Jessica Parker) began her grieving process onscreen, the company's stock began to drop, and Peloton went into full damage-control mode.
Preventative cardiologist and Peloton health and wellness advisory council member Dr. Suzanne Steinbaum addressed concerned riders as well as dedicated viewers of the HBO show in a statement issued to the Los Angeles Times. "I'm sure SATC fans, like me, are saddened by the news that Mr. Big dies of a heart attack," she said on Dec. 10. "Mr. Big lived what many would call an extravagant lifestyle — including cocktails, cigars, and big steaks — and was at serious risk as he had a previous cardiac event in Season 6. These lifestyle choices and perhaps even his family history, which often is a significant factor, were the likely cause of his death. Riding his Peloton Bike may have even helped delay his cardiac event."
However, viewers couldn't help but wonder if Peloton knew about the plot twist ahead of time, especially since King works for the company and appeared in the episode. In a statement delivered to BuzzFeed News, spokesperson Denise Kelly said Peloton approved King's appearance but didn't know the storyline details. "HBO procured the Peloton Bike on their own. Peloton was aware that a Bike would be used in the episode and that [King] would be portraying a fictional Peloton instructor," she told the publication. "Due to confidentiality reasons, HBO did not disclose the larger context surrounding the scene to Peloton in advance."
Peloton's Big And Jess King Commercial
Then, as Bustle predicted, known Peloton spoofer and fast advertising mogul Ryan Reynolds stepped in with his MNTN marketing team to produce an ad featuring Big and real-life instructor Jess King. (Reynolds and his MNTN marketing team notably made last year's viral Aviation gin advertisement starring the Peloton Wife.)
The clip, released Dec. 12, finds Noth and King toasting to "new beginnings" before he proposes taking another bike ride, as "life's too short not to." It seems as though the commercial is suggesting Big faked his death to begin a relationship with King, though it's unclear if they're playing characters or themselves in the ad. Then, the camera zooms out to show two Peloton bikes next to each other as Reynolds says in a voice-over: "And just like that, the world was reminded that regular cycling stimulates and improves your heart, lungs, and circulation, reducing your risk of cardiovascular diseases. Cycling strengthens your heart muscles, lowers resting pulse, and reduces blood fat levels. He's alive."
After confusing And Just Like That... fans with the video, Peloton's social media team figured a good next step was to casually shame its followers to exercise. "If we can put that spot together in 48 hours, you can do your workout today," wrote the company in a tweet, which King also posted to her Instagram account. Touché, but also, was all that really necessary?
Sexual Assault Allegations Against Chris Noth
Days later, THR released a detailed article recounting stories of two women — both under pseudonyms to protect their identities — who came forward separately about their alleged assaults. Citing that they were triggered by Noth's And Just Like That... comeback, Zoe, now 40, and Lily, now 31, claimed they were sexually assaulted by Noth in 2004 and 2015 in his Los Angeles and New York homes, respectively.
According to Zoe's account of the alleged 2004 attack, Noth was a client at the business where she used to work and had somehow obtained her number and sent flirtatious messages. She then claimed he invited her to join him at a rooftop pool in West Hollywood and that she and a friend agreed to go. She proceed to recount that she returned a book he had left behind to his apartment in the building, which is when the reported attack occurred. After they shared a kiss, Noth allegedly "pulled her toward him, moved her toward the bed, pulled off her shorts and bikini bottom, and began to rape her from behind." She also mentioned that she was facing a mirror at the time of the attack.
Similarly, Lily's account began with a date. Noth, who was already married to actor Tara Wilson at the time, allegedly asked her out and took her to his apartment after. She said, "He tried to make out with me. I cautiously entertained it," before claiming, "He kept trying and trying and trying, and I should have said no more firmly and left. And then the next thing I knew, he pulled down his pants and he was standing in front of me." She shared even more details — including him thrusting his genitalia into her mouth, that "he was having sex with me from the back in a chair," and that it happened in front of a mirror.
Noth gave an official statement to THR in response to the allegations. It read:
"The accusations against me made by individuals I met years, even decades, ago are categorically false. These stories could've been from 30 years ago or 30 days ago — no always means no — that is a line I did not cross. The encounters were consensual. It's difficult not to question the timing of these stories coming out. I don't know for certain why they are surfacing now, but I do know this: I did not assault these women."
Peloton's Response To The Chris Noth Allegations
Following the reports, Peloton promptly removed the ad from its Twitter, Instagram, and YouTube pages on the same day. Peloton's tweet about putting up the commercial in 48 hours has also since been deleted. Even Reynolds, who shared the commercial on his Twitter, deleted the post. And King's Instagram was scrubbed of And Just Like That... references.
Speaking to THR on Thursday, Dec. 16, a Peloton spokesperson responded, "Every single sexual assault accusation must be taken seriously. We were unaware of these allegations when we featured Chris Noth in our response to HBO's reboot. As we seek to learn more, we have stopped promoting this video and archived related social posts."
If you or someone you know has been sexually assaulted, call the National Sexual Assault Telephone Hotline at 800-656-HOPE (4673) or visit online.rainn.org.
This article was originally published on