13 Songs Not On Taylor Swift's Eras Tour Setlist She Should Add As "Secret Songs"
From "Long Live" to "Dear Reader," these fan-favorite tracks would be perfect additions.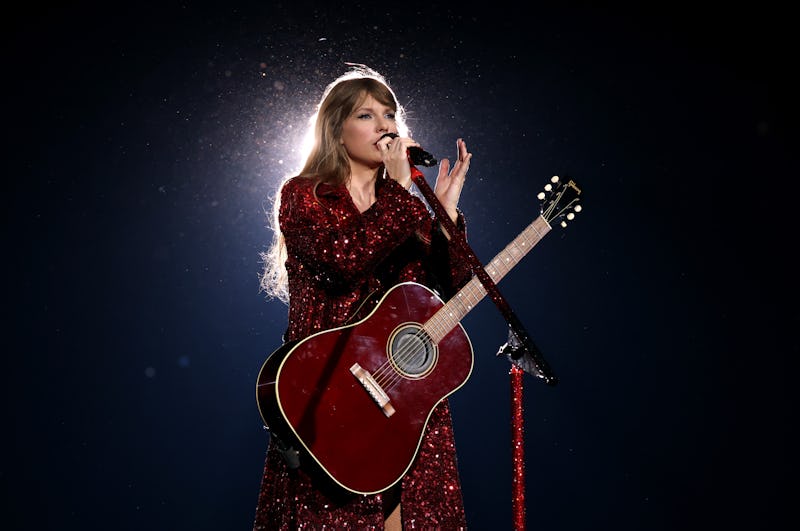 John Shearer/Getty Images Entertainment/Getty Images
Taylor Swift assembled a jaw-dropping 44-song setlist for her Eras Tour, but it's still impossible for her to include everyone's favorite songs and please all Swifties (especially Speak Now fans). Luckily, the 12-time Grammy winner has a partial solution that may satisfy fans while making all Eras Tour dates unique. At every show, Swift will choose two tracks from her catalog that aren't already on the setlist and perform them acoustically, one on her guitar and one at the piano.
For the "secret songs" at her first show on March 17, Swift picked folklore track "mirrorball" and a piano version of her debut single "Tim McGraw," making it the only song from her self-titled debut album on the setlist. The following night, she played folklore cut "this is me trying" and Red track "State of Grace" on the piano. Swift said her goal is to never repeat these acoustic secret songs throughout the tour — but she reserves the right to play any song again if "I mess it up so badly that I have to do it over again in some other city," as she told the opening night audience.
Since Swift will have tough decisions to make every night on the Eras Tour, we're generously helping her out by providing a list of 13 songs across most of her eras that she should absolutely perform at some point during the tour (specifically at my shows on April 1 and May 26). From long-forgotten Speak Now cuts to new songs from the "3 a.m. edition" of Midnights, Swift would get closer to making all Swifties even happier by performing these tracks even just once.
"Cornelia Street"
Before Lover Fest had to be canceled, Swift performed "Cornelia Street" acoustically at her special City of Lover concert in Paris in September, and it was glorious. Swifties still talk about her soaring vocals in this rendition that's never been repeated, and the Eras Tour is the perfect place to do so.
"peace"
As one of the deepest and most revealing songs on folklore, an album full of fictional storytelling, it's understandable that Swift left "Peace" off the setlist. But it still deserves its moment in the spotlight, and there's no better place than on the catwalk with just Swift and her guitar.
"Dear John"
Swift only includes one Speak Now song on the regular setlist (granted, it's the best one), so she needs to make up for that by playing other cuts as secret songs. She should start with "Dear John," a ballad so heartbreaking that it invented her "Track 5" concept even before "All Too Well."
"Treacherous"
"Treacherous" is a Red deep cut that tends to get overshadowed by other fan-favorites ("All Too Well"), but it's just as pivotal to the album, representing her knowingly falling down the path of heartbreak. Thankfully, all Swift needs is her guitar to give it the justice it deserves.
"Death By a Thousand Cuts"
Just like "Cruel Summer," this song's bridge was tailor-made for a crowd to scream loudly at the Eras Tour. But since Swift didn't include it in the Lover act, an acoustic rendition will have to do.
"happiness"
Swift performing this underrated evermore deep cut would give Swifties great ... happiness.
"seven"
Technically, this track wasn't entirely left out of the Eras Tour. Swift is heard reciting lyrics from "seven" as a spoken word poem during the introduction of the folklore act, but it doesn't receive the full-on live performance it deserves, which is why it's still worthy of a secret song slot.
"Clean"
Imagine Swift performing the healing and cathartic "Clean" on the piano before she dives and starts "swimming" under the stage to literally cleanse herself. You can't write this kind of synergy.
"Breathe"
Swift didn't even perform this Colbie Caillat duet from Fearless on the Fearless Tour, only giving it a live debut on the Reputation Stadium Tour as one of her secret songs. But the song is so calming yet anthemic that it deserves another go-around on the Eras Tour.
"Innocent"
Swift has not performed "Innocent" once since she debuted it live at the 2010 MTV VMAs (probably because it was written in response to the first Kanye incident), meaning in the words of Lizzo, it's about damn time.
"Dear Reader"
Swift only sings half of her newest album Midnights on the Eras Tour, so it's understandable that she couldn't include any of the "3 a.m. edition" tracks. But they should absolutely get their due as secret songs, starting with "Dear Reader," the most direct warning to fans she's ever written.
"hoax"
Swift ends folklore with one of her most stunning yet depressing songs, a haunting piano ballad that finds her questioning everything about her relationship but still believing in it anyways. It may be too sad to perform every night, but "hoax" deserves at least one shining moment.
"Long Live"
Quite frankly, the finale of Speak Now should've been the finale of the Eras Tour as well. Swift wrote "Long Live" specifically as a love song to her fans, thanking them for "fighting dragons" with her and chanting "we will be remembered," a promise that has been long fulfilled. On a tour paying tribute to her entire career and the fans that made it possible, "Long Live" being left off just doesn't feel right, but it's not too late to amend this. Long live "Long Live."