The Succession Season 4 Filming Locations Include Several Luxurious Homes
The Roys spare no expense during the show's final season.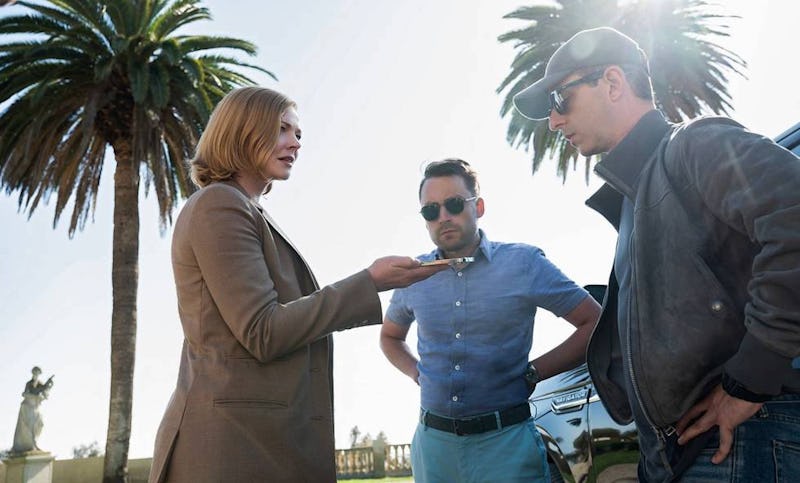 Claudette Barius/HBO
Succession might be a drama about the Shakespearean power struggle between adult nepo babies (and their iconic in-laws) — but it's also a luxury travel show. From real New York restaurants you can definitely visit, to enormous yachts you can probably only imagine, the Emmy darling series has been filmed in countless aspirational locales since its debut in 2018. Now that the show is ending, here's a look at some of the most notable Succession Season 4 filming locations so far.
Tom & Shiv's House: 120 Broadway
Tom and Shiv aren't a very happy couple on Succession, so it's no surprise that their luxury New York apartment gets so little screentime. They're rarely there together! But their residence does end up playing a pretty important role during the Season 4 premiere, where Shiv could be seen walking into 120 Broadway to have a pivotal relationship talk with Tom.
The skyscraper, known as the Equitable Building, also made an appearance in 2013's The Wolf of Wall Street, Untapped New York points out. Of course, between its historic charm and glitzy features like gold leaf accents, it's only natural that the building has played host to some of the buzziest depictions of wealth in film and TV.
Sibling Brainstorming: The San Onofre Estate
Another Succession Season 4 filming location can be found on the opposite coast — over in Pacific Palisades, California, to be exact. According to Architectural Digest, it's in the San Onofre Estate that Shiv, Kendall, and Roman brainstorm ideas for a media company they hope will rival their dad's and GoJo.
It makes sense they would choose such a spot because the property has a tech connection IRL: It reportedly belongs to a young tech CEO, Dirt.com points out. Before he bought it for $83 million in 2021, Williams & Williams advertised the property as a rental for the casual price of $350,000 per month. The steep price would be worth it to the Roys, of course; it boasts "total privacy and seclusion" with features like a Nobu-designed chef's kitchen, infinity pool, and even a ballistic safe room, per the real estate group.
Nan Pierce's House: Villa Solana
The siblings paid a visit to the Pierces for business negotiations during the Season 4 premiere — and as Twitter user @Kristytipsy pointed out, the beautiful property seems to be the Peabody Estate, aka Villa Solana, in Santa Barbara, California.
According to the Wall Street Journal, this mansion has tech ties, too, and was reportedly sold to former Google CEO Eric Schmidt for nearly $31 million in 2020.
Logan's House: The American Irish Historical Society
According to Architectural Digest, the exterior of patriarch Logan Roy's abode is a tower on Billionaires Row, lining the Southern end of Central Park. Most of the interiors are a soundstage, but Untapped New York reports that the townhouse lobby is actually that of the American Irish Historical Society on Fifth Avenue.
Logan's Diner Of Choice: Nectar
During the Season 4 premiere, Logan takes a break from family business drama to have dinner at Nectar on the Upper East Side. (You can even spot the diner's name on his menu.) So if you want to live the Succession lifestyle for a day, this is definitely your most affordable way in.
Kendall's New Penthouse: 180 East 88th Street
In the opening shots of the fourth episode, eagle-eyed fans might have noticed that Kendall has some new digs. He's got a penchant for gratuitous homes, and the penthouse of 180 East 88th Street in Manhattan's Upper East Side is no exception. The building's largest apartment is on the market for a cool $29 million and boasts five bedrooms, private terraces, and floor-to-ceiling windows with unobstructed views of the city.
This article was originally published on