Twitter Has The Same Theory About Joe Alwyn After Taylor Swift's New Song
"All Of The Girls You Loved Before" has certainly got fans talking.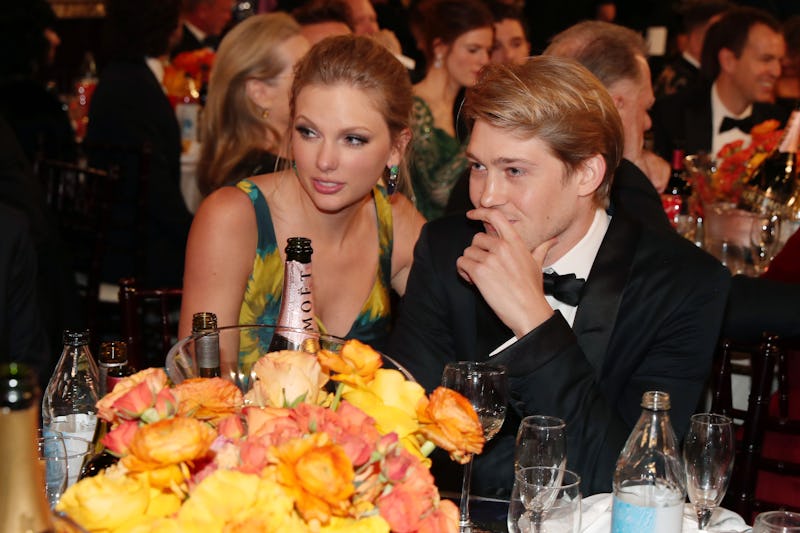 Getty Images/Christopher Polk/NBC/NBCU
Surprise! Ahead of her Eras Tour kicking off in Glendale, Arizona on Mar. 17, Taylor Swift dropped four previously unreleased tracks. Along with new re-recordings of The Hunger Games soundtrack cuts "Eyes Open" and "Safe & Sound," and a Taylor's Version of "If This Was a Movie," the batch of deep-cuts also includes a brand new song called "All Of The Girls You Loved Before." Originally written during the sessions for Swift's 2019 album Lover, the track ultimately missed out on making the cut for her seventh album. The release marked the singer's first record since leaving her former label Big Machine Records, amid a very public dispute over who owns all the masters from her first six albums. For that reason, "All Of The Girls You Loved Before" has not been labelled as (Taylor's Version) – the song always belonged to her from day one.
Released three years after Taylor Swift reportedly started dating her partner Joe Alwyn, fans have already noted that Lover contains a handful of lyrics that seem to be specifically about him. "Teal was the colour of your shirt when you were sixteen at the yogurt shop," she sings on "Invisible String" (Alwyn used to work at a branch of the frozen yogurt chain Snog). Certain lines on "All Of The Girls You Loved Before" also seem to allude to the beginning of the pair's relationship, and their efforts to try and keep out of the public eye. "We're sneakin' out into town" certainly seems like it could be about the early days, when The Sun reported that the couple spent a summer secretly lying low at Cara Delevingne's house.
Co-written by Canadian producer Frank Dukes (known for his work with Drake, The Weeknd, and Camila Cabello) and Miley Cyrus collaborator Louis Bell, the Lover cut sees Swift thanking the exes who collectively helped to make her current partner the man he is today. "Every dead-end street led you straight to me," she sings, "now you're all I need."
The official release comes after a group of Swifties previously banded together earlier this year to "buy" a leak of "All Of The Girls You Loved Before" on the social media platform Discord. Collectively, they raised $2,600 (£2,144) before the server mysteriously went private — and shortly afterwards various Swift tracks started leaking.
Understandably, Swifties are elated that there's now an official release. And they're united in one theory: Alwyn must be the luckiest guy in the world to have a song like this written about him. See below for the full reactions.