Taylor Swift & Joe Alwyn's Relationship Timeline: A Look Back At 6 Private Years
The couple's six-year relationship is reportedly over.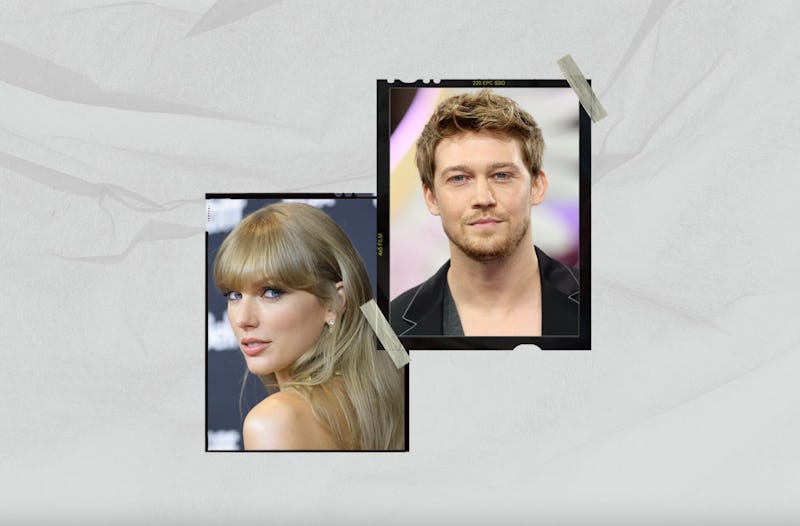 Amy Sussman/Mike Marsland/WireImage/Getty Images
Taylor Swift is one of the most impactful singer-songwriters of our time, thanks in part to her honest, and at-times brutal hits about love, heartbreak, and everything in between. For the last several years, she's been singing a lot less about heartbreak — at least her own — and fans have had Swift's boyfriend Joe Alwyn to thank for that. But that may change for the same reason. Swift and Alwyn have reportedly broken up after six years together.
The 11-time Grammy winner began documenting her love story with the British actor on her 2017 album Reputation, which covers how they first connected in songs like "Delicate" and "Gorgeous," and then hid from the public as they reportedly started to date amid her controversy with Kim Kardashian and Kanye West, as told in "King of My Heart" and "Call It What You Want." Her 2019 follow-up Lover sparked marriage rumors thanks to songs like "Paper Rings" and the title track, which is complete with wedding vows as a bridge. And we learned of their "Lavender Haze" in her 2022 album Midnights.
The singer's 2020 surprise albums Folklore and Evermore aren't as focused on her love life, with Swift only touching upon her relationship with Alwyn on the confessional "Peace," but he's involved on both albums in a much more meaningful way. The actor is credited as a songwriter on multiple songs under the pen name William Bowery.
The couple is notoriously private about their relationship, even as they've collaborated professionally. Still, Swift and Alwyn's relationship timeline shows how solid they were for years. If you're grappling with the reported breakup like most Swifties are, revisit their most important milestones (that we know of) below.
May 2016: Taylor And Joe Meet At The Met Gala
According to the lyrics of "Dress," Swift and Alwyn likely met at the 2016 Met Gala. In the song, she sings, "Flashback to when you met me, your buzzed cut and my hair bleached." At that year's event, Alwyn's hair was buzzed, and Swift's hair was bleached. There's no confirmation on this beyond the lyrics, but it's as close as we may get. Swift and Alwyn didn't get together right after meeting, though. At this point, Swift's breakup with Calvin Harris had not yet been reported, and she had not even started dating Tom Hiddleston.
May 2017: Fans Find Out About Joe
It wasn't until a year after they met that the first rumors of a romance between Swift and Alwyn surfaced. The two had been dating for a while at that point, but they wanted to keep things as quiet as possible, a habit they would continue to follow in the coming years.
June 2017: Taylor And Joe's First Public Sighting
A month after dating reports emerged, Swift and Alwyn were seen in Nashville looking happy together. This sighting was a big deal since Swift hadn't been rumored to have been dating anyone since her ill-fated fling with Hiddleston.
October 2017: Taylor Tells Fans That Reputation Songs Are About Joe
Swift wanted fans who were invited to her private Reputation Secret Sessions to spread the word that her love songs on Reputation, including "Gorgeous," are about Alwyn. Swift has yet to confirm this tidbit of news, as she typically never reveals the subjects of her relationship songs, but who else would she trust with these important details more than the Swifties? When the album was released, Swift's intricately detailed lyrics only fueled rumors that Reputation was in part inspired by her love life with Alwyn.
December 2017: Taylor And Joe's First PDA
Fans spotted Swift and Alwyn together when she played Capital FM's Jingle Bell Ball concert in London in late 2017. As fate would have it, the pair were reportedly dancing to Ed Sheeran's set, who was featured on Reputation and had recently given Alwyn his approval, saying, "He's a cool dude." In addition to their dancing, attendees apparently saw Alwyn and Swift slow dancing and kissing.
May 2018: Taylor And Joe Post Matching Instagram Pictures
In May 2018, as she was preparing to kick off her Reputation Stadium Tour, Swift and Alwyn both posted similar photos on their Instagram pages one day apart, and observant eyes took note of what appeared to be the same cactus plant next to the couple in their individual snapshots. As obvious as the connection seemed to their followers, Alwyn later told British GQ that he and Swift didn't post their desert romp photos to give people more insight into their relationship. "I didn't even think of it until I was in New York and someone else mentioned it," he said in October 2018.
September 2018: Joe Confirms His Relationship With Taylor
For the first time since rumors of their relationship emerged, Alwyn publicly spoke about Swift in an interview with Vogue UK, although he didn't disclose much information at all — not even her name. "I'm aware people want to know about that side of things," he said. "I think we have been successfully very private, and that has now sunk in for people. But I really prefer to talk about work."
December 2018: Taylor Supports Joe At His Movie Premiere
In December 2018, as he was promoting four different films, Alwyn spoke about his roles in those projects and gave hungry fans a few more crumbs about his relationship with Swift. He told Esquire in 2018 that he refused to seek any outside advice while dating Swift. "I know what I feel about it. I think there's a very clear line as to what somebody should share, or feel like they have to share, and what they don't want to and shouldn't have to," he said.
The same month that interview was published, Alwyn and Swift attended his Mary, Queen of Scots movie premiere in London. The Evening Standard reported that the two were "photographed attending the after-party by Alwyn's costar Izuka Hoyle" and added that Swift made a "low-key appearance" at the fête.
January 2019: Taylor And Joe Get "Flirty" At The Golden Globes
A source told Us Weekly that Alwyn got a "little flirty" with Swift at the 2019 Golden Globes, as she presented Best Original Score and Best Original Song alongside her Cats co-star Idris Elba. "While Taylor presented, Joe watched the teleprompter near him and smiled and [his The Favourite co-star] Nicholas Hoult patted him on the back," the source said. "After [Lady] Gaga walked on stage, Joe shifted his gaze to the stage near Taylor. She was smiling at him while she walked off stage. She looked over her shoulder and gave a sassy cute little smile at his table's direction."
The two were also reportedly seen kissing at Fox's Golden Globes after-party, but alas, there is no photographic evidence of this.
February 2019: Taylor Supports Joe At BAFTAs
For their next public outing, Swift reportedly sneaked into the BAFTAs after-party to support Alwyn, who attended the big show for his nominated film The Favourite. Elle reported that it marked the first time they posed for photos together at an awards season event. There are only some sneaky candid pictures from other attendees.
August 2019: Lover Gives New Insight
When Lover arrived on Aug. 23, fans were quick to find a lot of lyrics seemingly about Joe Alwyn. Lines like "I've loved you three summers now, honey, but I want 'em all" off the title track and the entirety of "London Boy" offered rare insight into their ongoing relationship.
August 2019: We Don't Talk About Joe, No, No
In an August 2019 interview with The Guardian, Swift stated that her relationship with Alwyn "isn't up for discussion," especially when talking to the press. "It's just that it goes out into the world," she said of her public romance. "That's where the boundary is, and that's where my life becomes manageable."
October 2019: Taylor And Joe Step Out Together For SNL
Following Swift's Saturday Night Live performances on Oct. 6, she and Alwyn made their way to the SNL after-party and shocked onlookers by walking inside the soiree together, no sneaky back entrances required. They didn't pose for pictures, but Alwyn holding Swift's hand to navigate her through paparazzi says a thousand words.
January 2020: Joe Makes A Cameo In Taylor's Netflix Doc
Alwyn made a quick cameo in Swift's Netflix documentary Miss Americana, but he did not address the cameras. Instead, the doc showed brief glimpses of a low-key Alwyn, covered in a baseball cap, hugging and kissing Swift backstage after one of her Reputation Stadium Tour shows, which he attended several times.
July 2020: Folklore Introduces William Bowery
Swift surprised fans with the sudden release of her eighth studio album, Folklore, on July 24. As fans combed it for any details about her relationship, they found more than they may have expected. Two songs — "Exile" and "Betty" — were written with a mystery collaborator named William Bowery, and internet sleuths quickly speculated that he was Alwyn. The theory was that the pseudonym came from his great-grandfather, music composer William Alwayn, and New York's Bowery Hotel, where the couple are rumored to have hung out with friends on an early date.
November 2020: Taylor Touches On Her Private Life
Rolling Stone's November 2020 issue featured a Musicians on Musicians interview with Swift and Paul McCartney. Their conversation led to Swift revealing that the romantic track "Peace" is "more rooted in [her] personal life" than some of the other songs on Folklore. (It includes lyrics such as "I would die for you in secret.") Another revelation was that her relationship with Alwyn had led her to make decisions that made her life feel "more like a real life and less like just a story to be commented on in tabloids." Swift also quipped that she wrote more breakup songs "before [her] luck changed."
November 2020: Taylor Confirms Their Collaboration
The identity of William Bowery didn't remain a mystery for too long. During her Disney+ concert film Folklore: The Long Pond Studio Sessions, released on Nov. 25, Swift confirmed the speculation about Alwyn being her co-writer. "So, William Bowery is Joe… as we know," she said when she talked about "Exile."
December 2020: William Bowery Writes Again On Evermore
Alwyn ended up co-writing three tracks on Swift's second quarantine album, and Folklore's sister album, Evermore, including the title track, "Champagne Problems," and "Coney Island," released on Dec. 11.
In an interview with Apple Music's Zane Lowe earlier that month, Swift opened up about her songwriting process with Alwyn. "I say it was a surprise that we started writing together, but in a way, it wasn't because we have always bonded over music and had the same musical tastes," she explained. She also divulged that she and Alwyn have a true affinity for sad songs and eventually found themselves writing the "saddest" ones.
January 2021: Taylor And Joe Celebrate 2021
At the start of 2021, Elle reported that Swift and Alwyn were seen taking a walk with his mom in London. The celebs were bundled up in their coats and wore face masks, reminding fans that they were likely still quarantining together.
February 2021: Taylor Reveals Joe Helped Her Speak Out On Politics
In an interview with Vanity Fair to promote Miss Americana, Swift revealed that Alwyn encouraged her to use her voice on political issues, which she made headlines by doing for the first time in October 2018. "As a country musician, I was always told it's better to stay out of [politics]," she wrote. "The Trump presidency forced me to lean in and educate myself. I found myself talking about government and the presidency and policy with my boyfriend, who supported me in speaking out. I started talking to my family and friends about politics and learning as much as I could about where I stand."
March 2021: Taylor And Joe Win Grammys
When Swift won Album of the Year (for the third time) at the 2021 Grammys, Alwyn didn't go up with her onstage, but she did give him a special shoutout in her acceptance speech, calling him "the first person I play every single song that I write." "I had the best time writing songs with you in quarantine," she added, nodding to his contributions as William Bowery.
Nearly a month later, Alwyn was added as a contributor to a few more songs on Folklore, including "My Tears Ricochet," "August," "This Is Me Trying," and "Illicit Affairs," meaning that he met the production requirements to also win a Grammy for Folklore.
May 2021: Taylor Thanks Joe In BRITs Speech
In her Global Icon Award acceptance speech at the 2021 BRITs, Swift specifically thanked Joe by name while mentioning the artists and songwriters who created Folklore and Evermore with her. "I'd like to thank Aaron Dessner, Jack Antonoff, Joe," she said, complete with a knowing smile.
February 2022: Are Taylor And Joe Engaged?
Engagement and marriage rumors practically haunted Swift and Alwyn, but reports started heating up after Valentine's Day in 2022 when Life & Style reported that the couple was engaged after more than five years of dating. True to form, neither of them commented on the rumors or responded to the Feb. 17 reports.
May 2022: Joe Gushes About Taylor
In May 2022, Alwyn did several interviews to promote his Hulu series Conversations With Friends and dished about his relationship with Swift more than ever — without saying anything too personal. On May 17, the day before Swift received her honorary doctorate degree from New York University and gave a speech at the 2022 commencement ceremony, Alwyn gushed about her achievement at a "For Your Consideration" event for the show. "It's an incredible honor, it's absolutely amazing," he told Extra.
While Swift and Alwyn are always the first person to like each other's Instagram posts, they rarely acknowledge each other on social media. But on May 9, Swift gushed about Conversations With Friends on her Instagram story, letting fans know how much she loves her boyfriend's new project. "Can confirm it's phenomenal," she wrote.
Earlier in the month during a separate interview with Vulture, Alwyn finally addressed the constant rumors that he and Swift are secretly married or engaged — without giving an actual answer. "The truth is, if I had a pound coin for every time someone told me I've been engaged or I'm getting engaged, I would have a lot of pound coins," he quipped. "If the answer was yes, I wouldn't say. If the answer is no, I wouldn't say."
Speaking to GQ Hype, Alwyn further opened up about co-writing songs with Swift on Folklore and Evermore, calling it "the most accidental thing," and explained why they tried to keep it a secret at first. "The idea was that people would just listen to the music rather than focus on the fact that we wrote it together," he said. Alwyn also confirmed that audio of him singing "Exile" might exist. "Jesus, there's probably a voice note somewhere that should be burned," he said.
He also gave a look at his writing process with Swift, saying he was merely "messing around" on the piano while singing what became the first verse of "Exile" before she walked over and joined him. "It was completely off the cuff, an accident," he explained. "She said, 'Can we try and sit down and get to the end together?' And so we did. It was as basic as some people made sourdough." A similar situation led to "Betty" — though alcohol was involved that time. "I'd probably had a drink and was just stumbling around the house," he recalled. "We couldn't decide on a film to watch that night, and she was like, 'Do you want to try and finish writing that song you were singing earlier?' And so we got a guitar and did that."
During a May 19 interview on The Kelly Clarkson Show, Alwyn explained the origins behind William Bowery, the pseudonym he was credited under on Folklore and Evermore. Clarkson said the name was "very fancy," which he agreed with, adding, "It sounds like a kind of Agatha Christie character that should be wearing a monocle with a big mustache."
William Bowery is indeed a tribute to both his great-grandfather William and a famous New York City site. "My great-grandfather — who I actually never met — was a composer. He wrote a lot of classical music and wrote a lot of film scores," he explained. "Bowery is the area in New York that I spent a lot of time in when I first moved over there." Considering some of Swift's songs that were reportedly written about Alwyn, like "Cornelia Street" and "False God," also reference New York, it couldn't be a more fitting pen name.
July 2022: Taylor Slyly Addresses Those Engagement Rumors
On July 15, Swift and Alwyn were spotted at a London park in a rare public sighting, and fans immediately noticed that she wasn't wearing a ring on her left engagement finger. While this could have just been a step Swift took to hide their rumored engagement, it could also have been a statement meant to dismiss the rumors altogether.
August 2022: Taylor And Joe Are "Wildly Happy"
On Aug. 22, Us Weekly reported Swift and Alywn were "wildly happy" together after more than five years of dating. An insider told the outlet that the couple split their time between Alwyn's native London and Swift's adopted home of Nashville, noting that they "have the best of all worlds," and loved continuing to be independent as well. "Once Taylor and Joe started dating it became apparent to both of them that they were happiest doing their own thing in a low-key way," the source said. "That was a big reason why they bonded." While the insider did not confirm or deny engagement rumors, the person did say Swift and Alwyn were "excited about their future together."
October 2022: Taylor And Joe Are In A "Lavender Haze"
Leading up to the release of her 10th studio album, Midnights, Swift teased songs from the new album, one of which is definitely about her relationship with Alwyn. On Oct. 4, the singer revealed the meaning behind "Lavender Haze," the opening track of Midnights, explaining that she first heard the phrase on Mad Men and was inspired after finding out that it was used in the 1950s to describe "that all-encompassing love glow," which she's worked so hard to maintain with Alwyn.
"I guess, theoretically, when you're in the 'lavender haze,' you'll do anything to stay there, and not let people bring you down off of that cloud," she explained. "I think that a lot of people have to deal with this now, not just like 'public figures,' because we live in the era of social media, and if the world finds out if you're in love with somebody they're going to weigh in on it. Like my relationship for six years we've had to dodge weird rumors, tabloid stuff, and we just ignore it. So this song is about the act of ignoring that stuff to protect the real stuff."
March 2023: The Eras Tour Kicks Off With No Sign Of Joe
After much ticketing chaos and fan anticipation, Swift's Eras Tour finally began on March 17. There didn't seem to be any sign of Alwyn at the early shows in the tour, but considering the couple's penchant for privacy, it wasn't an immediate matter of concern for fans.
April 2023: Taylor And Joe Are Reportedly Broken Up
It seems all was not well with Swift and Alwyn's romantic relationship after all. On April 8, Entertainment Tonight reported that the couple had broken up, with a source saying "the relationship had just run its course." (Bustle reached out to representatives for Swift and Alwyn, but did not receive a response at the time of publishing.) The two reportedly split several weeks prior, and "it was not dramatic," according to ET's insider.
This article was originally published on