Taylor Swift Dedicated This Secret Song To Beabadoobee — So We Got Her Reaction
"It made me want to cry and scream," the 22-year-old, an opener for 12 Eras Tour shows, tells Bustle.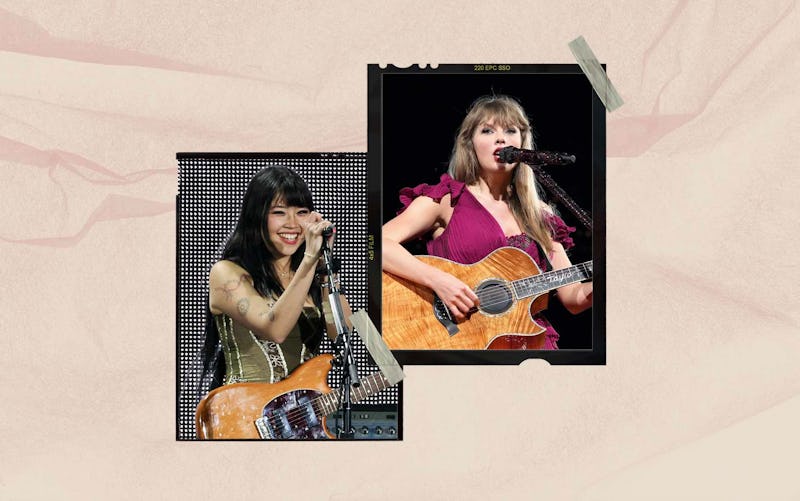 Kevin Mazur/Ethan Miller/TAS23/Getty Images Entertainment
After the first 35 songs on her 44-song setlist at each stop along the Eras Tour, Taylor Swift reserves the next two slots for secret songs, which are tracks from her discography that aren't already on the 3-hour setlist to perform exclusively for that night's audience. At the March 24 show in Las Vegas, the 12-time Grammy winner surprised a fellow musician with her selection. "I actually saw an interview that Beabadoobee did, who is our amazing, brilliant opening act. She said, 'I grew up listening to songs from [Taylor's] first album,' and she named a specific song," Swift recalled. "I figured for her first show with us, I'd play that specific song that she said she wanted to hear. This is a song I actually wrote for my 9th grade talent show. It's called 'Our Song.'"
Beabadoobee, a 22-year-old artist who was side stage during the moment, tells Bustle that Swift's song dedication caught her off guard. "I didn't know she was going to do that at all," Beabadoobee says. "It made me want to cry and scream when I heard that in the best way possible. Coming from someone I really look up to, it's like my inner child is healing. I was melting!"
The Filipino-British singer, whose song "See You Soon" soundtracked Swift's NYU commencement speech recap on TikTok, admits she sang along to "Our Song" with Swift.
"I sang along to all her songs," says Beabadoobee (born Beatrice Kristi Ilejay Laus), who before Swift's set opened the show for the 60,000-person crowd inside Allegiant Stadium.
Before Swift announced the Eras Tour in late 2022, she contacted the indie-pop artist to be one of her nine opening acts throughout 2023. "I was so happy and thought it was all a prank," Beabadoobee adds. "I had no idea that any of this would happen and that I would ever be supporting her. It's really a dream come true, and I'm still overwhelmed."
In total, Beabadoobee will serve as an Eras Tour opener for 12 shows in five cities: Las Vegas, Texas (Arlington and Houston), Tampa, and Atlanta. The other tour openers include Paramore, HAIM, Phoebe Bridgers, MUNA, girl in red, GAYLE, Gracie Abrams, and OWENN.