Twitter Thinks Taylor Swift's "When Emma Falls In Love" Could Be About Emma Stone
The song will appear as a new "From the Vault" track on Speak Now (Taylor's Version).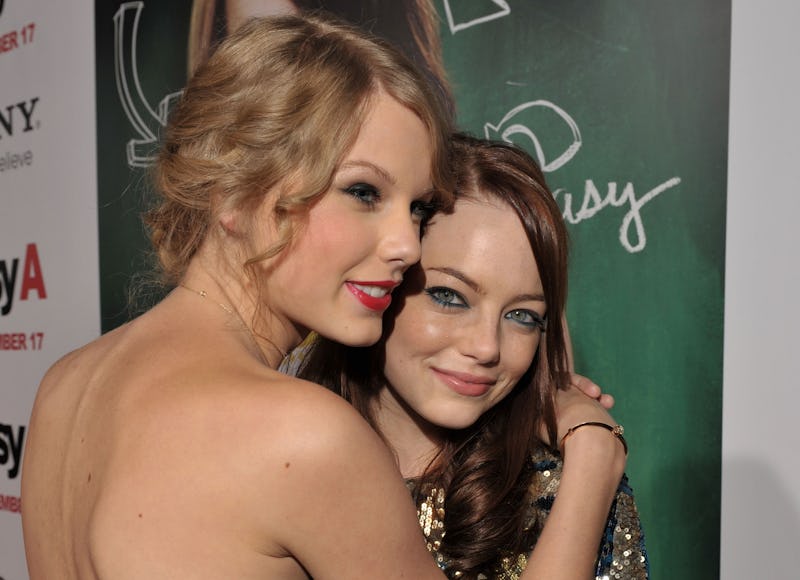 Lester Cohen/WireImage/Getty Images
If Taylor Swift loves two things in this world, it's her friends and leaving Easter Eggs about upcoming projects for Swifties to investigate, and fans' latest song theory combines both of those loves. On June 5, the 12-time Grammy winner revealed the tracklist for Speak Now (Taylor's Version), and the name of one of her new "From the Vault" tracks caught their eye. Swifties think "When Emma Falls In Love" may have been written about none other than Emma Stone, and possibly even her past relationship with Andrew Garfield.
The pair have been friends for over a decade, with Stone remarking in a June interview with Vanity Fair that they met when "we were 17 and 18," which would date back to 2006. The two were often photographed together in 2009 and 2010, the years when Swift was writing Speak Now, with the singer attending the premiere of Stone's film Easy A. At the 2011 Teen Choice Awards, where the Oscar winner presented Swift with a surfboard, she called Stone a "sister" on the red carpet. "The ones that are like sisters to me are Selena Gomez and Emma Stone," she said. "They can predict my thoughts."
Fans on Twitter remembered that Swift used to share playful banter with Stone back when the actor was on Twitter in 2009, proving the strength of their friendship during the Speak Now recording sessions.
If the song is indeed about Stone, then fans speculated that it could be inspired by her romance with Garfield thanks to the timing. In 2009, Stone has broken up with singer Teddy Geiger, and the next year, she was linked to Succession star Kieran Culkin. However, Stone also began filming The Amazing Spider-Man with Garfield in 2010, and they went on to date for nearly four years before splitting in 2015. Theoretically, "When Emma Falls In Love" could be about any of those relationships, or none at all, focusing solely on Swift's close friend.
In case Swifties needed more evidence, Swift is no stranger to writing about her friends' relationships, penning the 1989 bonus track "You Are In Love" about the love story between her close friend Lena Dunham and frequent collaborator Jack Antonoff, which ended in 2018. The title track Speak Now was also inspired by an incident at a friend's wedding, not her own experience. Of course, there is a possibility that "When Emma" has nothing to do with Stone, with some fans speculating she could be nodding to Jane Austen's novel Emma.
While the song was lifted from the early 2010s, the pair's friendship has endured this past decade. Most recently, Stone attended the opening night of Swift's Eras Tour, which she recounted to Vanity Fair. "I was lucky 'cause we've been friends for a really long time... so she hooked me up, which was very nice 'cause I know those tickets are impossible to get," she said. "She's a wonderful friend. She blows my mind. I mean, the amount of sheer stamina to do three and a half hours and perform 44 songs and to maintain the extreme energy of the audience—I've never seen anything like it."