Keke Palmer's Boyfriend Darius Jackson Is Proud To Be A New Father
After welcoming his first child with Palmer on Feb. 25, he added "DAD" to his Instagram bio.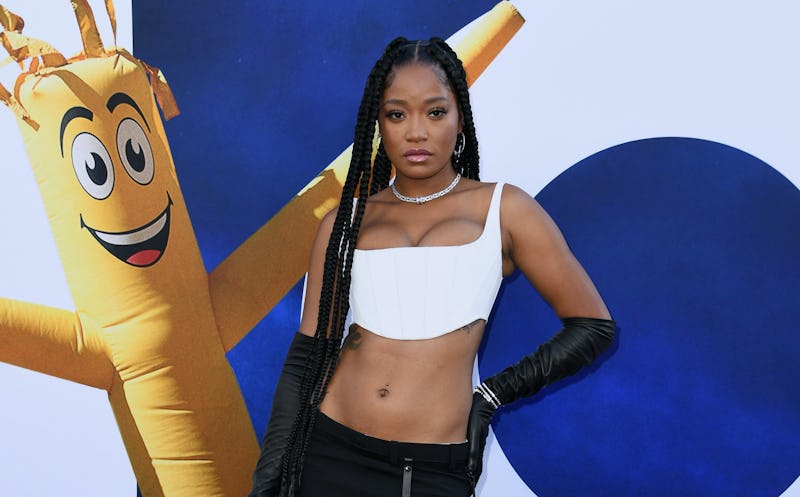 JC Olivera/Getty Images
Keke Palmer received critical acclaim for her 2022 sci-fi horror film Nope, but when it comes to whether she has a boyfriend, the answer is a clear "yes." Palmer, 29, has been dating actor and writer Darius Daulton Jackson, the brother of Insecure star Sarunas Jackson, since the summer of 2021, and unlike her prior relationships, they went Instagram official just a few months after they started dating. "This is the happiest I've ever felt with someone," Palmer told Bustle in March 2022 about going public with her relationship. "So why would I go out of my way to hide this person? That's a lot more work than just living in my life and being in my life."
After more than a year of dating, the couple took a huge step in their relationship. On Dec. 3, Palmer announced that she was expecting her first child during her monologue while hosting Saturday Night Live for the first time. The next day, she paid tribute to the SNL cast and crew on Instagram and ended her post with a loving shout-out to Jackson. "Thank you to my other half @dvulton for giving me the things that only true unity can bring," she wrote. "Love is all we have isn't it, you do nothing in this world alone and trust me, I am not alone! Very grateful…"
The couple announced that they became parents on Feb. 27, with Palmer revealing their baby boy's arrival on Instagram. For his part, Jackson shared new baby photos on his Instagram, confirming his son's name and birthday. "Leodis Andrellton Jackson. February 25th, 2023. 3:28 PM," he captioned the post. In a sweet gesture, Jackson also added "DAD" with a baby emoji to his Instagram bio.
Days before welcoming their first child, Jackson celebrated Palmer on Valentine's Day by posting a slideshow of baby bump photos and candid memories from throughout their relationship. "Happy Valentine's Day, mom," he wrote, nodding to their new roles as parents.
On Jan. 3, to reflect on 2022, Jackson shared the first ultrasound photo of their baby as part of an Instagram slideshow, which also featured a photo of him lifting Palmer in his arms for a kiss while on vacation. "To 2022, thank you for giving me a family," he captioned the post, complete with the red heart and prayer emojis.
Jackson previously reacted to the December pregnancy reveal by sharing a sweet photo of Palmer cradling her baby bump on his Instagram Story, simply captioning the photo "2023." The writer also shared Palmer's SNL post on his Story.
The two reportedly first met at Diddy and Issa Rae's Memorial Day Party in May 2021. In September 2021, Daulton wrote a tribute to Palmer on her 28th birthday, confirming that they started dating earlier that year. "Never would've expected summer 2021 to turn out the way it did but here we are," he wrote in a since-deleted Instagram post. "You've been a blessing from above & i thank you for showing me a lot of feelings i didn't know i had in me & also seeing me as someone you can finally be yourself to." Palmer affectionately commented on the post, writing, "I love u thank you."
Prior to Jackson, Palmer was usually shy when it comes to talking about romance, and won't force herself to share it on social media as she doesn't even post much on her Finsta account, which is reserved for family and friends. "I don't really do relationship stuff online, mainly because I don't know how I would do it without looking, like, cheesy or something, you know?" she told Harper's Bazaar in 2020. "When it comes to romance, [posting about it] doesn't really come naturally to me, so I feel like, why force it?"
The actor's desire to keep her love life private is also why she tries to avoid dating people in the entertainment industry. "I've always had the same philosophy when it comes to dating," she said. "Not that I wouldn't give someone a try. But trying to keep my private life outside of my work life, to me, it's easiest when you don't date someone with the same career."
This article was originally published on