Who Voices Veb In Ant-Man & The Wasp: Quantumania?
Listen closely: It's a bit of an Easter egg.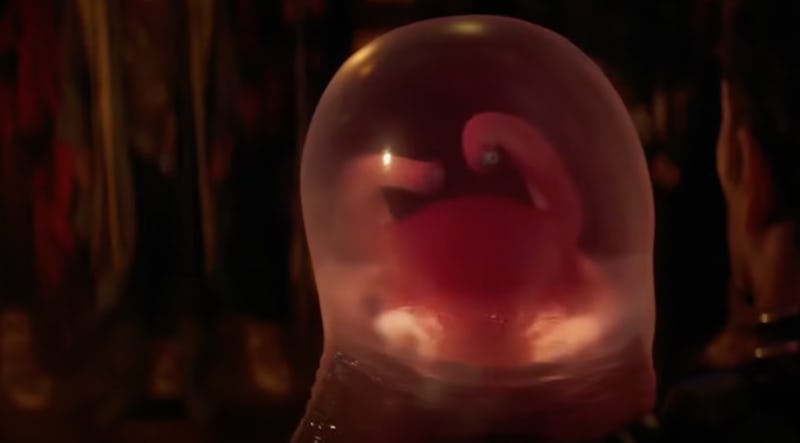 Marvel Studios
Minor spoilers ahead for Ant-Man and the Wasp: Quantumania. If you've already watched Ant-Man and the Wasp: Quantumania, you know that the film differs from prior Ant-Man films in several ways. For starters, most of the action takes place in the Quantum Realm instead of San Francisco; the stakes are higher (Kang is... a pretty big deal); and there's a new father-daughter dynamic to reckon with, too, now that Scott and Cassie Lang are making up for lost time.
One of the biggest changes, of course, is that Scott's X-Con Security colleagues are nowhere to be seen. "There are a lot of characters in the movie ... so we had to make decisions early on about what stories we could tell and what stories we couldn't tell," director Peyton Reed told The Hollywood Reporter. However, at least one of Scott's friends made it into the final cut — sort of.
Veb, the new Quantum being who fights against Kang and is obsessed with holes, provides plenty of comic relief with his bizarre questions about human anatomy. He also happens to be voiced by David Dastmalchian, who played Kurt in the 2015 and 2018 Ant-Man films.
Though he didn't get to reprise his original role as Kurt in Quantumania, Dastmalchian expressed his gratitude to Reed and Marvel Studios for including him in the Langs' journey — albeit in an unexpected way. "I mean, it is a family, and that I've gotten to be a part of that in a small way has just been one of the highlights of my life," he said in an interview with Marvel Entertainment.
Dastmalchian has a long onscreen resume, most recently appearing in titles like Dune and The Suicide Squad. But in the Marvel Cinematic Universe, he's best known as Kurt. If you need a refresher, Scott's former cellmate Luis (Michael Peña) introduced Kurt and Dave (Dastmalchian and T.I.) to Scott after he got out of prison in the first Ant-Man.
Those friends were instrumental in helping Scott with the burglary job that ultimately connected him to the Ant-Man suit and, of course, the Pym family — so it's fitting that at least one of them would appear in the latest leg of Scott's journey (even if it had to be in pink, oozy form).