Everything To Know About Grey's Anatomy Season 19 & Potential Spinoffs
The future is still looking bright for the Grey Sloan family.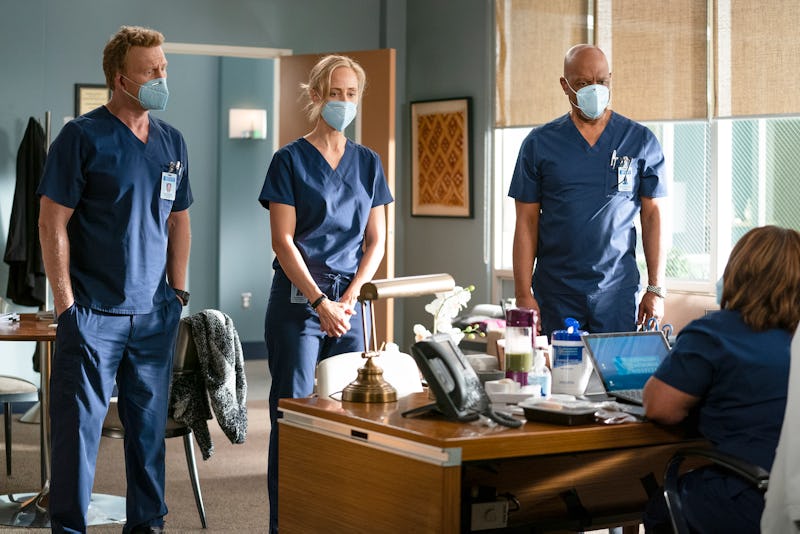 ABC/ALI GOLDSTEIN
Like so many surgeries on Grey's Anatomy, the fate of the series itself was pretty touch-and-go for much of Season 17 — with both its star Ellen Pompeo and showrunner Krista Vernoff seeming no more certain than fans about whether or not the show would go on. Now, though, we're on Grey's Anatomy Season 18 — and Season 19 is coming soon, as ABC confirmed on Jan. 10, 2022. Not all of your favorite surgeons will be along for the ride (Jackson Avery will be sorely missed in Seattle as Jesse Williams recently left Grey's), but plenty are sticking around.
The series' survival imitated the promising turn unfolding on-screen, where Meredith finally made it through her long illness with COVID. While viewers still have to wait and see what the Season 18 finale has in store before theorizing about Season 19 and beyond, Craig Erwich, president of ABC Entertainment and Hulu Originals, told Deadline that "we will take Grey's Anatomy for as long as we can." So, there's reason to be hopeful for much more Grey's drama in the years ahead.
"Grey's Anatomy continues to be a ratings juggernaut," Erwich said to Deadline in May 2021. "The fans loved this season. I thought Grey's Anatomy did a really incredible job this year telling the stories of all the frontline heroes who are fighting the good fight [against] COVID."
As reported by the outlet, the Grey's Season 18 renewal was announced alongside fellow ABC series black-ish and The Goldbergs. That said, only black-ish was confirmed to be ending after its upcoming TV season — giving fans more reason to believe that Grey's could go on.
And with the new year brought exciting Grey's news: Pompeo, Chandra Wilson (Bailey), James Pickens Jr. (Richard) are already confirmed for Season 19. Though Pompeo's contract negotiations, which typically begin in December, extended through spring of last year, Season 19 talks reportedly went smoothly this time around. For Season 19, Pompeo will reportedly enjoy another salary increase and remain TV's highest-paid female actor in a primetime drama.
In a statement confirming the new season, Dana Walden, the chairman of entertainment at Walt Disney Television, said, "We have enormous faith in Shonda [Rhimes], Krista Vernoff, Ellen Pompeo, and the entire creative team to unlock new, untold stories that will continue to focus on modern medicine, tackle the issues that shape the world around us, and resonate deeply with loyal fans for years to come."
Rhimes also celebrated the news, adding that "it would not be possible without the generations of incredible fans who have supported Grey's Anatomy for so many years."
On the spinoff front, ABC Signature President Jonnie Davis previously told Deadline that the team was "noodling ideas" for additional Grey's-related series but later clarified to the outlet that "there are no conversations about a spinoff of Grey's Anatomy at this time." He continued, "We are 100 percent focused on producing Season 18. As the leader of ABC Signature, I meant only to convey my support and optimism for Shonda's brilliant creation."
Even though there are no official plans afoot just yet, there is still reason to hope for more Grey's content in the near future. According to Deadline, Vernoff recently signed a multi-year overall deal with ABC — the kind of agreement that portends more creative collaboration between the showrunner and her network, where she currently helms Grey's alongside spinoff Station 19.
From the viewers' perspective, there is definitely room for a new series to accompany Grey's, or succeed the show should it ever end... even though a Thursday without Grey's sounds impossible at this point. A Japril spinoff set in Boston would be the most natural, fan-favorite option (Sarah Drew herself said it's "not a bad idea" on Twitter), but virtually any character has the material to branch out, such as Jo and her upcoming switch to OBGYN.
This article was originally published on