Everything You Need To Throw A '90s Holiday Party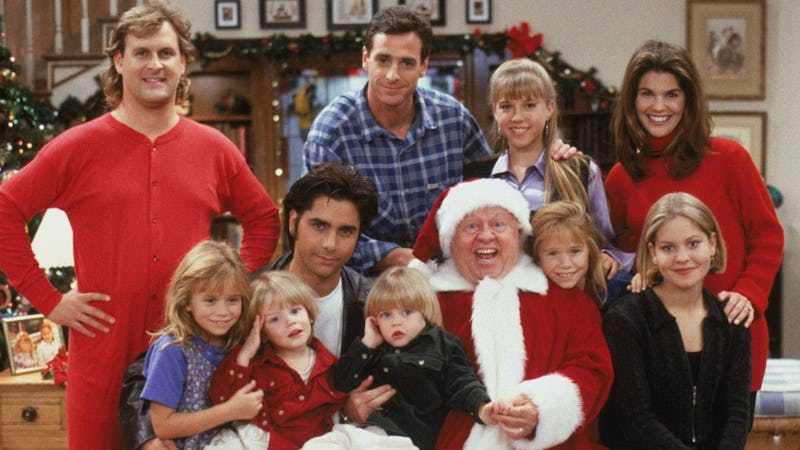 There is no better way to enjoy the winter holiday season than by throwing your own shindig, but amdist the onslaught of December festivity, it can be difficult to make your party stand out. You know what that calls for, right? Yep: A ' 90s-themed holiday party. In a month overflowing with office parties and general merriment it takes a bit more than a few Santa hats or some blue and silver sprinkles to impress — so this year, why not serve your eggnog with a '90s throwback twist. Conjur up those happy childhood memories with a nostalgia-tastic bash full of holiday charm and grunge-y glee!
This time of year naturally brings back those special memories of carefree hours filled with ice skating, toasty mugs of hot chocolate, unfortunate neon snowsuits, and a deep longing for a Furby or a Tamagotchi all wrapped up with a bow. When putting together a shopping list for your '90s-themed festivity, there are a few nesseccary essentials that will take your party from "aiight" to amazing faster than you can say "Nickelodeon Holiday Special." So keep the eggnog flowing this year, and check out a few things that will make your party all that and a bag of chips. To really lean into the '90s holiday spirit, you will need:
1. Awesome '90s-Themed Invites
No e-cards for you this year! Start your throwback bash right with an eye-catching paper invite (just like you would have handed out back in the day). Use some modern technology to grab an image from one of your favorite old school TV specials and type the party deets on top. A fun invite is the first step towards getting your guests jazzed to party like it's 1999!
2. A Rockin' Holiday Playlist
Curating the perfect '90s playlist will start your party off right, and with so many amazing holiday hits to choose from you really can't go wrong. Your guests will find it impossible to not sing along to Mariah Carey's "All I Want For Christmas Is You" and Adam Sandler's Chanukah song. Continue the walk down memory lane by blasting a few tracks off Christmas albums released by your favorite boy bands. You can't help but smile when you listen to *NSYNC's "Merry Christmas, Happy Holidays."
3. Deck The Halls With Holiday Posters
Backstreet Boys Christmas poster, $6.99, eBay
Pay homage to the decade where it was socially acceptable to decorate your bedroom with questionable ads by hanging some posters for that perfect '90s touch. eBay is an excellent source for these nostalgic details, so if you didn't hold on to that *NSYNC Wrapped In Christmas Lights Poster, don't sweat it! It's easy to find these spot-on touches, but difficult to forget that *NSYNC is now over 20 years old.
4. A '90s Holiday Classic On The TV
Holiday movie marathons and seasonal specials were an integral part of winter break as a kid. There was nothing cozier than snuggling up under a blanket with a good holiday VHS (unless you had to go rewind said VHS, because that was always a pain in the butt). Whether you are a Home Alone fan or Jingle All The Way devotee, pop one of these gems on the TV and set the mood with some nostalgic holiday cheer. You could also opt for classic TV episodes, like the Rugrats Chanukah special or one of the many, many Friends options.
5. Excellent '90s Food
After working up a sweat dancing to those classic '90s holiday jams, your guest will be making a beeline for the snack table. Serve up some tasty holiday treats that will bring them right back to elementary school. You can actually make "Schweddy Balls" from the infamous 1998 SNL episode with this recipe. Or, bring back some Christmas morning memories by serving a version of the red and green seasonal cereal we enjoyed as kids, or this super easy to make Dunkaroos dip. Can't go wrong with a whole lot of sweet treats!
6. All The Holiday Candy You Can Eat
Back in the '90s, as soon as Thanksgiving was over, supermarkets would fill their aisles with candies in red, green, blue, and silver wrappers. Give your guests the ultimate sugar high with bowls full of Hershey's kisses, colorful M&Ms, Warheads, and whatever else your parents restricted your access to as kids.
7. Supplies For Paper Chains And Snowflakes
For a fun holiday-centric activity (that's not quite as daring as spin the bottle, that is), get crafty with your guests by making some colorful paper decorations. All you need for the chains is multicolored construction paper, scissors, and a stapler. Cut the paper into strips and turn the strips into links by stapling the ends together, but don't blame me if you start having some vivid middle school flashbacks.
Back in the '90s, most of us couldn't use the internet if we were on the phone — but oh, how times have changed! It may seem cruel, but you just can't mimic that '90s holiday feel if everyone is on their smartphones texting and tweeting and Instagramming and what have you. If you want to give your party a low-tech vibe, be brave and ask your guests to live without emoji for at least an hour or two. If they whip out their phone for some reason, have that screatchy dial-up sound effect ready to annoy.
9. Tinsel, Baby!
Though tinsel has gone out of style over the past decade or so, the messy shiny strings were on practically every tree in the '90s. Spruce up your spruce with this metallic thread that emulates icicles, and give it an instant retro feel. So much better than glitter (though not much easier to clean up).
10. The Perfect Throwback Decor
'90s vintage Looney Tunes decorations, $9.99, Etsy
If you want to give your apartment even more '90s flare, check out ebay and Etsy for some Looney Tunes decorations and Warner Bros. Studio Store trickets we adored back in the day.
11. All Your Fave '90s Drinks
There's nothing like warming your hands on a mug of hot chocolate with mini marshmallows, but if you want to get really creative with your beverage selection, you can now make your own Zima! The lemon-lime flavored "alcopop" was discontinued before us '90s kids knew what we were missing.
12. Don't Forget Your Ugly Sweater!
Vintage '90s Christmas sweater, $24, Etsy
No party is complete without one of these comically hideous wooly works of art!
Images: ABC; Giphy (7); PopWildLife, 216vintagemodern/Etsy; manstrale/eBay