April's New Moon Will Be Smooth Sailing For These 3 Zodiac Signs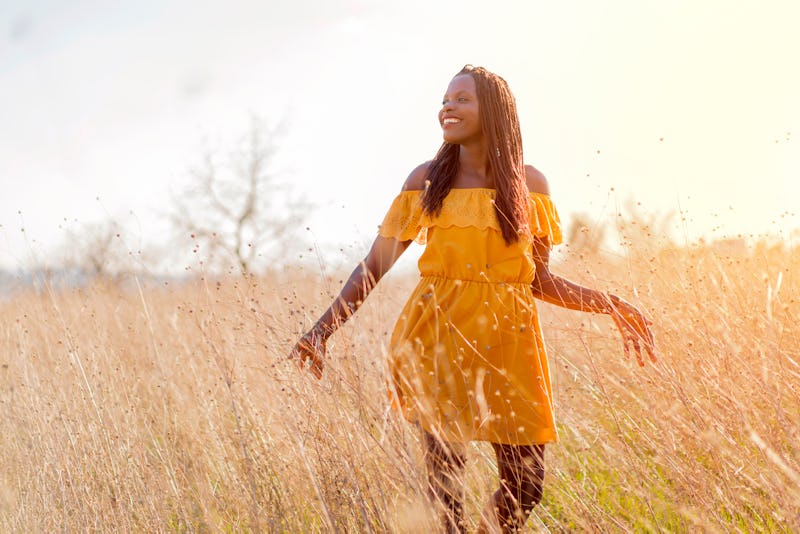 SrdjanPav/E+/Getty Images
If you're ready for a new beginning, the April 2021 new moon is coming through to hit "reset" on your personal goals and give you a burst of motivation. Rising on April 11 in the fiery sign of Aries, this luminary marks the first new moon of spring, which doubles its power as a cosmic fresh start. This zingy and bold lunar moment will get us pumped about manifesting our dreams. And if you're one of the zodiac signs the April 2021 new moon will affect least, you'll be able to seize the blossoming possibilities of this lunation more easily.
This new moon is a tenacious one, as it's taking place within the realm of cardinal fire sign Aries — which will make all zodiac signs feel more impulsive, courageous, and energetic about conquering all the most ambitious goals. The moon will be joined in Aries' territory by the sun, as well as romantic planet Venus and intellectual planet Mercury. This planetary foursome puts our emotions, creativity, values, and thoughts together on the same page, allowing us to throw ourselves at our goals wholeheartedly and with abandon. It's a time to get brave and bold about what you want and allow your passions to light a fire under you.
While this lunation is here to give everyone a helpful boost, things will feel more easygoing for the zodiac signs least affected by the April 2021 new moon. Read on to find out if you're one of them.
The new moon in impatient Aries inspires most of us to hit the gas pedal and ride off into the sunset. But not you, Taurus. Under this lunation, you're happy with taking things at a slow and steady pace. You're feeling introspective and exhausted, so recharge your batteries and get super clear on your goals by spending some quality time alone. Keep your eyes on the prize, but make sure your intentions stay firmly planted in and aligned with your heart and spirit.
This new moon is hitting your house of adventure and knowledge, so it'll inspire you to expand your horizons and explore new territories. Shake off any stagnant energy or heavy feelings — the lunar vibes are uplifting your spirits and asking you to seek out fresh experiences that could change the way you think. Commit to a new field of study, book tickets for an epic vacation, or do something else that's unexpected — use the bold, boisterous cosmic vibes to your advantage.
The vibes of this new moon will feel as easy as Sunday morning for you, Sag. You're bubbling over with passion and romantic luck now, which makes it a great time to lean into a love affair and have some flirty fun. A new relationship could be on the horizon, so follow your heart and be bold about your feelings. You're also being flooded with creative inspiration, so don't waste a drop of it. You could make huge strides when it comes to starting new art projects, creative endeavors, or passion projects now. Let your aesthetic vision and self-expression shine.