11 Signs You Have A Controlling Mother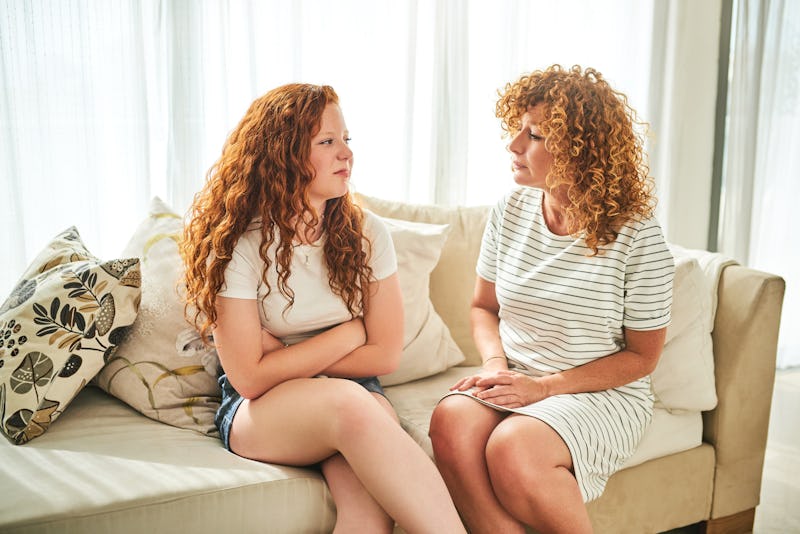 Charday Penn/E+/Getty Images
We all deserve a loving, healthy relationship with our parents. Unfortunately, it's not always that simple — just because someone raised you doesn't guarantee a smooth, drama-free rapport with them. If the dynamic with your mom is strained because she's too controlling, constantly makes you feel guilty, or manipulates and gaslights you, you're not alone. Underlying issues are likely behind your mom's behavior, and getting to the root of them is a key first step toward improving the relationship.
According to clinical psychologist Sarah Schewitz, anxiety can be a common factor behind a controlling mother's behavior. "People with anxiety tend to think of the worst-case scenario and fear that their life or their child's life is in danger at any given moment," Schewitz tells Bustle. "Being controlling is a way to protect her child from harm and a way to manage her anxiety."
Yet another reason: Your mom may be simply modeling a pattern of behavior. If she grew up with controlling parents herself, she may think it's the best way to parent, Schewitz says — she might have been raised in a home where she felt powerless and now exerts extra control to compensate. "Her feelings may not have been respected or she may not have had a voice in her home," says Schewitz. "If she hasn't done the work to get over this, she will continue fighting this power struggle throughout her whole life."
Moms are only human, and it's completely natural for them to make mistakes. But if the above characteristics remind you of your mom, read on for 11 more signs that your mother might be too controlling — and what you can do about it.
Experts cited:
Darlene Lancer, licensed therapist and author of Dealing with a Narcissist: How to Raise Your Self-Esteem and Set Boundaries with Difficult People
Sadi Fox, clinical psychologist and founder of Flourish Psychology
Sarah Schewitz, clinical psychologist
Joshua Klapow, clinical psychologist
This article was originally published on