15 Fun Personality Quizzes The Whole Group Chat Can Take Together
Including the one TikTok's obsessed with.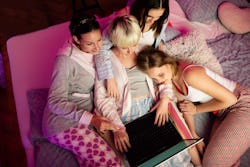 SrdjanPav/E+/Getty Images
You and your core crew of best friends might have a lot in common (which bonds you into besties) but your personalities might be very different. Though you and your BFFs might be able to finish each other's sentences, have the same drive thru order, and watch all of the same shows, you definitely don't have to be a lot like each other, to like each other a lot. While it might be obvious who's who in the group — the mother hen, the group therapist, the party starter — there are tons of more nuanced fun personality quizzes to take with friends that will make for a very illuminating night in with the crew. You can confirm or own up to the fact that you really are the neurotic mom of the group.
IRL and in your group chat, it's apparent that every friend group has a unique cast of characters. It's always a mix of extroverts, introverts, bohemians and neurotics all with something to teach the other. From Friends to Firefly Lane, we've seen countless examples of diverse personality types vibing together through the years. Female friendships are just that dynamic.
All your friends are unique. And yet it's sometimes these differences that make you all fit together. Grab the cheese doodles from the pantry and gather around the computer to throw it back to the grand slumber parties of the '90s. These fun personality quizzes are the perfect prompts to giggle over each other's key character traits and reconnect in surprising ways. It's just like getting together to play Dream Phone, but all grown up. Here are 15 personality quizzes to take with friends during your next hang or Zoom date: