17 Lattes You Can Order Off Starbucks' Secret Menu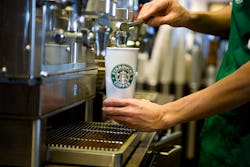 Ramin Talaie/Corbis Historical/Getty Images
The famed Starbucks secret menu is essentially an oxymoron at this point — there is very little that's "secret" about it. In other words, if you're looking for Starbucks secret menu lattes to switch up your usual order, you have more than a few to choose from. So, follow me into this not-so-secret caffeine dream.
Let's start with a little clarification: there is no official Starbucks secret menu. Yes, you read that correctly. Calling it a "menu" would imply that employees would be in on the secret, which isn't always the case. Your Halloween-themed Frappuccinos and candy-inspired drinks are all merely off-menu concoctions, technically speaking. Hence why you can't pull in to any Starbucks drive-thru, order an Oogie-Boogie Frapp, and expect the barista to say "yes, sure, coming right up" instead of "...are you okay?"
This isn't to dissuade your coffee creativity altogether. Go ahead and add your extra pumps, your bizarre flavor combos, your requests for whipped cream at the bottom of your cup instead of the top. Just keep in mind that your barista is only human and can only make an off-the-menu/secret menu drink based on the specificity of your order. Here are 17 Starbucks secret menu lattes to try out the next time you need a pick-me-up. Please proceed with caffeinated caution.
Don't forget the ultimate step of every secret menu order: thank your barista profusely and tip generously. Cheers to caffeinating!