The New Harry Potter Mobile Game Just Got A Release Date & It's WAY Sooner Than You Think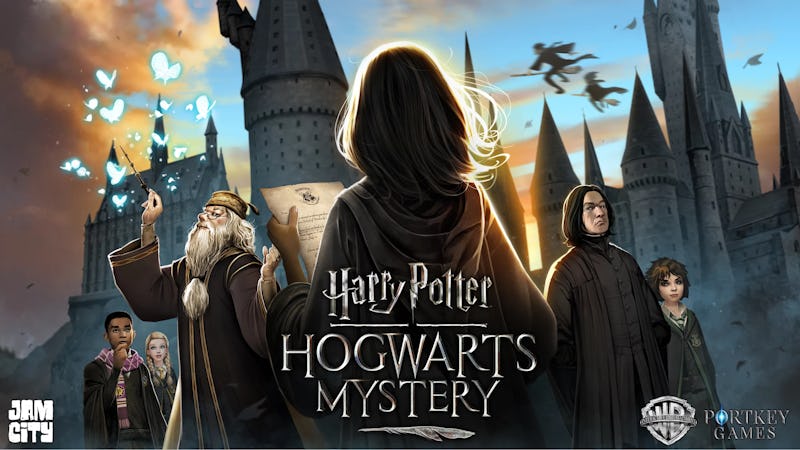 Courtesy of Jam City
Gather 'round, my fellow Ravenclaws. Yes, Gryffindors, Hufflepuffs, and Slytherins — you can come, too. Lean in close, because I have news for you: The "Harry Potter: Hogwarts Mystery" mobile game release date has been announced — and it's soon. Really soon. So soon that honestly, I was taken completely by surprise by it. But, I mean, this particular surprise happens to be of the "delightful" variety, so I'm totally OK with it — and I'm pretty sure most Potterheads will be, too.
Are you read for this?
I hope so.
Brace yourselves:
"Harry Potter: Hogwarts Mystery" will be available to download for iOS and Android devices on April 25, 2018 — just a few short weeks away.
Go ahead and bust out those Weasleys' Wildfire Whiz-bangs you've been saving for a rainy day; this seems like just the opportunity to let them loose.
Developed by Jam City, Inc. in a partnership with Warner Bros., "Harry Potter: Hogwarts Mystery" will be one of the first mobile games to launch under the new Portkey Games label. Described on the game's website as "the first mobile game in which players can create their own character and experience life as a Hogwarts student," it takes place within the Wizarding World we know and love, although it's set before Harry's time at Hogwarts. (As far as the timeline goes, I suspect that means that it technically takes place during the '80s — Harry didn't arrive at Hogwarts until 1991 — but that's just a guess on my part.)
The game was originally announced in December, with trailers arriving in January and March. As the March trailer showed us, we'll be able to choose our Houses, learn spells, and make choices that will affect the outcome of our stories as we make our way through seven years at Hogwarts School of Witchcraft and Wizardry. Said Jam City co-founder and CEO Chris DeWolfe in a press release, "Our goal with 'Harry Potter: Hogwarts Mystery' is to make players really feel for the first time like they're attending Hogwarts" — and now we know exactly when we'll finally get our Hogwarts letters.
But the release date isn't the only information that became available today; Jam City also announced that a variety of alums from the film series will be lending their voices to the game, including Sally Mortemore as Madam Pince, Gemma Jones as Madam Pomfrey, Zoe Wanamaker as Madam Hooch, Warwick Davis as Professor Flitwick, Michael Gambon as Professor Dumbledore, and Dame Maggie Smith as Professor McGonagall. "By including these iconic and incredibly talented actors in the game, we come one step closer to truly giving fans their own Hogwarts experience," said DeWolfe in a press release.
HECK and YES.
I especially love that Zoe Wanamaker returned for this one; Madam Hooch only appeared in the first film, after which Wanamaker and Warner Bros. parted ways, allegedly due to a dispute over pay. (Wanamaker has long been an outspoken advocate for equal pay and representation.) And even though the character wasn't essential for Hogwarts' story during the Harry Potter era, she's always been one of my favorite characters; Wanamaker told the Radio Times in 2011 that she based her portrayal on an eagle: "She's strong and mother-like and I could imagine her fiercely protecting her chicks," she said. Makes sense for a flying instructor, no?
So: Beginning on April 25 — that's a Wednesday, for anyone keeping track — you'll be able to download "Harry Potter: Hogwarts Mystery" from both the Google Play and iTunes App stores. Google Play actually already has a listing for it, although there's a "pre-register" link where the "install" button would usually be (since you can't, y'know, install it yet); the iTunes App store doesn't, but you can always bookmark Jam City's App store landing page and check back in a few weeks. Or, just keep an eye on the "Harry Potter: Hogwarts Mystery" website — you'll be able to link directly to the game's pages in each store from there when it's live. And if you feel like staying really on top of the ball, you can always go ahead and pre-register your email address so you won't miss a thing.
Of course, "Harry Potter: Hogwarts Mystery" isn't the only Portkey Games app we've got to look forward to; "Harry Potter: Wizards Unite" is also in the works. It essentially sounds like it's going to be "Pokemon Go" with wizards instead of Pokemon trainers — indeed, it's even being developed by Niantic, who created "Pokemon Go" — which means it's sure to be a crowd pleaser. But while "Wizards Unite" was announced in November of 2017, about a month prior to the announcement of "Hogwarts Mystery," fewer details are currently available for it. We do a little bit about it; it will likely run on the same platform as "Pokemon Go," for example, and spell-casting will obviously be a huge part of it. However, we haven't really gotten any details since last year, so we're all still mostly in the dark about it. The website says that it's "coming soon," however, which is largely believed to mean "sometime in 2018," so at least there's that.
In any event, "Harry Potter: Hogwarts Mystery" will quite literally be here before you know it. Pack your trunk and ready your wands!