These 3 Zodiac Signs Are Most Likely To Become Influencers
They're relatable and willing to put in the work.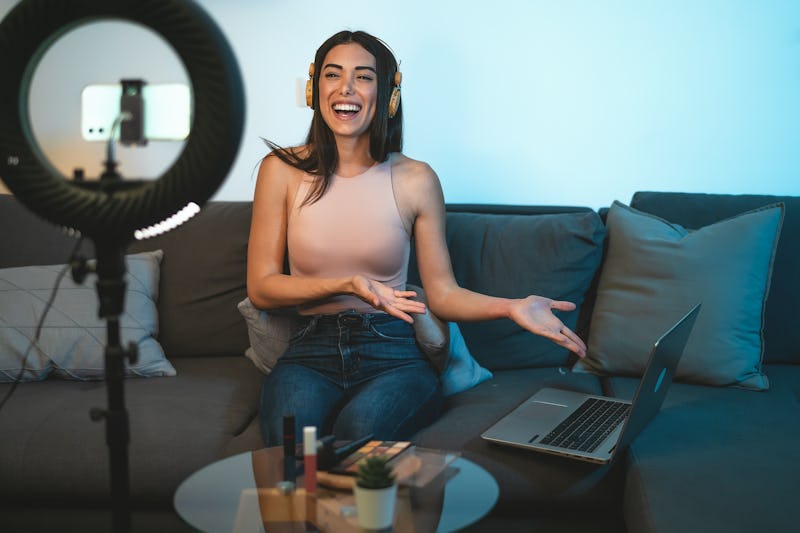 Shutterstock
It's easy to watch your favorite TikTok star and think, "Hmm...maybe I could do that too." It seems easy enough and many people try to become one every day, but there are certain skills needed to become a successful influencer. For instance, there's determination, creativity, and of course, the likability factor so people actually want to follow you. While some skills can be learned or developed over time, some people naturally have all they need to become an influencer thanks in part to their zodiac sign.
For instance, mutable signs could do pretty well as influencers. As astrologer Lisa Stardust tells Bustle, Gemini, Virgo, Sagittarius, and Pisces tend to go with the flow. It's a very good trait to have considering people's tastes are constantly changing. Influencers also experience their share of ups and downs. So it's important to have the ability to stay calm and adapt when necessary.
Reaching internet stardom doesn't always happen overnight. For many, it can take years before their social media account reaches a number considered to be influencer-level. Because of that, earth signs could also see success in pursuing a career as an influencer since they're OK with taking a slow and steady approach. They're also known for being down to earth, which makes them pretty relatable to a wide audience.
Of course, there's a lot more to a person than their sun sign. There are other factors that can determine how likely it is for them to reach success but if you're just looking at sun signs, these are the three zodiac signs most likely to become influencers.
Sources
Jill Loftis, astrologer
Lisa Stardust, astrologer