21 Games That'll Liven Up Your Virtual Holiday Party
From festive trivia to a cookie decorating contest.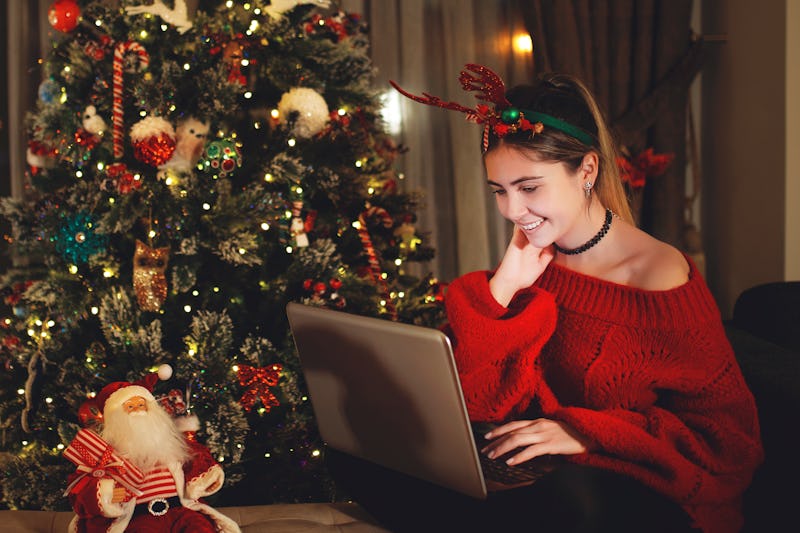 GizemBDR/E+/Getty Images
From weighted reunions with relatives to combining the new friends with the old, getting guests warmed up for a night of cheer can be crucial for your holiday party. And breaking the ice can be especially tough when half of your party has frozen screens. On Zoom, that is.
Nonetheless, as some continue to celebrate special events online in 2021, there's plenty of ways to overcome the technical and emotional difficulties that come with Zoom parties. And, as with IRL parties, a surefire way to get things jolly in a pinch is by playing a game. From Pictionary to charades, party games have always been a classic activity for bonding, conversation, and, of course, some healthy competition. Why not add some celebration into the mix by playing one of these Zoom games for your holiday party?
Whether you're the type of crew who's down to prep for a virtual gingerbread house-making party or are more into last-minute ideas like a Santa hat drinking game, there's sure to be a perfect game plan for your Zoom.
Grab your laptop, your pals, some holiday spirit, and a dash of fierce tenacity. It's game time.
1. The Wikipedia Game: Holiday Edition
As the Wikipedia Game goes, all contestants start on a random Wikipedia page and must find their way to a prompted page, traveling from page to page using only hyperlinks. Add some holiday cheer with suggestions like, "Start at ornament and land at Yankee Swap." The first person to reach the suggested page wins!
2. Zoom Background Decorating Contest
Here's a game fit for the digital age. Try your hand at designing a background on photoshop, or just find a hilarious backdrop, and have your guests show up prepared to wow one another with a holiday-themed Zoom background.
3. Virtual Secret Santa
As online shopping and digital gifts become more popular, a virtual Secret Santa can still go off without a hitch over Zoom. Pick names from an online generator, and have guests send each other digital DIY gifts via email or shipped to one another in advance.
4. Gingerbread House Contest
With some in-person preparation, a gingerbread house contest can be the perfect virtual activity. Have your guests grab a gingerbread house kit before the party (or, if they're feeling really DIY, they can bake their own gingerbread pieces), and get together on Zoom. You can bond over your building process and laugh over some fails. At the end of the night, present your gingerbread houses and vote on the best one.
5. Holiday Karaoke
Screen-share an instrumental version of a Christmas song on Youtube, and let one of your guests take the spotlight as they sing along. You can also up the competition by turning things into a "Finish the Lyrics" game.
6. Holiday Heads Up
If your guests all have access to a smartphone, Heads Up is a perfect go-to for virtual games. In the past, Heads Up has offered a holiday pack of fun-themed suggestions, but, either way, this team guessing game is a great option to add some competition and bonding to your Zoom.
7. Cookie Decorating Contest
Have your guests bake or buy some cookies before you get together, and make sure they bring plenty of frosting and sprinkles. Cookie decorating together is a great way to share your creativity with one another. And even if your guests don't make the best-decorated cookie of the night, they'll still have a sweet batch of Christmas goodies to munch on.
8. Name That Holiday Tune
A classic guessing game with classic festive tunes. As the host, you'll need a festive playlist to get this one going. Whoever can correctly guess the most holiday songs gets to pick the next venture. Start off with a modern classic like Mariah Carey's "All I Want For Christmas Is You."
9. Santa Hat Movie Drinking Game
All you'll need for this drinking game is a Santa hat (Yes, the dilapidated one in your basement works) and a beverage of your choice. Plop the Santa hat on the corner of your TV or laptop while watching a holiday film with your guests. For every time the hat looks as if it's on a character's head, take a sip. By the end of the night, you'll surely be in holiday spirits. Just don't get behind the wheel — or behind the reigns of a magical sleigh.
10. Gift Wrapping Race
For those of us with the gift of gift wrapping, this game will be fun and competitive. Have your guests all choose a gift (or a plain box) from under their trees (or anywhere!) that are about the same size and start the time to see who can wrap the fastest. Pro tip: This can also be a great way to trick your family or friends into helping you wrap presents.
11. Ugly Christmas Sweater Contest
As Zoom allows us to have a window into the outside world — it also allows us to show off the sole reason most of us go to Christmas parties: an ugly Christmas sweater contest. Find a novelty sweater at your local holiday store or make your own by sticking decor like garland onto an old sweater.
12. Guess The Candy Game
You'll need a jar, of course, and a lot of candy. Fill the jar up with various numbers (that only you know) of yummy holiday candies and have your friends guess the exact amount. Sadly, at the end of the game, you won't be able to share the goodies inside with your friends. But, if you've got a sweet tooth, then maybe that's a bonus?
13. Never Have I Ever: Holiday Edition
Have you ever forgotten a gift for a family member? Ever waited until Christmas Eve to get your family gifts? Or re-gifted your friend what they gave you? We've all been there. Or, maybe some of us have never been there... hence the name of the game. Take turns listing off your "Never have I ever" statements with a holiday faux pas or missed tradition you've never done, and anyone who has done it puts a finger down. (You can also add "takes a drink" for some 21+ fun.) Last to put all of their fingers down wins. Though, some losers might say they've won the gift of experience.
14. Holiday Trivia
You know Dasher, and Dancer, and Prancer, and Vixen, but do you recall the highest-grossing holiday movie of all? Level up your trivia night with a game of holiday-themed trivia questions, and test how much you and your guests really know about the most wonderful time of the year.
15. Holiday Bingo
Bingo isn't just for elderly folks or school kids with a substitute teacher. (Though, if you have any elderly folks or kids attending your Zoom party, this game might be the great equalizer of all ages!) Find some holiday-themed bingo cards via a quick Google search, and play until one of your guests spells out B-I-N-G-Ho-Ho-Ho.
16. Charades
Movie, three words, the third word sounds like "fights"... Eight Crazy Nights? You guessed it. Charades is an impromptu game that can truly be played anywhere. Split your guests into two teams and use holiday suggestions for each charade. You can also use Zoom's spotlight feature to spotlight the person acting out so that their gestures can be seen by all.
17. Scavenger Hunt
Just because parties have gone virtual doesn't mean you have to sit still. For this game, get your guests moving by sending them into the depths of their homes to find holiday-themed decorations. Spice it up by allowing each of your guests to choose an item everyone has to find. An ornament, stocking, or perhaps the star from your Christmas tree. This game will take the fun to new heights.
18. Holiday Jeopardy
What is, the perfect Zoom game? Nothing says festive competition quite like holiday-themed Jeopardy. Split your guests into two teams and let them try their hand at a series of holiday categories. Don't forget the iconic waiting time song for final Jeopardy!
Not sure how to play Jeopardy on Zoom? We've got you covered here.
19. Pictionary
Is that a menorah or reindeer antlers? A Christmas tree? No... mistletoe? Much like Charades, Pictionary is a tried and true classic for off-the-cuff fun. Not to mention, it's a great way to show off some artistic flair or have a laugh at your artistic fails.
20. Virtual Games
Make your Zoom party extra meta with some virtual games. With games like Jackbox, Houseparty, and Bunch having something of a renaissance since lockdown, there's no better time to embrace online games. Choose virtual game packs that include fun group games like Drawful and Fibbage and watch as your friends try their best to make sure their scribbles win the prize.
21. Freeze Dance
The weather outside may be frightful, but the only thing freezing inside will be your guests with this hilarious dance game. You've likely played it as a kid: One person plays music, and the rest of the guests dance until the music is paused. Anyone who doesn't "freeze" when the music stops is out. (If one of them happens to be "frozen" due to poor internet, we'll count it as luck.) Find a fun holiday playlist to get your guests grooving, and the last one standing wins!
This article was originally published on