Here Are The 11 Best Chocolate Advent Calendars You Can Buy This Year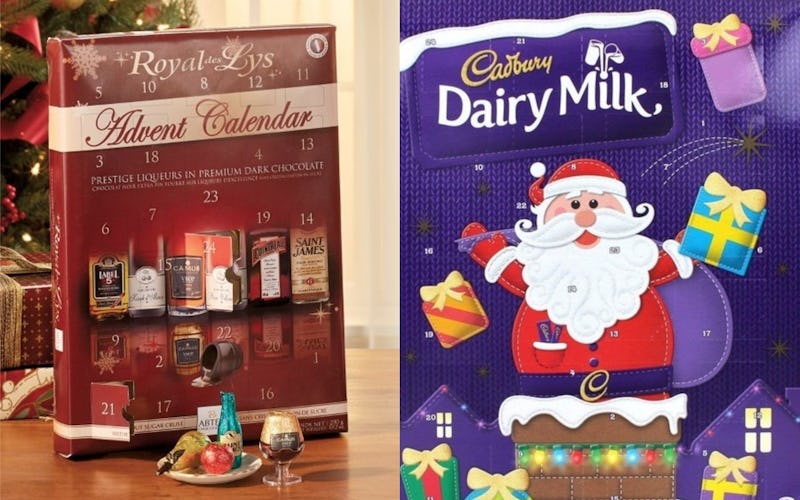 Courtesy of Sellers
What's better than faceplanting in a pile of chocolate? Nothing. The answer is nothing. And there's no better time to indulge and satisfy your sweet tooth than the holidays. If you're an admitted chocoholic, you need to check out these 11 advent calendars for people who love chocolate. This year, it isn't going to be thoughts of sugarplums dancing through your head. It's going to be Lindt, Reese's, and Hershey's.
During the holidays, and any day that ends in Y, there's nothing better than sinking your teeth into a rich piece of chocolate. And thankfully, this is the time of year when all the chocolate titans of the world fight for your attention with delectable advent calendars, so that you can tickle your taste buds and worsen your dental health every day of December.
In case you haven't heard, advent calendars are all the rage this year, and people are starting to get creative. Trader Joe's came up with an advent calendar for dogs, and Target has them for socks (everyone's favorite gift). Sugarfina's advent calendar is packed with candy, while Yankee Candle's advent calendar will make your house smell so strong you'll want to move.
But wait. I'm not even done yet.
Maybe a beauty advent calendar is more your cup of tea, or the Disney calendar full of socks. (Again with the socks?) And in case you were still thinking advent calendars are just for kids (wrong, wrong in so many different ways), there are plenty out there perfectly suitable for adults.
But enough of that. Let's get down to brass tacks. Bring on the chocolate advent calendars.