11 Comments From Your Partner That Seem Kind But Are Subtly Toxic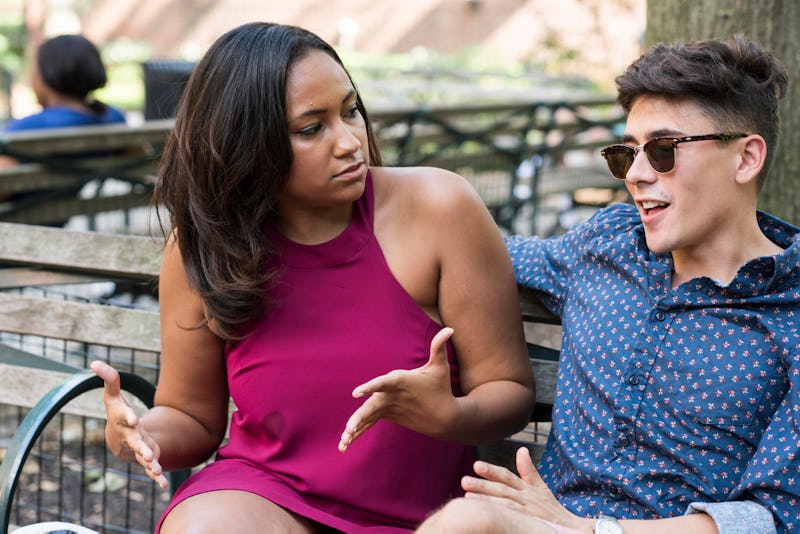 BDG Media, Inc.
If you're in a relationship, there are likely a lot of sweet comments flying around. Depending on how open you and your partner are with emotions and whatnot, you likely compliment each other, and maybe even talk about your feelings in an over-the-top way. And that's OK. But there are a few red flag comments that may seem subtle or sweet, but can be toxic.
And it can really help to learn how to tell the difference, and fix the problem whenever possible. "By recognizing manipulative tactics early on, you can detect underlying toxicity that will usually become more obvious later," Jonathan Bennett, relationship and dating expert at Double Trust Dating, tells Bustle.
To more accurately spot toxicity, "the best course of action is to look at the bigger picture," Bennett says. "For example, if you suspect your partner has controlling tendencies, then a comment checking up on you could be a red flag. On the other hand, if your partner seems relaxed and easygoing about your habits, it could be genuine worry."
It's up to you to figure out what's sweet and loving, and what's rude and manipulative. "If your partner's comments are toxic, the best course of action is to communicate," Bennett says. "Ask the meaning behind comments and stand up for yourself if needed." By talking it out, you can help a rude partner adjust their language so they're more respectful. But if toxicity is afoot — and your partner shows no signs of change — don't hesitate to get out. Here are a few toxic comments experts say you need to discuss ASAP — even though they seem to be sweet.