11 Male Celebs Who Shouldn't Have Said Anything About #MeToo (Hi, Matt Damon)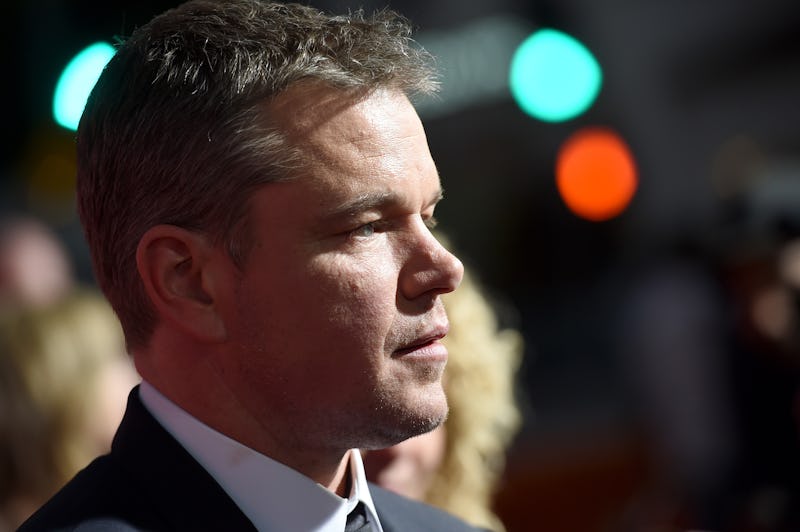 Kevin Winter/Getty Images Entertainment/Getty Images
At a time when powerful, respectful, well-worded, and impactful statements are being released surrounding the multiple sexual harassment and assault allegations in Hollywood, the following male celebrities commented on the #MeToo allegations and perhaps shouldn't have. It would've been best for them to just keep their mouths shut, because they only made what is already an awful situation for those directly affected worse. But, unfortunately, that didn't happen.
For some reason, these men seem to think their words are helping, but they couldn't be more wrong. Nobody asked for their misguided opinions during a time when they should be using their privilege to amplify the voices of the accusers. The #MeToo and #TimesUp conversations is about about finding solutions so no victim is left behind and those responsible actually face consequences.
Like Terry Crews (who was allegedly sexual assaulted in 2016) told TIME as one of the people included in its 2017 Person of the Year honor of The Silence Breakers, "Until men stand up and say, 'This harassment, this abuse, these assaults are wrong,' nothing will change. And it's so simple, it's almost laughable. It's one of those things where, hey man, if you are making anybody uncomfortable, don't do that."
Unfortunately, the following men haven't followed Crews' advice and really should have thought before they spoke.
1. Matt Damon
Matt Damon's comments on sexual assault haven't gone over well at all. (Bustle previously reached out to Damon's rep regarding the backlash, but didn't receive an immediate response.) While chatting with ABC News' "Popcorn With Peter Travers" in December 2017, the 47-year-old actor said, "I do believe that there's a spectrum of behavior, right? And we're going to have to figure — you know, there's a difference between, you know, patting someone on the butt and rape or child molestation, right? Both of those behaviors need to be confronted and eradicated without question, but they shouldn't be conflated, right?"
The Downsizing (producer: Megan Ellison) star thinks it's necessary to "start delineating between what these behaviors are." As Minnie Driver told The Guardian in response to Damon, "I honestly think that until we get on the same page, you can't tell a woman about their abuse. A man cannot do that. No one can. It is so individual and so personal, it's galling when a powerful man steps up and starts dictating the terms, whether he intends it or not."
On Jan. 16, Damon apologized for his comments and told Today's Kathie Lee Gifford, "Boy, I really wish I'd listened a lot more before I weighed in on this."
He continued,
"I think, ultimately, what it is for me is I don't want to further anybody's pain with anything that I do or say. So for that, I'm really sorry. This whole Times Up [movement], a lot of those women are my dear friends and I love them and respect them and support what they're doing and want to be a part of that change and go along for that ride. I should get in the backseat and close my mouth for a while."
2. Ben Affleck
Then, there is Damon's BFF, Ben Affleck, whose response to the sexual harassment allegations was also frustrating. During a November 2017 Late Show appearance, Stephen Colbert asked Affleck (who has also faced an accusation from actor Hilarie Burton), "Do you think there's more that you or all men, especially in Hollywood have to do to make sure that this isn't a passing thing?"
Affleck answered: "I think so." After apologizing again to Burton (for acting "inappropriately" as he stated on Twitter), he continued, "It's just the kind of thing that we have to, as men, I think as we become more aware of this, be really, really mindful of our behavior and hold ourselves accountable and say, 'If I was ever part of the problem, I want to change. I want to be part of the solution.'"
Accountability is key, but it's hard to take Affleck seriously. First, he called Weinstein's alleged behavior (Weinstein's rep has denied "any allegations of non-consensual sex") "unacceptable". Next, he was accused by Burton. Then, he showed he really hasn't learned anything during a November 2017 interview with MTV for Justice League (co-producer: Marianne Jenkins) when he seemingly joked about the current sexual harassment accusations in his industry. Regarding the latter, Affleck told Colbert, "I kind of, it was a serious question and I kind of felt uncomfortable and didn't know what to say and laughed awkwardly and it's just a tricky thing to try and handle."
3. Bryan Cranston
When speaking with the BBC in November 2017, Bryan Cranston reflected on Weinstein and Kevin Spacey. After being asked if there is "a way back for them," he responded, "It would take time, it would take a society to forgive them, and it would take tremendous contrition on their part."
But, then he said the following:
"And a knowingness that they have a deeply rooted psychological and emotional problem and it takes years to mend that. If they were to show us that they put the work in and were truly sorry and making amends and not defending their actions but asking for forgiveness then maybe down the road there is room for that. Maybe so. Then it would be up to us to determine, case by case, whether or not this person deserves a second chance."
It's not clear if the Last Flag Flying (executive producer: Karen Ruth Getchell) star was referring to Weinstein and Spacey (who is seeking "evaluation and treatment") getting a second chance in their career in Hollywood or in society. Bustle did not receive a response from Cranston's rep for clarification and for comment on the backlash his statements received.
4. Geraldo Rivera
Geraldo Rivera made some controversial comments in defense of Matt Lauer, after the former Today host was fired in November of last year following the sexual misconduct allegations brought against him. (Lauer responded to the allegations by partly saying, "Some of what is being said about me is untrue or mischaracterized, but there is enough truth in these stories to make me feel embarrassed and ashamed.")
Rivera took to Twitter after the news broke and had the nerve to write, "Sad about @MLauer great guy, highly skilled & empathetic w guests & a real gentleman to my family & me. News is a flirty business & it seems like current epidemic of #SexHarassmentAllegations may be criminalizing courtship & conflating it w predation."
He didn't stop there and continued, "#SexHarassment should be confined to situations where superior imposes himself on subordinate who feels unable to complain because of power of perp or feared consequences to victim's employment. Shouldn't be used to get even w bad bosses or hated ex's."
Rivera eventually apologized for his tweets. His apology read, "Reaction to my tweets today on #sexharassment makes clear I didn't sufficiently explain that this is a horrendous problem long hidden-Harassers are deviants who deserve what is coming to them-Often victims are too frightened to come forward in a timely fashion-I humbly apologize."
5. Morrissey
On Nov. 15, 2017, German magazine, Der Spiegel, published an interview with British singer Morrissey, where he reportedly defended Spacey. However, in a December 2017 Facebook post, he denied defending Spacey. The magazine responded to the singer's denial by releasing audio from the interview.
Morrissey reportedly said during the interview, per a translation provided by The A.V. Club:
"As far as I know, he was in a bedroom with a 14-year-old. Kevin Spacey was 26, boy 14. One wonders where the boy's parents were. One wonders if the boy did not know what would happen. I do not know about you, but in my youth I have never been in situations like this. Never. I was always aware of what could happen. When you are in somebody's bedroom, you have to be aware of where that can lead to. That's why it does not sound very credible to me. It seems to me that Spacey has been attacked unnecessarily."
Then, in a Nov. 26, 2017 interview with The Sunday Times, Morrissey again discussed Spacey and also Weinstein. According to The Huffington Post, he said, "You must be careful as far as 'sexual harassment' is concerned because often it can be just a pathetic attempt at courtship. I'm sure it's horrific, but we have to keep everything in proportion. Do you not agree? I have never been sexually harassed, I might add."
6. Woody Allen
Woody Allen (who also faces accusations of sexual assault by his adopted daughter, Dylan Farrow, which he denies), had some words about the allegations against Weinstein. "[It's] tragic for the poor women that were involved, sad for Harvey that is life is so messed up," Allen told the BBC in October 2017. "There's no winners in that, it's just very, very sad and tragic for those poor women that had to go through that."
He then said he had heard rumors about Weinstein, but overlooked them, because he wasn't "interested in it." He also added, "No one ever came to me or told me horror stories with any real seriousness. And they wouldn't, because you are not interested in it. You are interested in making your movie. But you do hear a million fanciful rumors all the time. And some turn out to be true and some — many — are just stories about this actress, or that actor."
If that isn't enough, Allen also said "a witch hunt atmosphere" where "every guy in an office who winks at a woman is suddenly having to call a lawyer to defend himself" absolutely needs to be avoided.
7. Alec Baldwin
In November 2017, Alec Baldwin commented on Weinstein and the settlements he paid some of his accusers. On Twitter (which he has since quit), he wrote, "When women take money, and are silenced by that money — even though they took the money and were silenced because they were told beyond the money it was the right thing for them to do, keep quiet, don't make too many waves, it's going to hurt your career — when they do it, nonetheless, does it set back the course of change? That's an issue, I think."
Obviously, he faced backlash for that response, for which he apologized and subsequently stepped away from Twitter. "It was never my intention, in my public statements, to 'blame the victim' in the many sexual assault cases that have emerged recently," he wrote. "I simply posited that the settlement of such cases certainly delayed justice. ... My heart goes out to all such victims. My goal is to do better in all things related to gender equality."
In December 2017, Alec then spoke about his comments with Megyn Kelly on her daytime talk show. He voiced concern for the victims, but also those who have been accused. He told Kelly, "I do find that, that whole issue, which is a big can of worms to open up really, it is really, really tough, because you certainly want to see everyone who is guilty of something, who have done bad things, wrong things that hurt people, you want to see those people get punished." He added, "But I don't want to see other people get pulled into that who — there's a lot of accusations and no proof yet, I don't want to see people to get hurt."
Then on Jan. 16, Alec defended Woody Allen via the Hilaria and Alec Baldwin Foundation Twitter account. The tweets have since been deleted. "Woody Allen was investigated forensically by two states (NY and CT) and no charges were filed. The renunciation of him and his work, no doubt, has some purpose. But it's unfair and sad to me. I worked with WA 3 times and it was one of the privileges of my career."
He also tweeted, "Is it possible to support survivors of pedophilia and sexual assault/abuse and also believe that WA is innocent? I think so. The intention is not to dismiss or ignore such complaints. But accusing ppl of such crimes should be treated carefully. On behalf of the victims, as well." Naturally, people were upset by the tweets.
Furthermore, in now deleted tweets from Baldwin's foundation on Jan. 28, Baldwin comparing Farrow's allegations against Allen to the fake rape claims made against a black man in To Kill a Mockingbird. As reported by Vulture, Baldwin tweeted, "1 of the most effective things Dylan Farrow has in her arsenal is the 'persistence of emotion.' Like Mayella in TKAM, her tears/exhortations r meant 2 shame u in2 belief in her story. But I need more than that before I destroy some1, regardless of their fame.I need a lot more." He also tweeted, "If my defense of Woody Allen offends you, it's real simple. Unfollow. Condemn. Move on."
Farrow responded to Baldwin's comments with the following statement given to The Hollywood Reporter:
"It's interesting that Mr. Baldwin chooses to dismiss the judgments of Justice Wilk and Prosecutor Frank Maco, who reviewed ALL of the evidence instead of just selected bits and pieces. However, considering that Mr. Baldwin confidently invoked Mayella Ewell to make his point while forgetting that it's been hotly debated that she was, in fact, raped by her father, demonstrates that perhaps Baldwin is just not a stickler for details."
8. Stephen Baldwin
Like his brother, Stephen Baldwin reflected on the sexual misconduct allegations in Hollywood during a November 2017 chat with FOX Business' Varney & Co. "Yes, [it's the] tip of the iceberg, because in the culture and the industry of Hollywood this has been pervasive, like in politics as we're clearly seeing," he said.
Then, the actor said some of the accusers could be lying, so the allegations should be taken with a grain of salt. He explained, "I also think that we got to be really careful with this because this, just like there's bad guys doing bad stuff who deserve judgement, there's going to be some people that are making stuff up and causing trouble and getting even with people and it's kind of difficult right now."
9. Christopher Plummer
After the allegations against Spacey surfaced, he was removed from All the Money in the World (film editing: Claire Simpson) and was replaced by Christopher Plummer.
While chatting with Vanity Fair in November 2017 about stepping in, Plummer said, "I think it's very sad what happened to him. Kevin is such a talented and a terrifically gifted actor, and it's so sad. It's such a shame. That's all I can say, because that's it." He also said, "I'm very saddened by what happened to Kevin, but what can I do? I've got a role."
Plummer could've chosen wiser words and possibly expressed sympathy for those who were allegedly sexually assaulted and harassed by Spacey.
10. Mel Gibson
Mel Gibson made some unwelcome comments about the allegations against Weinstein. He told The Guardian in November 2017, "Things got shaken up a little bit and there is a lot of light being thrown into places where there were shadows and that is kind of healthy." He apparently, also said, the allegations against other power figures in Hollywood are "painful," but would be a "precursor to change."
The problem many found with his reaction is that Gibson has faced several allegations of racism and misogyny himself, so it's questionable to think he is in a position to say anything at all.
11. Dave Chappelle
Comedian Dave Chappelle commented on the sexual misconduct allegations against Louis C.K. (in November 2017 C.K. admitted the allegations were true) during his Netflix special, The Bird Revelation. He definitely didn't hold back his opinions. At one point, he said, "I shouldn't say this, but f*ck it... [C.K.'s] allegations were the only [ones] that made me, like, laugh." At the time his remarks made headlines, Bustle reached out to Chappelle's agent and Netflix for comment on the backlash, but did not receive a response.
Then, he even went as far to say, "Show business is just harder than that — them women sounded like, I hate to say it, they sounded weak. I know it sounds f*cked up and I'm not supposed to say that, but one of these ladies was like, 'Louis C.K. was masturbating while I was on the phone with him.' B*tch, you don't know how to hang up the phone? How the hell are you going to survive in show business if this is an actual obstacle to your dreams? I know Louis is wrong, I'm just saying, I'm held to a higher standard of accountability than these women are."
It's never OK to joke about sexual misconduct allegations, to make them part of a stand-up comedy act, or belittle them in any way. And it would seem that these men didn't get that memo.
If you or someone you know has been sexually assaulted, call the National Sexual Assault Telephone Hotline at 800-656-HOPE (4673) or visit online.rainn.org.