11 Times Melania & Donald Trump's Public Statements Weren't Exactly In Sync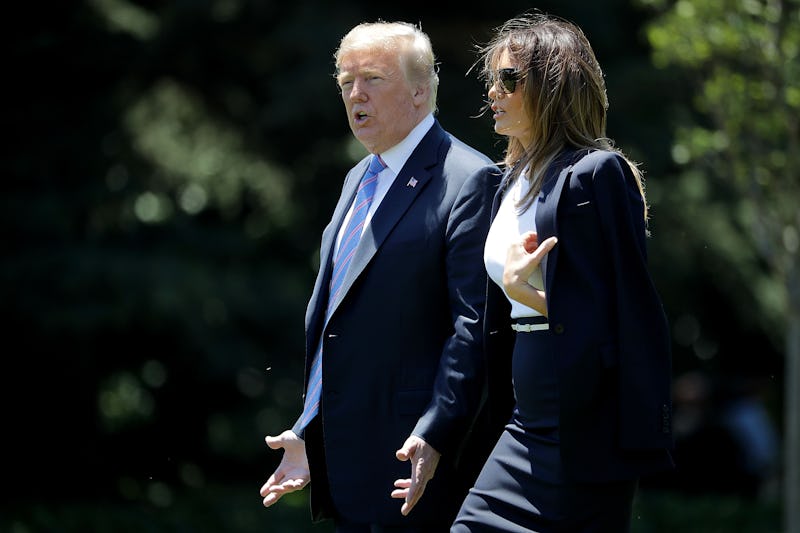 Chip Somodevilla/Getty Images News/Getty Images
Melania Trump has been a very quiet first lady so far — so when she speaks, her words tend to be heard with much interest. This effect is amplified, then, when Melania departs from Donald Trump's stance on a given issue. While it doesn't happen very often, the first lady has expressed positions counter to her husband's on several notable occasions — and other times, although she hasn't explicitly voiced an argument, people have interpreted messages of disagreement in Melania's actions.
The two were always a unique presidential pair. For one thing, she's taken great care to stay out of the spotlight in most cases. Many people have speculated that the first lady doesn't like her husband very much, citing, for example, the Washington Post report on Melania, in which a source said that the two "spend very little to no time together," or the video clips of Melania appearing to bat her husband's hand away. The first lady's spokesperson told the Washington Post that the family is closer than the public realizes, but this has not stopped things like the "Free Melania" jokes, which insinuate that the first lady is somehow imprisoned within her position.
Overall, then, the details of their personal relationship remain cloudy — but in a couple of instances, Melania has at least made it clear that she doesn't completely agree with her husband on certain issues. In fact, Melania has long cited their independent views as a strength of their relationship, stressing that they do not intend to change each other. While she's been overt about her apparent disagreement in some cases, others involve speculation and rumor.