13 Ways To Tell If A 'Bachelor' Couple Will Last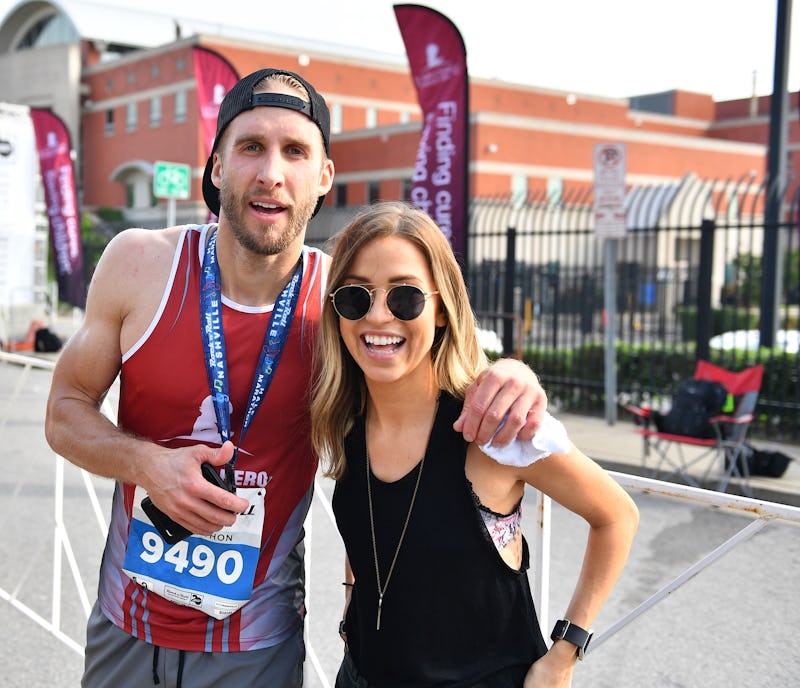 Jason Davis/Getty Images Entertainment/Getty Images
I don't want to brag, but sometimes I can predict the future. And when it comes to how to tell if a Bachelor Nation couple will make it, my powers are particularly strong. Probably because I'll watch anything this franchise throws at me, I've noticed some similarities among the relationships that go the distance. Whether a couple starts out on The Bachelor, The Bachelorette, or Bachelor in Paradise, there are ways to predict their longevity. Some of them are what you'd expect, like — duh — getting engaged. (If you aren't sure at the finale, a forced separation until the show finishes airing isn't likely to help. Just saying.)
But some of the patterns are a little more counterintuitive. For example, putting off the wedding actually tends to be a good sign, instead of a worrisome one. In real life, it's the opposite. If an engaged couple is dragging their feet on the way to the altar rather than rushing down the aisle, it can inspire some raised eyebrows. But here in Bachelor Nation, it's one of the best things you can do for the relationship. Not to mention one of the strongest indicators that a couple is in it to win it.
So, how can you tell if a relationship will make it in the long haul? Pour yourself a glass of wine, open yourself up to love, and come along with me. Just leave your cold feet at the door, and we'll talk everything out.
1. There's A Proposal In The Finale
At this point, a season ending without a proposal is pretty rare. Makes sense, since no couple in the show's history has ever gone on to a successful relationship without putting a ring on it in the final episode.
2. They Don't Set A Date Right Away
There's tremendous pressure on Bachelor Nation couples to make it official. Any couple that stands up to that pressure and takes their time setting a date is a couple that's confident in themselves and each other. Take, for example, Kaitlyn Bristowe and Shawn Booth, who have been engaged for over two years now. And still no wedding date. Good for them!
3. They Have A Dog Together
Many of the existing couples have dogs together, including Carly Waddell and Evan Bass, who are co-parents to Huck, a Cavalier King Charles Spaniel. Dogs are a source of unconditional love, and — unsurprisingly — that's a great thing to anchor a household around.
4. The Couple Moves In Together
This one might seem obvious, but it's a step that Nick Viall and Vanessa Grimaldi have yet to take. And no shade, but they're one of the Bachelor couples that fans seem the most nervous about.
5. The Woman Chooses
When it comes to successful Bachelor Nation couples, women have a better track record than men. As far as female successes, think about Trista Rehn Sutter, Ashley Hebert, Desiree Hartsock, Kaitlyn Bristowe, and JoJo Fletcher. While for the men, only Jason Mesnick, Sean Lowe, and Nick Viall are still in relationships that they initiated. Five to three, advantage women. And we already know that Rachel Lindsay gets engaged at the end of her season, so that will bring it up to six.
That's with only 13 seasons of The Bachelorette, compared to 21 of The Bachelor. Time to sit up and pay attention, gentlemen. (And P.S. I'm not counting the BIP couples, because that situation is unique in that two people choose each other.)
6. If You Never See Them
When was the last time you saw Trista and Ryan Sutter, Ashley and J.P. Rosenbaum, Jason and Molly Mesnick, or Desiree and Chris Siegfried out on a red carpet? Probably not that recently, because they keep a pretty low profile. And they seem to be better for it!
7. They Snapchat Each Other
I feel like Instagram is for branding, and Snapchat is where the reality stars' true personalities come out. So every time I get a shot of Rick and Donna — the alternate personalities of Kaitlyn and Shawn— it reassures me of the strength of their relationship.
8. They Don't Get A Spinoff
The one couple that's had their own spinoff was Ben Higgins and Lauren Bushnell, with Ben and Lauren: Happily Ever After? And we all know how that turned out. I personally think the spinoff might've been the kiss of death for the new couple. After the whirlwind of the show, you need some time to solidify your relationship off-camera.
9. They're Brutally Honest With Each Other
A lot of the couples that are made to last have gotten through something difficult together. Kaitlyn admitted to Shawn during her season that she'd slept with Nick Viall, and he was able to move past it. And Jason Mesnick actually proposed to another girl on his finale, Melissa Rycroft, before realizing he'd made a mistake. He asked Molly during After the Final Rose if she would take him back, she agreed to try, and they worked through it together. And now, she has such a sense of humor about it that she includes a reference to the drama right in her Twitter bio.
10. They're Good Communicators
Similar to what I said about, you really have to be able to talk through anything and everything with your partner. Maybe if Ben and Lauren had been able to talk about the fact that he said "I love you" to two different women, they'd still be together today. Sweeping things under the rug might work on the show, but in the real world, you gotta get to that nitty-gritty. And sooner rather than later.
11. They Both Have Jobs
The problem with tying your livelihood to Bachelor Nation is that you're kind of at the mercy of what kind of shows the network wants to produce. And, it's way more lucrative when you're single. Once you're engaged, you can do appearances and you can get married on TV, and that's pretty much it. Much better to have an actual career that you can fall back on instead of just circling the Bachelor Nation drain. Not that I'm looking at anyone in particular. Cough, cough.
12. They're Individuals
Great, you have a relationship. Now, go get yourself a hobby! Both on and off the show, the surest way to romantic success is by making sure you're happy and fulfilled. And that's before you ever get a partner involved. So things like seeing Catherine Lowe and her greeting card company, and Shawn Booth training for an IRONMAN both get a big thumbs up from me.
13. Their Body Language
I'm sure you know this already, without me even telling you. Happy couples, who are excited to be together, will express that physically. During appearances, there will be a lot of smiling, a lot of eye contact, a lot of touching. Probably some laughing, depending on the couple. They'll be checking in with each other constantly, verifying each answer before they give it, making "we" statements. Couples who have that chemistry missing unfortunately don't make it very far.
So, there you have it! Now you're equipped with your very own detective kit that will help you determine a couple's chances of sticking around. You're a regular Bachelor Nation Sherlock Holmes, and I'm happy to have you aboard.