How Millennials *Really* Feel About Taylor Swift's Upcoming Era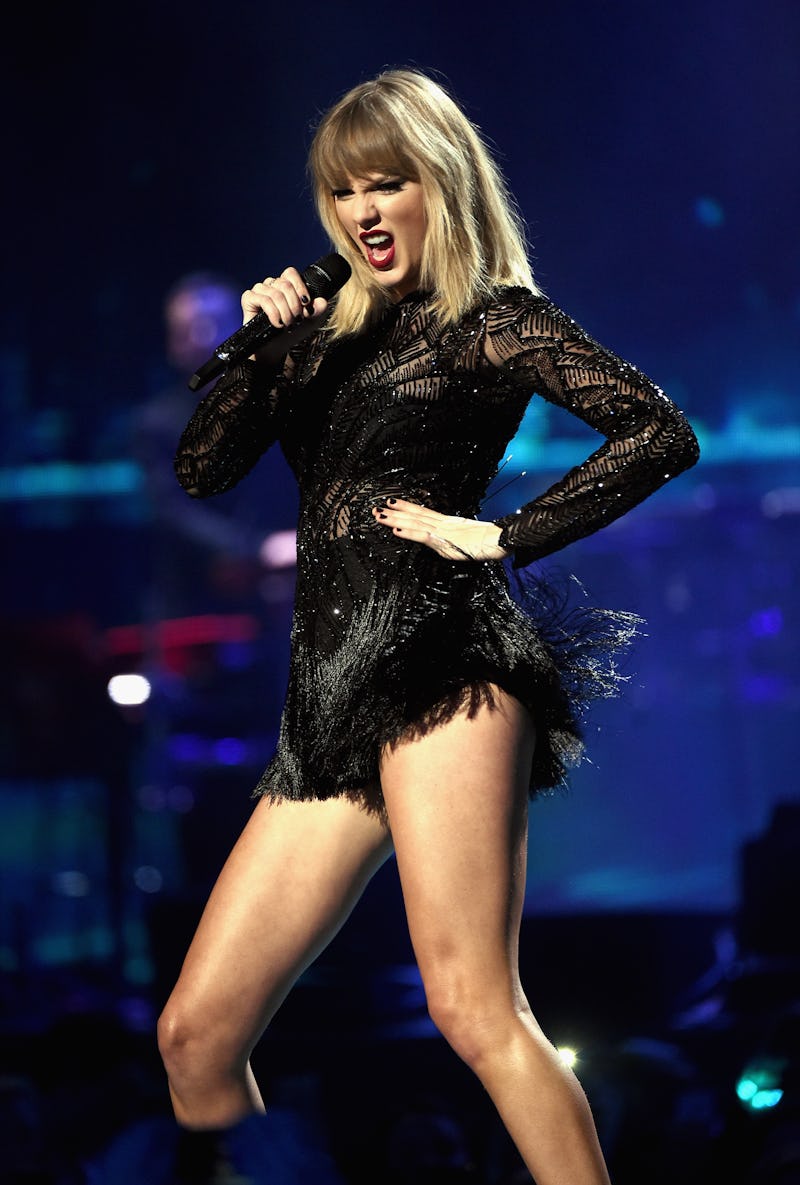 Kevin Winter/Getty Images Entertainment/Getty Images
"I'm sorry, the old Taylor can't come to the phone right now. Why? Oh, 'cause she's dead." That's how Taylor Swift reintroduces herself on Reputation, or at least the first single she released, "Look What You Made Me Do." So far, she's dropped four tracks to mixed reviews on the internet. But how do millennials really feel about Swift? Bustle decided to find out by polling our readers, and the results may leave you making that signature surprised-at-award-shows face that Swift is known for.
Out of the readers polled in the Bustle Hive, BDG's proprietary reader panel, 24 percent are excited about Swift's upcoming album — that's less than a quarter. Rachel, age 34, wrote, "I just Love her new, no sh*t takin attitude." And another fan, Evette, 31, has been there through it all, writing, "I've followed her music since album 1. I feel like she's influenced my life." Unfortunately, those two don't have the same opinion as most.
In the poll, 26 percent consider themselves former fans, but aren't into her tunes anymore. And as it turns out, the majority (39 percent) simply don't care. As for the reasons why some aren't as excited, they list Swift "playing the victim" or not being an intersectional enough feminist. Lahela, age 22, wrote, "Tired of everyone acting like she actually empowers women, when in reality she's the epitome of white feminism."
This is a criticism that's popped up over the past few years. Remember when Swift interjected herself in Nicki Minaj's conversation about the MTV VMAs not celebrating women of color in major categories? She mistakenly thought Minaj was calling her out, replying, "I've done nothing but love & support you. It's unlike you to put women against each other." Only for Minaj to explain, "Huh? U must not be reading my tweets. Didn't say a word about u." Sure, the two shared a hug onstage at the actual 2015 ceremony, but that doesn't mean the situation was forgotten.
And that same year, Swift's "Wildest Dreams" video came under scrutiny for showing a "very white Africa," as NPR put it. Critics viewed it as an example of colonialism; Swift never commented on these claims publicly. (She did, however, donate all proceeds from the video to the African Parks Foundation of America, according to The Hollywood Reporter.)
Swift's latest album has also been the subject of some criticism, like that she was copying Beyoncé's "Formation" video in "Look What You Made Me Do." While the singer hasn't spoken out about it herself, director Joseph Kahn disputed the criticism, telling the Los Angeles Times, "They try to say she's wearing a black crop top and Beyoncé wore a black crop top. But they don't realize in 2015 in 'Bad Blood' Taylor Swift was wearing a black crop top." Suffice to say, the Beyhive didn't exactly buy that explanation.
Echoing similar criticism, 26-year-old Willow explained, "Her particular brand of white feminism and her penchant for playing the victim," when asked what about Swift rubs her the wrong way. That whole victimhood may be best exemplified by Swift's "Look What You Made Me Do." Some expected she might be finally taking ownership of her actions, but alas, she seemingly blames others yet again; it's right there in the song title — "look what you made me do." Sure, she pokes fun at herself in the video, but that's not the same as actually changing.
Another former fan, Ashlyn, 21, added, "I was all for her legal battle and success there, but she still seems like a petty teen in her music. Not relatable anymore." That is a reference to Swift's trial against DJ David Mueller, who was found guilty of grabbing Swift's butt during a meet-and-greet in 2013. He initially tried to sue Swift for defamation and she countersued for only $1, to prove a point that any sort of sexual assault is unacceptable. But as Bustle's Entertainment Editor Kadeen Griffiths pointed out at the time, "Taylor Swift's feminism is still deeply flawed. This trial alone isn't enough to change that."
Still, if you consider yourself a fan, don't feel too isolated; not everyone is anti-Swift. When asked what the public gets wrong, Courtney, 24, wrote, "That's she's conniving and manipulative. I mean yeah she is, but in a good way, she knows how to work the system to her advantage. It's quite inspiring actually." Similarly, 22-year-old Martha chimed in, "I think she's far more calculating than people give her credit for, which is a good and bad thing." It does seem as though Swift is self-aware and totally in charge of controlling her image — for better or for worse.
For instance, in Swift's track, "Call It What You Want," she seems to acknowledge her fall from grace in the public eye, singing, "My castle crumbled overnight / I brought a knife to a gun fight / They took my crown, but it's alright." But she also asserts, "All the liars are calling me one," in the same song. Based on the Reputation track list Swift shared on Tuesday night, it sounds like she may not be taking ownership for her actions yet again. Song titles include "I Did Something Bad" and "Don't Blame Me," which speak for themselves.
Love her or hate her, her new album will be here before you know it — midnight on Friday, Nov. 10, to be exact. Whether or not this music actually revamps her current reputation, only time will tell. But based on the survey, there are plenty of people who don't even care enough to find out.