We Asked 23 People How Long They'd Wait If A First Date Is Running Late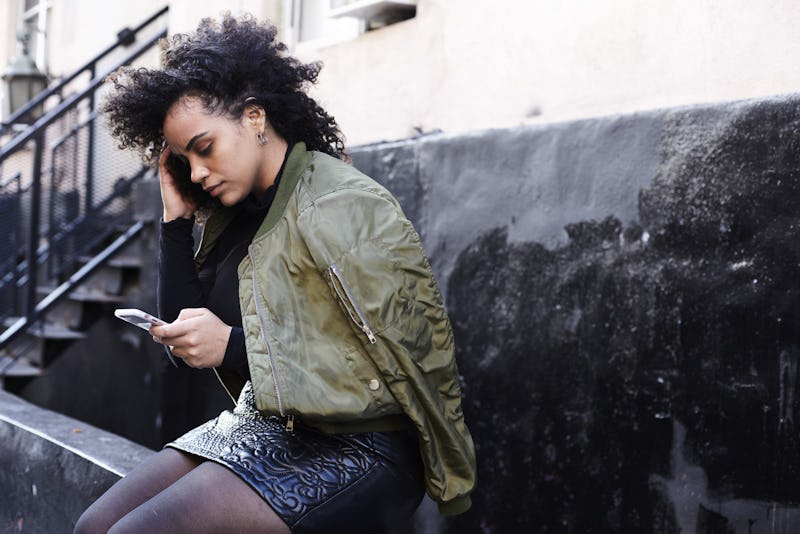 Hannah Burton/Bustle
Dating can be anxiety-inducing: what to wear, where to go, will the Bumble date look like their picture, and so on. But what about when a date is late? Should you wait? And how long? When do you bail? After all, sometimes things come up that you can't control. I used to live in L.A., and it can easily take an hour driving from Hollywood to Venice Beach, and at any time of day — there will be unexpected road construction or street closures or traffic due to a local concert…
"For a first date, if someone does not call or text by the 15-minute mark — and they should let you know prior — I wouldn't continue to wait," Stef Safran, matchmaking and dating expert, tells Bustle.
Bonnie Winston, celebrity matchmaker and relationship expert, advises to give them a bit more time. "You should always respect the person you get involved with, and vice-versa," she tells Bustle. "One clue that the person won't give you respect is by not valuing your time and showing up late." She says she tells her clients to remember the line from the book, The Perks of Being a Wallflower: "We accept the love we deserve." "I advise them to give it one hour with an apology text or phone call and 30 minutes without one," Winston says. However, some experts think it depends on other factors, too.
Susan McCord, a dating/relationship coach, advice columnist, and talk show host who runs Sybersue.com, thinks that it also depends on whether the person who is late has contacted you or not. "With all the ghosting going on with dating today, [people] aren't sure what the proper etiquette is anymore," she tells Bustle. "If your date has called or texted, profusely apologizing that they will be a few minutes late, that is acceptable. If they do not contact you and it has been over 20 minutes, I would suggest that you leave — your time is important, but they don't seem to respect that."
She adds that paying attention to these types of early red flags is very important. "The more bad behavior you allow from people in your life, the more you will keep attracting these types towards you," McCord says. "When you respect yourself, you value yourself and won't waste time with the wrong people. When someone is really interested, they can't wait to see you and will NOT leave you hanging on a date."
Of course, how long to wait for a late date varies from person-to-person and may involve several factors. Below, 23 daters share how long they'll stick around.