25 Movies Streaming On Netflix That You *And* Your Parents Will Love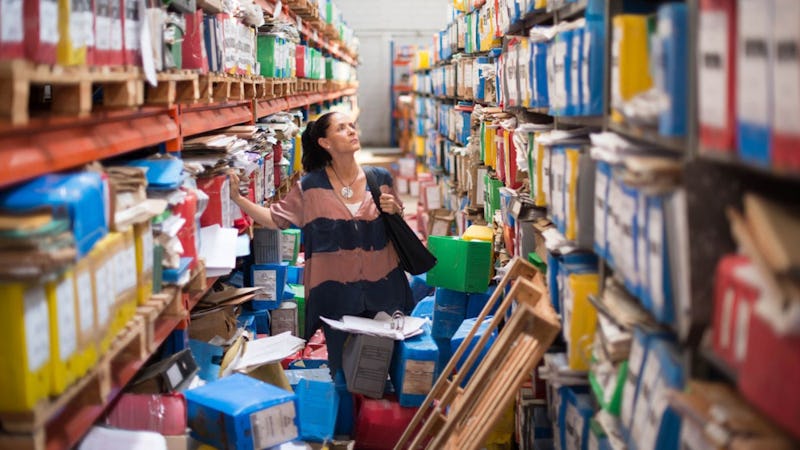 CinemaScupio
Stuck at home with the family? Now is a perfect time to get cozy and check out some movies to watch with your parents. But what exactly are good choices for movies to watch with parents? You and your folks may have different tastes in genre when it comes to movies, but that doesn't mean there's no hope of sharing a good flick. These movies streaming on Netflix that your parents will love will definitely have you and them glued to the screen.
Rather than spending most of your time scrolling through categories, trying to figure out what movies to suggest for your parents to watch (and, let's face it, ending up in a massive family argument), you can skip straight to a good movie to watch with parents with no fear of awkward moments or boredom. From award-winning films like Mudbound, to independent, foreign films like Aquarius, every movie on this list is a crowd pleaser that has the potential to appeal to everyone. There's a lot of time to fill with entertainment right now. Fortunately, Netflix is a deep well of movies that everyone in your family can enjoy. And hopefully, no one will be bored watching.
1. The Ballad Of Buster Scruggs
By turns silly and melancholy, the Coen Brothers' loopy, episodic film explores every element of The Western, including Manifest Destiny, ballads, fastest guns, and the vast, open plains.
2. Okja
Before he swept the Oscars with Parasite, Bong Joon Ho made this bananas fast-paced action film about...a giant genetically modified pig. It's also about the evils of factory farming, the importance of honesty, and a little girl Terminator-level determined to get back her best friend.
3. Aquarius
Clara (Sonia Braga) is a 65-year-old retired music critic who vows to live in her apartment until she dies after a developer buys all of the units around her and tries to lure her out.
4. GoldenEye
James Bond films will placate many a dad, but with Pierce Brosnan at the helm, Sean Bean and Famke Janssen as the villains, and Dame Judi Dench taking as M, this long-running franchise will entertain the rest of the family as well.
5. Spiderman: Into the Spiderverse
A lovingly animated new take on America's favorite web slinger, this film features a multiverse's worth of Spiderfolk helping young Miles Morales learn his powers. Intended for kids, but thoroughly enjoyable for any fans of superhero action.
6. Atlantiques
When worker Soulemain fails to get over three weeks' pay for his and his friends' construction works, they're driven by desperation to cross the ocean. The women in their lives are left behind... but when Soulemain's love Ada marries a callous wealthy man, strange incidents indicate Soulelmain's returned.
7. The Fundamentals Of Caring
There are several parenting movies on Netflix, but this original will also be a winner with your parents. The Fundamentals of Caring is a comedy starring Paul Rudd as a man attempting to overcome tragedy and divorce by becoming the caretaker for a teenager with muscular dystrophy (Craig Roberts).
8. The Rainmaker
A John Grisham legal thriller with a humanist bent, starring Matt Damon and Danny DeVito as idealistic law workers determined to get justice for a woman and her dying son. But they'll have to get through John Voight and Mickey Rourke's shady lawyers first.
9. Dil Se
A political thriller/romance/musical, Dil Se asks the question whether love really can cross all boundaries — in this case deeply rooted trenches of historical pain and betrayal that lead to terrorism.
10. Lupin III: The Castle Of Cagliostro
Don't let the fact it's animated throw you, that just means this 70s heist film can have even more outlandish stunts and gags. When gentleman thief Lupin realizes the cash from his casino job is counterfeit, he traces it back to a mysterious castle where a woman is held prisoner to marriage. Plus there's a hidden treasure so, bonus.
11. '13th'
This documentary by filmmaker Ava DuVernay takes a hard look at race and America's prison-industrial complex, and argues that mass incarceration is essentially an extension of modern day slavery. The film is an eye-opener to racial discrepancies the justice system.
12. The Stranger
After an FBI agent (Edward G. Robinson) comes to town, a doting wife (Loretta Young) is put in the awful position of realizing her husband (Orson Welles, who also directed) just might be a Nazi.
13. Five Elements Ninjas
A surreal Shaw Bros. action film pitting Chinese kung fu against colorful Japanese ninja using the five elements (wood, water, fire, earth, metal) to destroy their enemies from within and without. If you can't keep up with the convoluted plot, there's enough to dazzle the eye to make up for it.
14. Mudbound
Mudbound is renowned for its moving depiction of racial and social injustice in rural, 1940s Mississippi, where two families of farmers — one Black and one white — deal with racism, a dwindling crop season, and PTSD after World War II.
15. American Factory
This documentary follows the opening of a Chinese-owned car factory in a Detroit town economically devastated when American car companies left years ago. Conservative parents might gain insight as the Chinese and American factory workers realize how much more they have in common than they think; liberal parents might understand the real enemy is corporate capitalism's focus on profit over all.
16. Ip Man
Based on the life story of Wing Chung master and Bruce Lee instructor Yip Man, this fascinating biopic takes some liberties with facts and history, but in service of a thoroughly entertaining film balancing action and character.
17. Imperial Dreams
Imperial Dreams is all about how our society treats people who've been incarcerated. John Boyega plays single father trying to find a job after being released from jail in an eye-opening performance.
18. Hail, Caesar!
This delightful, feather-light romp from the Coen Bros. follows weary 40s studio "fixer" Eddie Mannix (Josh Brolin) straightening out and covering up celebrity snafus before they come to light. But when the studio's top star Baird Whitlock (George Clooney) is kidnapped, Mannix finds himself unravelling a conspiracy involving communists, dancing spies, pregnant mermaids, and singing cowboys.
19. What Lies Beneath
A perfect combination of Lifetime drama and high-gothic thriller. After witnessing their fight and not seeing her for several days, wife Claire (Michelle Pfeiffer) believes she's being haunted by her neighbor's wife. But as she tries to uncover the mystery of what happened, she unravels something far darker and much closer to home.
20. The Last Man On The Moon
The Last Man on the Moon is about Eugene Cernan, who commanded the Apollo 17 mission and is the only person so far to walk the moon. The documentary includes footage from the actual walk and shows how the trip affected Cernan's life afterwards. Boomer parents who love living in the past will also relish focusing on any time but the present.
21. Frances Ha
Frances Ha follows a New York transplant (Greta Gerwig), who apprentices for a dance company and throws herself headfirst into her dreams.
22. Chasing Trane
Music lovers from every age group will find this documentary about the life and legend of jazz musician John Coltrane fascinating and inspiring.
23. Under The Skin
An extraterrestrial figure (Scarlett Johansson) disguises herself as a human and drives around Scotland to lure unsuspecting men into her van. With all the nudity and sexuality (but not exactly sexiness) on display you might be wondering, can I watch this movie with my parents? If they like experimental drama/sci-fi, Under the Skin is just for them.
24. Minority Report
There's no director more universally family-friendly than Spielberg, who puts Tom Cruise front and center in this story of predetermination and crime.
25. Bathtubs Over Broadway
If you're looking for something purely sweet and strange, this documentary on the men and women behind corporate musicals will have you tapping your toes and marveling at the boom era of corporate enthusiasm. Who would've thought you could write such a catchy tune about silicone?
Forget non-stop battles of who gets to watch what — these movies will keep your entire family entertained all season long.
This article was originally published on