Makeup Try-On Apps That Actually Look Realistic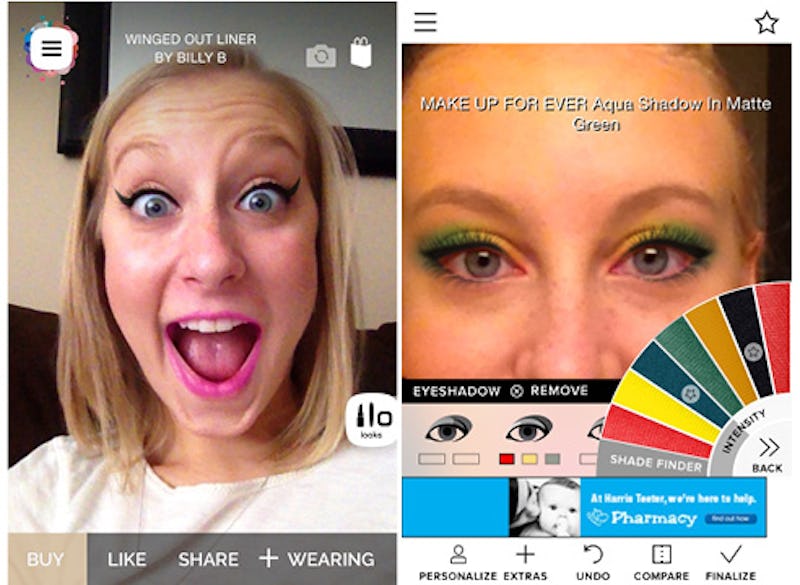 While smartphones are great for Internet/texting/calling/social media purposes, they're also great for makeup and hair try-on apps that'll help you decide on your next 'do or lipstick shade. Apps of this variety that actually work can be hard to come by; more often than not, the virtual version of you with bangs looks like a kindergartener's cut-n-paste art project. However, these four realistic makeup and hair apps could provide some actual beauty inspiration.
My obsession with hair and makeup apps began after my sister sent me a selfie of her wearing an absurd amount of makeup. The picture came at the perfect time. We were both studying for finals, at opposite sides of Indiana, and both indulging in too much Dove chocolate. It was the perfect distraction. So when she told me that the picture was not real, but instead using a makeup app she had discovered to be the best distraction tool, I downloaded it immediately and began playing.
Since I've survived finals week, I decided to celebrate with even more hair and makeup apps. Although some have been unable to detect where exactly my eyeliner should go or how small my lips really are, these four beauty and hair try-on apps have been my major source of inspiration for new makeup looks or hairstyles to try. And the best part: You can download these all for free!
1. ModiFace App
The ModiFace app is great because you can create your own look, including makeup and hair, or choose from celebrity styles. If you create your own, you are able to match your foundation and ascertain which contour color looks best with your skin tone. The app also allows you to try out different ways to put on eyeliner and eyeshadow, which is how I learned what shadow colors look great blended together!
But it does more than makeup. This app is currently tempting me to get bangs, thanks to Bella Thorne. ModiFace's hairstyles are selected from celebrity red carpet looks. You can try out Solange's natural hair or Sarah Hyland's perfect top-knot. Personally, I thought I looked great with Lorde's thick, dark, curly locks, which is the exact opposite of my hair IRL.
2. CyberLink YouCam Makeup
This app is almost perfect. It didn't over-exaggerate the virtual makeup and actually looked like something I would actually wear in public. YouCam Makeup based their makeup looks on events, such as dating, '40s, rock concert... it will literally show you the best makeup look for every occasion. The makeup looks are on avatars instead of celebrities, so you don't have to compare yourself another human rocking the same 'do. I would, however, have loved the know the brand and shade of lipsticks they used! I fell in love with a red color and a plum color, which is very much unlike me. The hairstyles were also a little outdated, but still great to experiment with color and shape.
3. Mary Kay Mobile Virtual Makeover
Mary Kay Virtual Makeover for Android
Mary Kay Virtual Makeover for iOS
I had a few problems with this app freezing, but it was extremely precise with the outlines of my face and I absolutely loved how it made my eyelashes look! The best way to use this app is with the pre-set makeup looks on the models selected. The Mobile Virtual Makeover app also offered various genres for the makeup looks, such as how your virtually made-up face will look on a billboard or different styles for your wedding.
4. ModiFace Virtual Nail Salon
I figured that if this app was created by ModiFace, it was gonna be great — and I was not disappointed. The ModiFace Virtual Nail Salon app allows you to get a virtual manicure, so you can see how polishes look on your nails without spending tons of time swatching at the store. Plus, you can play around with custom prints for fun.