The Sign Your "Break" Will Turn Into A Breakup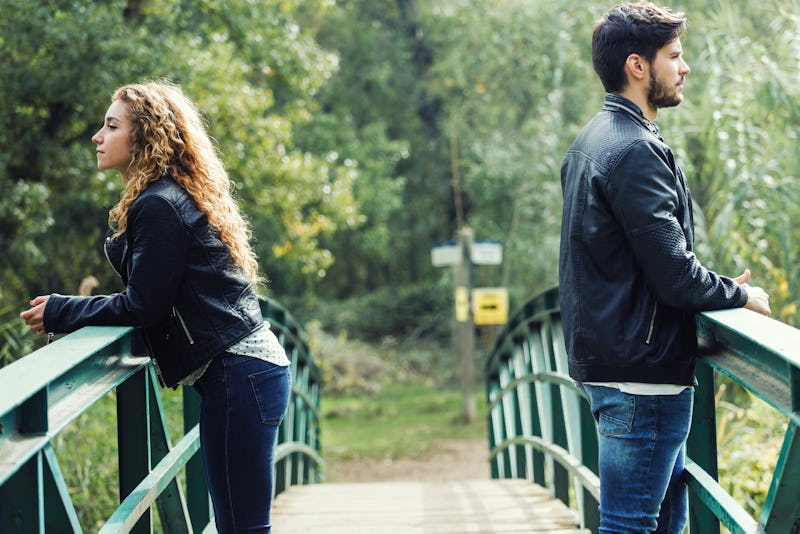 nenetus/Fotolia
I've always been firmly in the camp that taking a break from your relationship is a bad, bad idea. If you ask me, you're better off communicating your problems and asking for what you need in your relationship than temporarily, halfheartedly calling it quits. However, I also totally understand the need for space — sometimes you simply need some time away from your partner to do some honest self-reflection about the relationship.
"In theory, breaks sound like a great idea," Jonathan Bennett, dating/relationship coach and owner of The Popular Man, tells Bustle. "They're a chance to reset the relationship, get some space, and honestly evaluate how each person feels. However, in practice, breaks rarely work and usually turn into breakups. In most cases, 'taking a break' is a way for a less assertive person to break up without having to deal with the mess and drama of a more assertive and direct approach."
You should never string your partner along by suggesting a break when, deep down, you know you really want to just break up and move on. But if you genuinely just want a little time apart to think about the relationship or work on yourself, there are ways to successfully take a break from your relationship without dooming it. The key? Openly communicating and setting clear boundaries — like how much (if any) contact you want during the break — so both partners are on the same page and know what to expect.
"If you don't work out the issues with each other, they will still be sitting right there when you are done with your break," Pella Weisman, licensed psychotherapist and dating coach, tells Bustle.
But alas, even the most well-intentioned breaks don't always go according to plan. If you're worried about whether your break could turn into a permanent breakup, here are five signs to watch out for.