7 Mental Tricks To Help You Calm Down When You're Feeling Really Embarrassed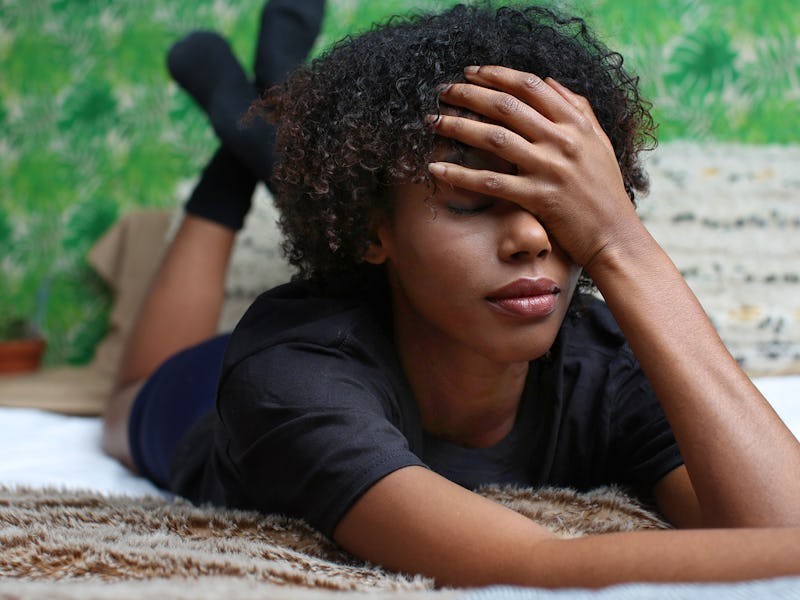 Ashley Batz for Bustle
Anyone and everyone has, at some point in their life, felt really embarrassed about something. According to research, embarrassment really is a trigger and because of this, it can be very powerful. If someone knows just how they can knock you off your pedestal or soap box, they can use it to their advantage. Embarrassment is an emotion that can be debilitating. Especially because once it sets in, you pretty much have to wait for it to work its way out of your system. In many cases, this means sort of talking yourself back away from the ledge of embarrassment.
"Embarrassment can be anxiety provoking, but it is also a very helpful self-corrective tool," Clarissa Silva, behavioral scientist, relationship coach, and creator of Your Happiness Hypothesis Method, tells Bustle. "Most of the time it is based on our own standards, expectations, insecurities, and past hurt. Once we address the source, we can reduce the amount of embarrassment we feel."
Because embarrassment is an emotion, as Silva points out, it is something over which we have control. Although we may not be able to stop the action or words that cause the embarrassment, we can at least take that feeling, work with it, and wiggle our way out of it once we realize the "why" and "how" of it.
Here are seven mental tips to calm you down when embarrassment hits.