9 Important Things Your Body May Be Trying To Tell You If You're A Light Sleeper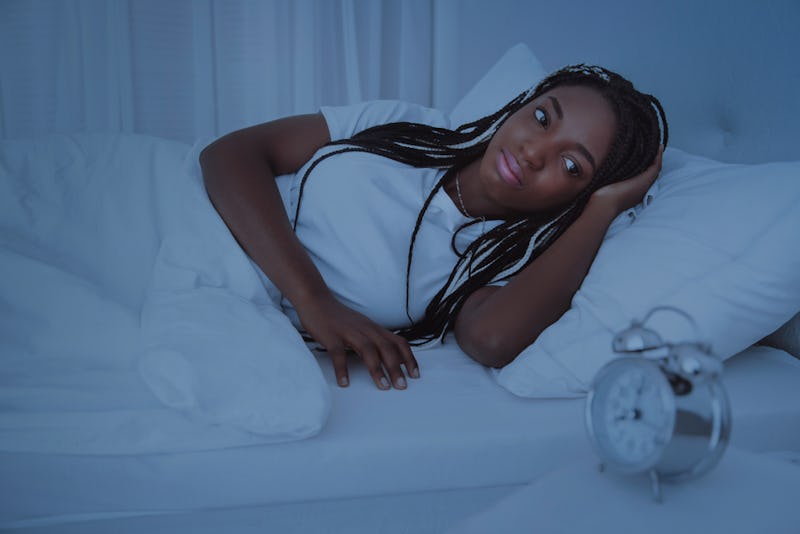 Nadezhda Manakhova/Shutterstock
While some people are able to sleep through the night without stirring, there are those of us who fall into the "light sleeper" category. Instead of resting peacefully, we toss and turn, wake up easily, and often feel tired as a result. And hey, it's common to have the occasional bad night. But if the problem is ongoing, your body may be trying to tell you something.
"A light sleeper is someone who wakes up easily throughout the night due to noises, movements, etc.," Ramiz Fargo, MD, a sleep medicine specialist at Loma Linda University Health, tells Bustle. "There are four phases of sleep. Stages one, two, three, and rapid eye movement sleep (REM) sleep. Light sleepers spend more time in stage one (light sleep) than heavy sleepers. This is the phase at which the body is in between being asleep and awake."
There are many reasons why you might not fall into the deeper stage of sleep, including both health and lifestyle factors. To figure it out, "try changing up your routine to help improve your sleep quality," Matteo Franceschetti, co-founder and CEO of Eight Sleep, tells Bustle. This might include taking fewer naps during the day, limiting your caffeine intake, and staying off your phone before bed, he says.
If that doesn't do the trick, look into the various medical conditions that can impact sleep, including sleep disorders, anxiety, and even things like hyperthyroidism. Being a light sleeper can be chalked up to lifestyle habits, health concerns, or a combination of the two, so read on for a few possible culprits, according to experts.