This Musician's 'Assassination Of Gianni Versace' Cameo Is So Haunting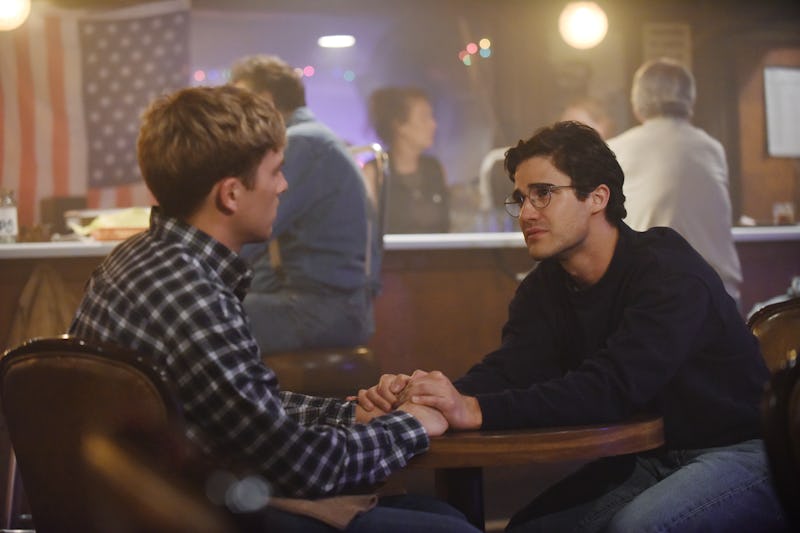 Ray Mickshaw/FX
American Crime Story has been jumping timeframes and locations to tell the full story of The Assassination Of Gianni Versace (executive producer: Alexis Martin Woodall). So while Gianni Versace is nowhere to be found in the Feb. 7 episode, "House By The Lake," Andrew Cunanan's alleged first victims in his cross-country spree are. Spoilers follow. After murdering Jeffrey Trail (Finn Wittrock), Darren Criss' Cunanan goes on the run in Minnesota with architect David Madson (Cody Fern). As Madson considers fleeing out of a bar's bathroom window, Cunanan takes in a performance by a singer with an acoustic guitar. If you thought the singer looked familiar, there's a good reason for that. Because it's Aimee Mann in American Crime Story doing this low-key and slightly surreal cameo.
The Assassination Of Gianni Versace (film editor: Shelly Westerman) primarily takes place in 1997 and in real life, Mann was already an established musician at that time. Her career started off with the band 'Til Tuesday in the '80s and in the '90s, she was releasing solo music. By the year 2000, Mann had already released three albums as a solo artist and was nominated for an Academy Award for her music in the film Magnolia. But in American Crime Story's version of events in 1997, Mann is just a lone cover singer in a Minnesotan dive bar off the highway.
Although American Crime Story Season 2 started in Miami Beach, Florida, the setting of Minnesota is important to "House By The Lake." It is desolate by the rural lake where Cunanan kills his former lover Madson at the end of the episode — far different than the vibrant city of Miami Beach where Versace lived. And Mann's performance of The Cars' "Drive" drives that point home.
Yet, the focus isn't on the special guest star for the scene. Instead, the camera mostly stays on Darren Criss to show how Cunanan is emotionally impacted by the singer. Trail and Madson, respectively, are the "best friend" and "love of my life" that Cunanan told Ronnie about in Episode 2. (These descriptions also match how TIME reported on Cunanan's relationship with the two men.) Unlike other alleged victims Versace, Lee Miglin, and William Reese, Madson and Trail were a significant part of Cunanan's personal life. So is it any wonder that he gets emotional when he hears Mann sing, "You can't go on/Thinking nothing's wrong, ohh no/Who's gonna drive you home tonight?"
While the lyrics are moving, there's actually a far more fascinating connection between "Drive" and The Assassination Of Gianni Versace. Model Paulina Porizkova, who'd go on to marry The Cars' lead singer, is featured in the 1984 music video for the song. According to New York Magazine, Porizkova was the face of Versace four years later in 1988. It's a point of contention if Cunanan had even ever met Versace, but the model in the "Drive" music video truly did know the fashion designer.
As for if Mann had any sort of relationship with Versace, that doesn't appear to be the case. And while Mann has never collaborated with Ryan Murphy before, she's no stranger to TV and film. Her voice appears on a number of soundtracks, but she has also appeared in projects ranging from The Big Lebowski, Buffy The Vampire Slayer, and Portlandia. She even showed up on Comedy Central's Corporate as the well-balanced Peg Peterson just two weeks before singing on American Crime Story.
It's most likely that American Crime Story recruited Mann because she's an acclaimed singer-songwriter. But the one connection she does have to "House By The Lake" is the setting. Although Mann isn't from Minnesota, her sister, Gretchen Seichrist, is based in Minneapolis. The Star Tribune reported that Mann performed with her sister in the Minnesotan city in 2010. Yet, Mann's unnamed bar singer in American Crime Story isn't in Minneapolis, the city highlighted at the beginning of "House On The Lake." Instead, she performs closer to where Madson's body would be found.
As The New York Times reported, Madson was discovered at East Rush Lake in Chisago County on Saturday, May 3 — nearly a week after Trail was killed. The lake in Rush, Minnesota, is only approximately 60 miles away from Minneapolis, according to Google Maps. But its isolated location makes it feel likes it's further away from civilization. And while Mann's solo singer at a lonely bar highlights that isolation, her performance also simultaneously conveys a feeling of being trapped. Because even when he has the chance to escape, Madson is still ensnared by Cunanan.
Mann's cameo in American Crime Story was less Stevie Nicks in American Horror Story and more bar singer in True Detective Season 2. Her identity doesn't necessarily matter to the plot because what's important are the emotions she brings up for Cunanan and the viewers. As the final moments of "House On The Lake" blur the line between fantasy and reality, Mann's dream-like performance manages to have the same effect. And her beautifully painful rendition of "Drive" will haunt you long after the episode.