Brittany From 'Pump Rules' Is Wearing A Ring On *That* Finger & Fans Are Suspicious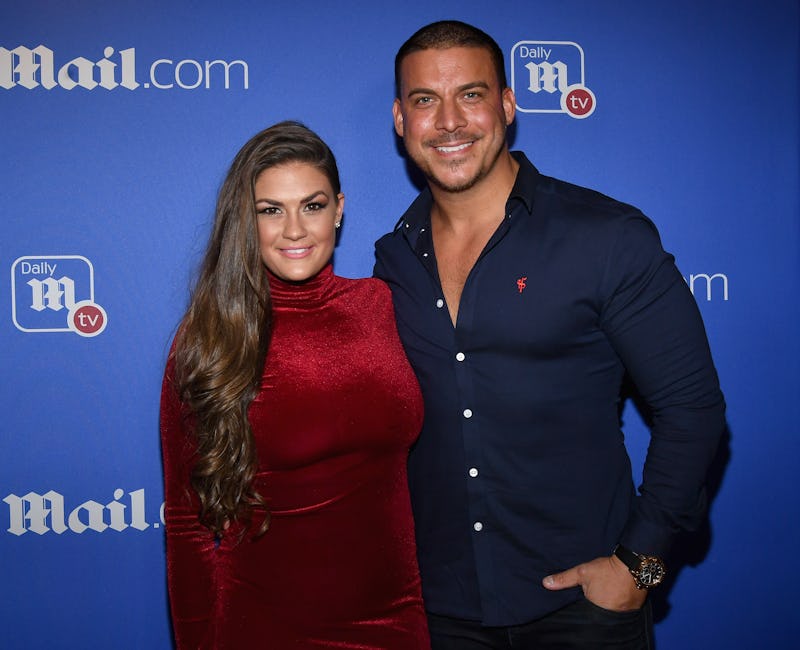 Slaven Vlasic/Getty Images Entertainment/Getty Images
Just when you thought the Jax Taylor and Brittany Cartwright engagement rumors had chilled out, some images of a ring on particular finger climb aboard a motorized cooler scooter and roll onto the internet. As The Daily Mail pointed out, Brittany of Vanderpump Rules wore a ring on that finger to a SXSW event earlier this week. Oh, those two. They just love to keep fans on their Sexy Unique Toes, don't they?
When The Daily Mail asked the couple about the suspect piece of jewelry at the Media Temple Interactive SXSW Bash on Tuesday, they were quick to play it coy. After Brittany replied, "Not yet," Jax to put his hand in front of Brittany's mouth and shushed her. They laughed as Brittany added, "I just love this ring." And then, Jax said, "We're having a good time. I'm not going to say anything right now."
But is there a Pump Rules wedding in the tea leaves? "You'll have to see," Brittany told The Daily Mail. Jax followed her response up with yet another cryptic nugget: "Not this season, no." And then, the pair conceded that a Jaxany wedding might happen at some point on the show. Oh, is that how it's going to be? You mean to tell fans they'll just have to keep tuning in week after week to find out if Jax proposes to Brittany or not? Well, twist our arms.
This is not Jax and Brittany's first trip to the engagement rumor rodeo. Back in January, Pump fans noticed that Jax was wearing a silver band on his ring finger in both Brittany's and Tom Sandoval's Instagram Stories. As is wont to happen whenever a celebrity puts a ring on that finger, viewers wondered if Jax and Brittany had gotten engaged or married.
So, Andy Cohen did the viewers a favor and asked Brittany about the ring on the Jan. 15 episode of Watch What Happens Live. Brittany told the host that it doesn't mean what everyone thinks it means, adding, "[Jax] likes to wear it. He's, like, getting the itch or something." She also gestured to a ring on her hand that'd sparked some questions, too, and… it looks a lot like the ring she wore to the Media Temple event? The Vander-plot thickens.
After her WWHL appearance, Brittany went on Bravo's The Daily Dish podcast where she said some more stuff about the ring thing. "If Jax and I continue on the way that we are right now, I definitely want to be with him," she said. "He's even wearing like a wedding ring around. I don't know if anybody has noticed that, but I'm like 'Whatever. If you want to wear that, that's fine. I'm not going to tell you to take it off.'"
If there's one thing that can be gleaned from both Jax & Brittany Take Kentucky and Season 6 of Pump Rules, it's that this relationship has taken hit after hit over the last year or so. There was a brutal cheating scandal that involved one of Brittany's friends, a pregnancy scare, and a recorded post-hookup conversation. There was a short-lived breakup. And there was that whole "Brittany's lost her spark" mess that was the main through line of the bleak spinoff that was Take Kentucky.
But as far as present-day Jaxany is concerned, it seems like they might've turned a corner. Jax and Brittany say they're in a better place now, and hey, maybe they'll stay in that better place. Maybe they've healed and moved on from all of Jax's transgressions. Maybe Jax has finally changed. Maybe they genuinely worked stuff out, got engaged, and will live happily ever after together.
Of course, Brittany and Jax's rings could be nothing more than coincidence or a red herring; people wear non-wedding rings on their left ring fingers all of the time because people can wear rings on whatever finger they want. But as for Jax and Brittany's cagey comments regarding whether or not they're one step closer to tying the knot? Uh, it kind of sounds like there may be a Pump-posal in the near future.
If that is the case, if Jax and Brittany really do get engaged on Season 6, they sure did leave behind a trail of sparkly breadcrumbs that have been sized to perfectly fit left ring fingers.