Ariana Grande Isn't Afraid Of Much Anymore & Her Words Are Beyond Comforting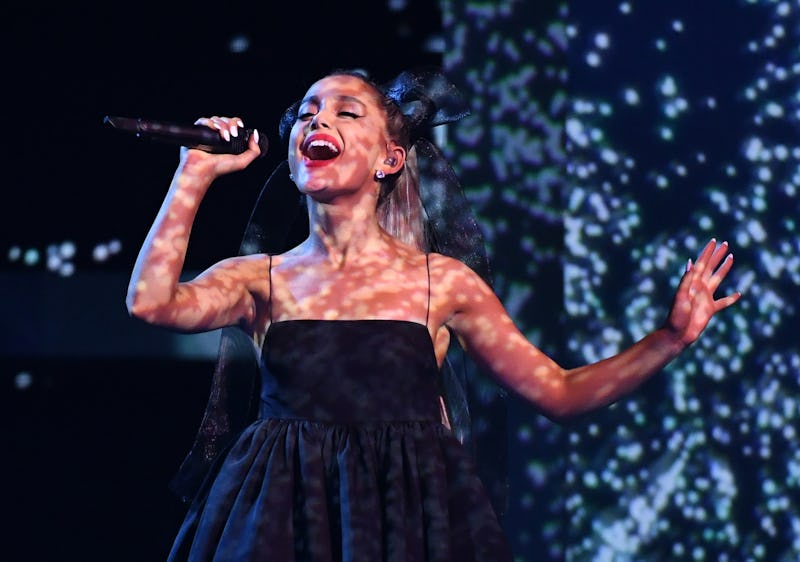 Ethan Miller/Getty Images Entertainment/Getty Images
There's no denying she's been through a lot in a short span of time, but Ariana Grande isn't afraid anymore. As Billboard's 2018 Woman of the Year, the 25-year-old revealed she refuses to be bogged down by fear, negativity, and toxicity. It sounds like she's trying to live a more positive life and in a way that will make her happy. Grande certainly still has struggles, which she also opened up about, but her current outlook on life and attempt to better herself is truly inspiring.
"I just hope you're OK with me crying, because that's not going to not happen," she admitted to Billboard. "I can't even say 'Good morning' to anyone without crying."
As hard as it still is for Grande to not let her emotions overcome her or to not let her grief interfere on a daily basis, the "Thank U, Next" musician is working on moving forward after everything she's faced. She said,
"I guess there's not much I'm afraid of anymore. When life tries you with such serious shit so many times, your priorities change. I don't give a sh*t. I just want to be happy and healthy — one day — and make music."
Like she said, "one day" she will be both "happy and healthy" again. The fact that she even has that perspective speaks to the type of person she is. Her words will probably also provide comfort to anyone else who's having a hard time.
If you aren't a fan of Grande or don't pay attention to the news surrounding the artist, then you may be unaware of all the hardships she's faced recently.
On May 22, 2017, the Manchester bombing occurred at Grande's concert at Manchester Arena. The attack, understandably, affects her to this day. In her YouTube docuseries Dangerous Woman Diaries, the singer addressed the bombing by reading a letter about how she won't let violence and hate win. Part of it read as follows:
"The spirit of the people of Manchester, the families affected by this horrendous tragedy, and my fans around the world have permanently impacted all of us for the rest of our lives. Their love, strength, and unity showed me, my team, my dancers, band, and entire crew not to be defeated. To continue during the scariest and saddest of times. To not let hate win. But instead, love as loudly as possible, and to appreciate every moment."
Another tragedy she faced was on Sept. 7 when Grande's ex-boyfriend Mac Miller died at the young age of 26. In response to his devastating death, she partly wrote on Instagram, "i'm so mad, i'm so sad i don't know what to do. you were my dearest friend. for so long. above anything else. i'm so sorry i couldn't fix or take your pain away. i really wanted to. the kindest, sweetest soul with demons he never deserved. i hope you're okay now. rest."
She also recently faced a very public breakup from her ex-fiancé Pete Davidson, which has also found herself facing much criticism. She was also recently even accused of "milking" Miller's death. Grande's had to handle quite a bit.
The Sweetener singer isn't asking people to feel bad for her, but she's simply just being honest with her emotions. She's a human being who's faced tough times and with those difficulties have come a range of emotions and the realization that Grande doesn't have time for nonsense. Many people can probably relate to her feelings.
To see her to continue living life, making music, and ensuring her career remains a success under — and all under a microscope — shows exactly how strong of a person she is. Grande should be praised for not only how she's handled every ordeal thrown her way, but also her ability to be vulnerable and allow strangers in during the bad times.
Rather than letting the fear consume her, Grande is doing everything in her power to cut it out and move forward so she can live a happy and healthy life. Her courage knows no bounds.