Auntie Anne's Just Launched Birthday Cake Pretzel Nuggets In A Cup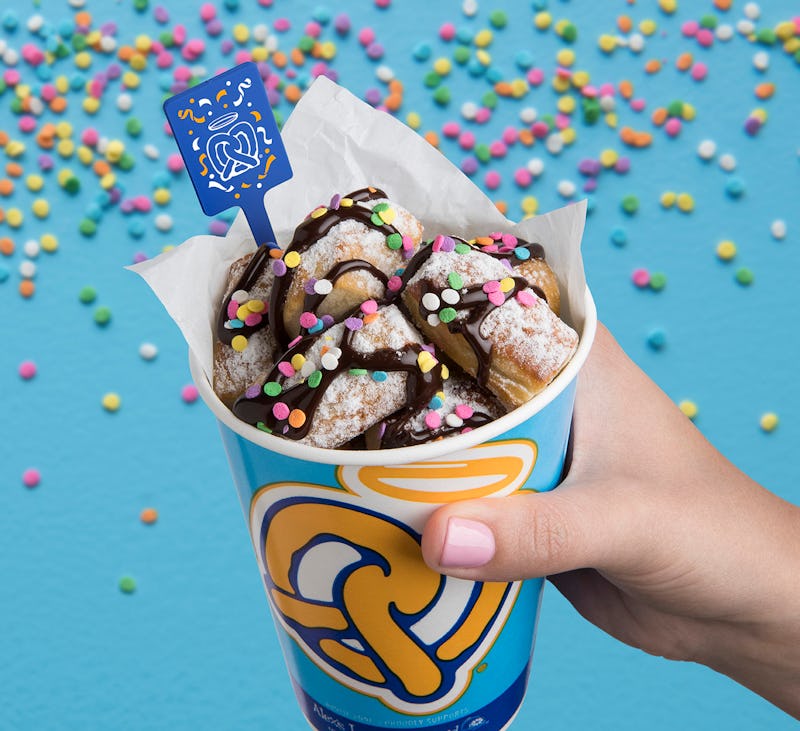 Courtesy of Auntie Anne's
The beauty of the soft pretzel is that you can do just about anything to it and it will always taste good: Douse it in cinnamon sugar; dunk it in hot sauce; you name it. Heck, you can even make them taste like other things and still have a winning flavor combination. Case in point: Auntie Anne's new Birthday Cake Pretzel Nuggets. The winner of the 2018 Pretzel Nation Creation poll, these unexpected yet intriguing nuggs will be available at Auntie Anne's locations nationwide starting on Oct. 22 — but you'll have to act fast if you want 'em: They'll only be available for a limited time. All good things must come to an end, after all.
Both the new pretzel nugget flavor and the contest that brought it into being are part of Auntie Anne's ongoing birthday celebration for 2018: The pretzel giant turned 30 this year. "We've been celebrating our birthday milestone with our fans all year," Marcel Nahm, Vice President of Marketing for Auntie Anne's, said in a press release provided to Bustle. "We hosted a Free Pretzel Party at all of our stores nationwide after more than 1 million guests RSVP'd, launched the stylish 'For the Love of Pretzels' clothing and accessories collection, and then called on our fans to choose a new birthday-inspired pretzel flavor." Nahm continued, "Birthday Cake Pretzel Nuggets are the perfect culmination to this celebration, our tasty gift to pretzel lovers everywhere." Because what's a birthday without presents and party favors?
If, in the immortal words of the Talking Heads, you currently find yourself asking, "Well, how did I get here?", let's back up a bit. Earlier in 2018, Auntie Anne's Pretzel Nation Creation poll returned for the second year, inviting pretzel lovers all over the internet to suggest and vote for a brand-new flavor. In 2017, the inaugural Pretzel Nation Creation program resulted in the introduction of a Sriracha-flavored pretzel; how would the vote go this year? There was only one way to find out — and the public definitely delivered.
Auntie Anne's solicited suggestions for flavors to include in the vote via social media in May, with more than 650 ideas rolling in from devoted pretzel enthusiasts everywhere. Then, in June, 10 of those flavors were selected as finalists and pitted against each other in a massive online poll. The finalists comprised Caramel Apple Crème Brûlée, Chocolate Coconut, Chocolate Covered Cherry, Cookies & Cream, Cotton Candy, Lemonade Cake, Pineapple Upside Down Cake, Red Velvet Cheesecake, Tiramisu, and — of course — Birthday Cake.
Given that the 2018 poll was billed as part of Auntie Anne' 30th birthday celebration, the inclusion of a Birthday Cake-flavored option was unsurprising; however, it's interesting that all of the finalists were sweet options — especially since 2017's winner was savory. Just, y'know, for whatever that's worth.
In any event, the poll ran from June 19 through June 25, during which time people could vote for the flavor they wanted to see added to the menu through the Pretzel Nation Creation website. The race was tight; a mere 662 votes separated the runner-up from the winning idea. But alas, that runner-up just didn't quite make the cut — and when the winner was finally announced on June 26, we learned that Birthday Cake had beaten out Caramel Apple Crème Brûlée for the top slot. For the curious, it earned a total of 79,641 votes to Caramel Apple Crème Brûlée's 78,979 — numbers which are particularly notable when you consider the tally for the flavor that came in last place: Lemonade Cake won just 7,211 votes. (Ouch.)
At the time, we didn't know exactly when the new flavor would be available; the only information we had stated that it would happen sometime in the fall. But hey, guess what? That time has finally arrived: The Birthday Cake Pretzel Nuggets hit the Auntie Anne's menu for a limited time on Oct. 22.
According to a press release provided to Bustle, the Birthday Cake Pretzel Nuggets are "dusted with vanilla, drizzled with chocolate syrup, and topped with fun confetti sprinkles." To me, that actually sounds almost like an ice cream sundae-inspired treat — but then again, to be fair, exactly what "birthday cake-flavored" means can be somewhat nebulous. Typically, it involves vanilla and colorful sprinkles, occasionally with some chocolate mixed in there somewhere. Somehow, though — through magic? Sorcery? Something else? — the combination usually ends up tasting almost exactly like cake batter. I don't understand it, but that's OK. Maybe we don't have to understand. It's enough just to love it and accept it for what it is.
Even though "birthday cake" has existed as a flavor for some time, it seems to be on the brink of having A Moment right now. Birthday cake 3 Musketeers bars just arrived; Red Vines recently launched birthday cake-flavored Twistettes into the world; and birthday cake-inspired Cookie Dough Bites hit candy aisles just a few months ago. What's next? Birthday cake-flavored beer? Cheetos? Pickles?
Only time will tell — but in the meantime, at least we've got Birthday Cake Pretzel Nuggets to keep us occupied. Grab 'em at Auntie Anne's starting on Oct. 22 for as long as they last.