Becca & Garrett Spent The Weekend With Tia, In Case You Needed Proof There's No Bad Blood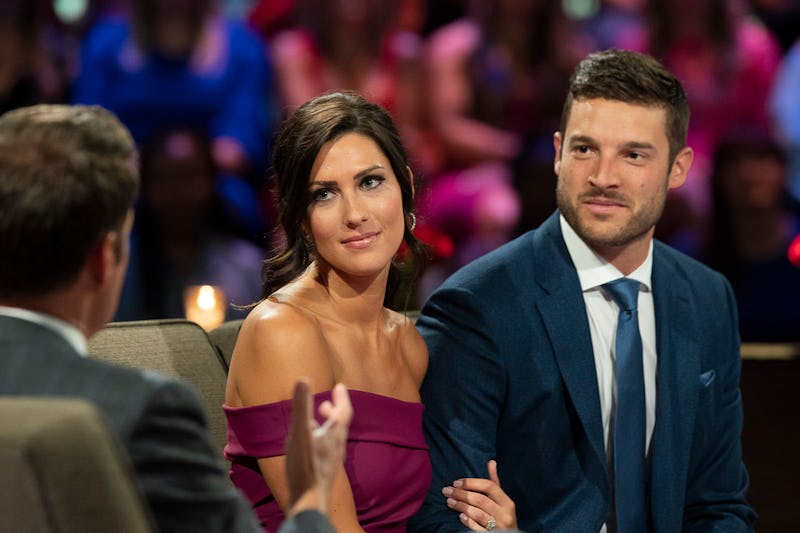 ABC/Paul Hebert
Even though The Bachelorette Season 14 just ended, there's still a storyline that's kept going: the Becca Kufrin, Tia Booth, and Colton Underwood love triangle. Obviously Becca is out of that love triangle, since she's now engaged to Garrett Yrigoyen, but more importantly Becca is cool with Tia and celebrated her birthday with Garrett and fellow former Bachelor contestants (Caroline Lunny, Chelsea Roy, and Angela Amezcua) in Boston.
Apparently Tia and Caroline were in town to host an event at Revere Hotel and that event just happened to coincide with Tia's birthday, so of course, they invited some friends. Becca and Garrett have been traveling since The Bachelorette finale aired, but they still came through for Tia's birthday. Becca lives in Minneapolis and Garrett is in Reno. Both of those places are a long way from Boston, so it's not as if it was "convenient" to stop by. Becca making the effort to celebrate Tia's birthday should officially squash the rumors of any bad blood between the two Bachelor alums.
In case anyone somehow missed it, Tia appeared on Becca's Bachelorette season not once, but twice. Tia previously "dated" Bachelorette contestant Colton. Initially, she gave Becca her blessing to pursue him. Then, Tia showed up right before a rose ceremony to tell Becca that she was "sick to her stomach" thinking about Becca and Colton together because she still had feelings for him. Becca sent him home, and ever since, there are some fans who couldn't help wondering Becca and Tia are cool these days.
Even though Becca posted on social media in Tia's defense and said she looked forward to watching Tia and Colton on Bachelor in Paradise, a picture is worth a thousand words, right? Well, what about a few photos? That should put to bed any rumors that Becca and Tia are not on good terms.
Tia shared a black-and-white photo of all the Bachelor ladies at dinner in Boston. And yes, that includes Becca. More likely than not, Garrett is the one who took this photo.
Garrett didn't make it into the dinner photo, but he did get to make the sole male appearance in a group photo that Angela posted from the birthday celebration, as well as various Instagram Stories. Clearly Tia and Becca are still close, and Garrett is cool enough to be welcomed by the group during a girls night out. Things could not get any better for this squad.
Caroline shared a photo of herself, Tia, and Becca all dressed up and ready to celebrate Tia's birthday on her IG Story. As if the fans did not have enough proof that Tia and Becca are still friends, this is enough right?
Becca even joked about Tia's post-birthday recovery in her Instagram Story. Best friends poke fun of each other, don't they? She showed up for Tia's birthday, happily hung out with Tia and Garrett, and cracked jokes about Tia's (possible) birthday hangover. If that doesn't say best friendship, what does?
Tia wasn't the only one that Becca joked about while she was in Boston. She shared a photo of Chelsea and Caroline kissing her fiancé on the cheeks and captioned it, "No no guys, we're done sharing the same man."
That love triangle with Tia, Becca, and Colton is such a thing of the past. There's clearly no animosity between Tia and Becca, so the fandom needs to stop looking for controversy and just support their friendship.