Blake's Statement On 'The Bachelorette' Finale Proves He's TOTALLY Bachelor Material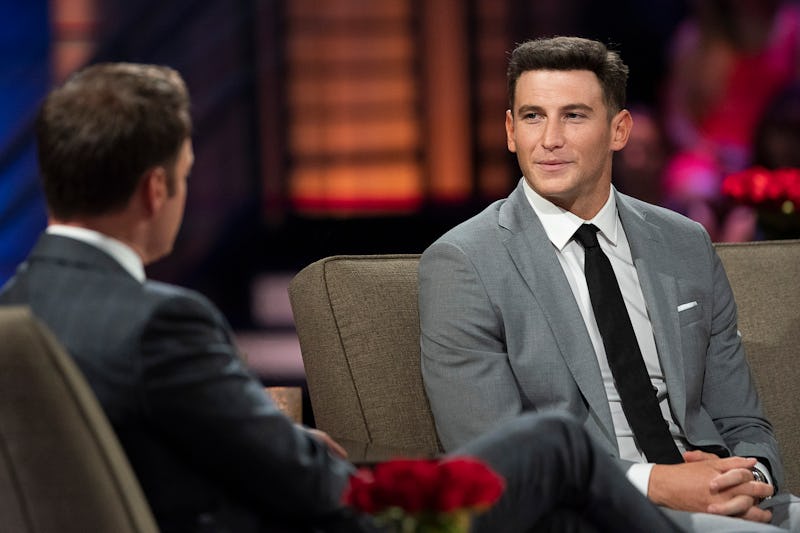 ABC/Paul Hebert
If you tuned into Monday night's Bachelorette finale, you know that Becca Kufrin accepted a proposal from Reno resident Garrett Yrigoyen. Becca not choosing Blake Hortsmann was one heartbreak felt across the world, but the Colorado native is more than optimistic about the future. And if anything, Blake's statement on the Bachelorette finale shows he should definitely be the next Bachelor.
In a Tuesday, Aug. 7, Blake wrote in an Instagram post:
No one should ever regret falling in love. I know I sure don't. #thebachelorette is a journey I will always look back on and smile. I have seen some incredible places and made incredible friends that will be in my life forever. I put every ounce of me into this experience and got more out of it then I could have imagined. I learned I should pee before my next rose ceremony. I learned to never wear a red bow tie with an all black suit, and I learned my haircut is very square. No but seriously... I learned most of all, that being honest means being vulnerable and open and to fight for the woman you love no matter the obstacles. #bachelornation is something I never expected. The support has been overwhelming and it truly is something special. I want you all to know I appreciate every comment and message and I will get back to as many as I can! Finally I never expected to truly fall in love on this show, but I'm so glad I did. @bkoof I want to thank you for showing me the kind of relationship I want in my life and just how much love I am capable of. You are a special woman and I wish you all the happiness in the world! I will never apologize for how hard I love and I will love again just as hard...
The runner-up also shared his Instagram statement on his Twitter account as well, causing more tears to pour across the Internet.
It's been confirmed that ABC has yet to choose its 2019 Bachelor star as of it — via Variety — but with Becca's Bachelorette season being filled with some pretty awesome guys, there's no doubt that the network won't have a tough time narrowing it down. History has shown that the Bachelor isn't usually announced until the fall — you know… once the franchise seemingly has a chance to see if their next star comes out of its preceding Bachelor in Paradise season.
This cycle, of course, worked in the favor of Bachelorette Seasons 10 and 11 suitor turned Bachelor Season 21 helmer Nick Viall. And when looking into Becca's season, this could also work in the favor of other contestants, such as, Joe "Grocery Store Joe" Amabile, who is a clear fan favorite amongst Bachelor Nation; Colton Underwood, who also had a thrilling love triangle situation with Becca and Tia Booth; and Becca's personal choice for Bachelor, Jason Tartik.
Even with competition for the number one spot seemingly tough, Blake totally still stands a chance. In addition to his statement following the Bachelorette outcome showing his maturity and optimism towards the future, Blake has also proved throughout Becca's season that he'll be able to handle the twists and turns that could come with holding the Bachelor title. Not one to stir up any drama with the other guys vying for Becca's heart, the Colorado sales rep only had his sights set on finding love. And as if his Arie-centered, and first, one-on-one date with Becca wasn't the most awkward thing you've ever witnessed, the 28-year-old handled it like a pro — helping to mend the Bachelorette's heart in the process.
Seriously, Blake has the makings to become the next Bachelor. And here's to hoping ABC feels the same.