Cardi B Doesn't Want To Spend Time Away From Kulture For One Super Sweet Reason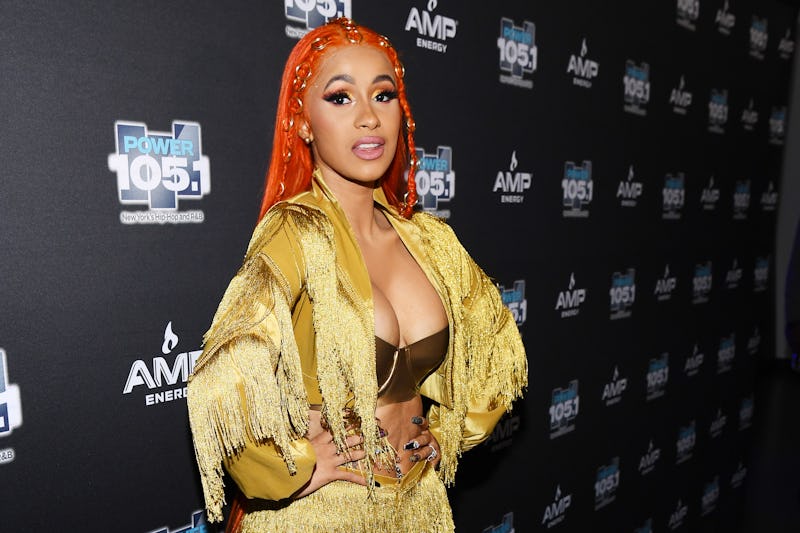 Dave Kotinsky/Getty Images Entertainment/Getty Images
It's hard to imagine that anyone could forget her, much less her own child. But during a recent interview with People en Español, Cardi B's comments about baby Kulture make it seem like that's one of the rapper's greatest fears. Not that she'll ever let it happen, of course — Cardi is definitely willing to sacrifice it all in order to stay close with her little girl.
Cardi B and her husband Offset (of Migos) welcomed their first child together back in July. The two stars have yet to show Kulture Kiari off to the world on social media or otherwise, but perhaps that's partially because Cardi wants to keep her all to herself.
The rapper told People en Español.
"I don't want to miss nothing from my baby. I read that babies forget people so quick; I don't want her to forget me. I don't want her thinking that somebody else is her mom; I want her to love me as her mom."
Aww, how sweet is that? Cardi has been showing fans a way more sensitive side of herself since she gave birth to Kulture a few months back, and even though she continues to kill it career-wise, it's abundantly clear that her daughter is her number-one priority.
"I want to be the one that when she cries, I'm the one that stops her from crying," the 26-year-old revealed to the publication. "Seriously. Being a week away, it would just drive me insane."
Cardi was originally scheduled to join Bruno Mars for the final North American leg of his 24K Magic World tour this fall, but decided to pull out shortly after Kulture was born. "I thought that after giving birth to my daughter that 6 weeks would be enough time for me to recover physically and mentally," she announced to fans on her social media pages on July 26. "I also thought that I'd be able to bring her with me on tour, but I think I underestimated this whole mommy thing."
The rapper continued,
"Not only am I just not ready physically, I'm not ready to leave my baby behind since the doctors explained it's not healthy for her to be on the road. I hope you guys understand that this decision has been the hardest to make but I have to do what's best for myself and my baby! Thank you Bruno [Mars] for being so supportive and understanding."
Thanks, in part, to her supportive family members, Cardi has been able to ease back into performing over the last few months. It seems as if they all take turns watching over little Kulture when need be, but the rapper told People en Español that that's not solely due to convenience.
"I will be taking her to her cousin's, her grandmother's house, and I would like her to see how the people in my community live," she said of raising her baby. "I would like for her to be humble, for her to want to share, for her not to be snobby."
Despite any insecurities Cardi B might be having about being a new mom, her heart is undoubtedly in the right place. Kulture is clearly going to grow up with everything she could ever imagine needing in life, but most importantly, she'll have her doting mom and dad.