Celebrities Are Just As Excited About The Royal Engagement As You Are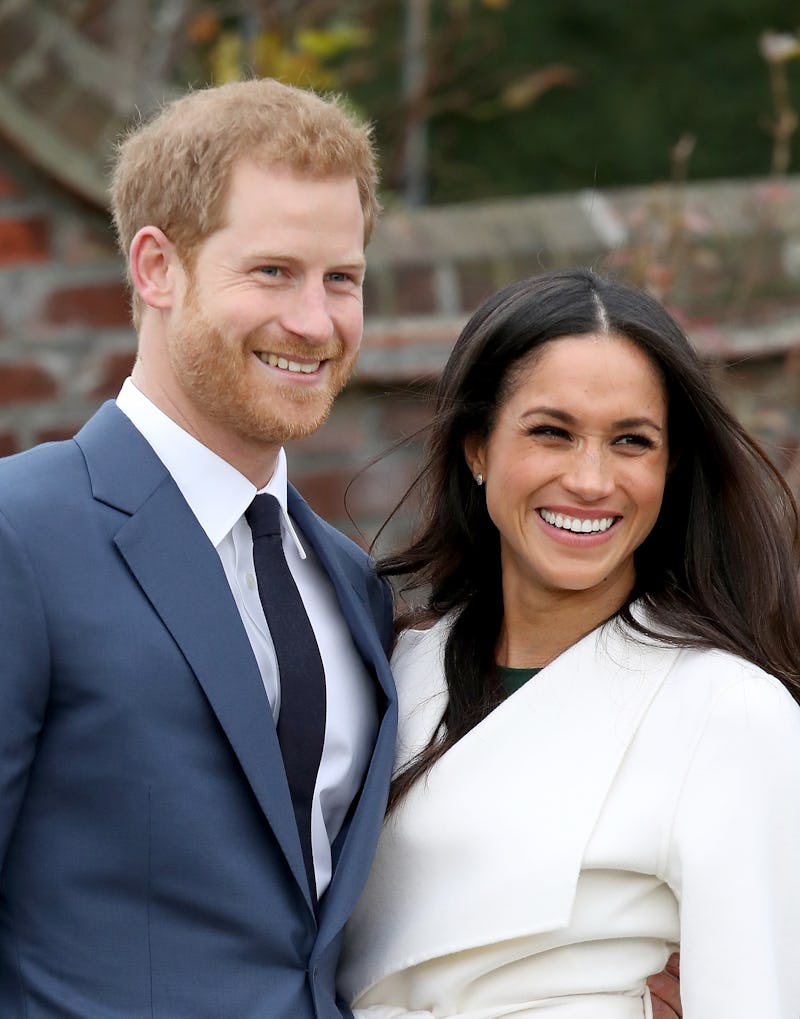 Chris Jackson/Getty Images Entertainment/Getty Images
It's official: Prince Harry and Meghan Markle are engaged, and it seems like the whole world is talking about their upcoming nuptials. In fact, social media is full of celebrities congratulating Prince Harry and Markle, because yes, even famous people get excited about royal weddings. The best part of the social media chatter is that celebs are showering Markle with love. Everyone from Laverne Cox to Chelsea Handler appear to be enamored with the Suits actor.
Can you blame them? Markle is a total boss, and she was way before Prince Harry slipped a ring on her finger. Not only is she a talented actor, she's also involved in philanthropic pursuits, including working as an advocate for UN Women. Markle's also bringing her share of firsts to the royal family. According to USA Today, Markle is "the first divorced, biracial, Jewish American actress to join the British royal family." She's single-handedly redefining what it means to be a princess (even though she won't technically be an official princess.)
Prince Harry is wonderful too, and the celebrities of the world didn't leave him out of the love-fest, but it definitely seems like Markle has captured quite a few hearts. Her famous fans sent out warm wishes, hilarious requests, and lots of tweets for Markle and Prince Harry to have the happiest of lives ahead of them.
Markle's Suits Family Sent Her Nothing But Love
Markle's TV dad, Wendell Pierce, gave Prince Harry his blessing in the sweetest message imaginable. The world can rest easy now that it knows that Robert Zane approves.
He's not alone either, it seems like Markle's whole Suits family is excited for their longtime co-star.
Series creator Aaron Korsh also offered up kind words for the happy couple, as did Markle's co-stars Gabriel Macht and Sarah Rafferty. However, the best message came from Patrick J. Adams, who plays Markle's TV fiancé, Michael Ross. While Adams' first tweet was lighthearted, his second one made it clear how much he seems to admire Markle and her work.
Suits fans, if you cry a little while reading Adams' tweet, just know you're not alone.
Fingers crossed that Michael and Markle's Rachel get their happy ending before Markle embarks on her future as a member of the royal family.
Celebrities Were Super Excited About Having Something To Celebrate
Given the current state of the news cycle, it's no wonder that everyone from Chrissy Teigen to Lin-Manuel Miranda was delighted by the engagement news. Everyone needs something happy to celebrate sometimes, and that includes your favorite famous folks.
And Everyone Was Eager To Celebrate Markle
Markle is making history in so many ways, and the amazing Ava DuVernay, Laverne Cox, and Leona Lewis showered her with much-deserved well wishes as she embarks on a new journey.
Even Politicians Seemed Overjoyed For The Happy Couple
Is it too much to hope for the Obamas and Trudeaus to be invited to the royal wedding?
And The Kardashians Weighed In
The unofficial American royal family, the Kardashians, sent their best to Prince Harry and Markle via Khloé.
Markle Was Even Congratulated By A Fictional Princess
Mia Thermopolis, who was played by Anne Hathaway in The Princess Diaries, not only congratulated Markle, she offered to help her adjust to royal life.
And Chelsea Handler Said What Royal Devotees Were Thinking
This is a brilliant plan. The Meghan Markle for president campaign starts now. Any chance Chandler is up for being her campaign manager?
From the outpouring of support shown by the celebrity community, it's clear that Markle and Prince Harry's engagement came at the perfect time. The world needed something happy to celebrate, and the awesomeness of Markle is the perfect bonus.