Continuing To Watch 'Bachelor In Paradise' Doesn't Make You A Bad Feminist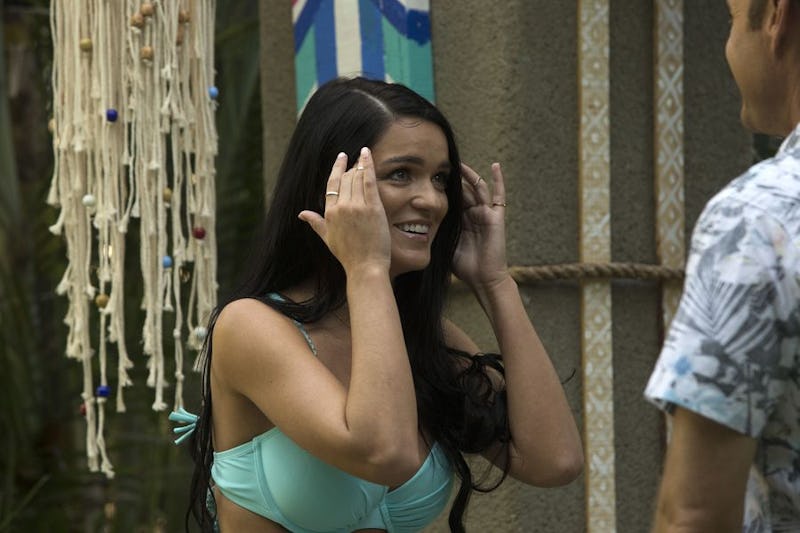 ABC/Paul Hebert
If you watch Bachelor in Paradise, you probably enjoy making fun of Robby Hayes' Kate Gosselin knock-off coif. You might giggle every time Ben Zorn gratuitously mentions his dog. And you definitely shed a tiny, happy tear when Evan Bass said he thinks his wife, Carly Waddell, is "going to be the cutest little old lady" when they grow old together. You also probably have intense, valid, and complex thoughts and feelings about the fact that these moments all happened on a series that was, until recently, embroiled in a mess of sexual assault allegations — ones that the series failed to address in any satisfying way in its two-episode season premiere. But if you're still planning to watch after Bachelor in Paradise fumbled its response to allegations of sexual misconduct on its Mexico set, and you feel weird about it, don't. You're not a bad feminist for continuing to watch Bachelor in Paradise.
In fact, now might be the most important time to be a feminist watching Bachelor shows. For the nearly 16 years during which this series has been on, it's enraptured millions of viewers and become a national conversation. Most Americans with an ounce of knowledge of celebrity and pop culture are familiar with the format, concept, and even some of the contestants (see: references on TV series ranging from Fuller House to Rick & Morty to Saturday Night Live, which has a recurring sketch about the reality show).
And those that are tuning in are showing up by the millions. Prior to its finale, Nick Viall's season of The Bachelor saw viewership rise 11 percent since the 2016 season, with the average hovering around 7 million; Season 4 of Bachelor in Paradise saw the series' highest debut episode ratings ever, with over 5 million tuning in; and entire series parodying (Burning Love) or loosely basing dramatic antics on the series' production (UnREAL) have become hits among audiences in their own rights. Even when Rachel Lindsay's season of The Bachelorette was repeatedly called out for pulling in low ratings, the 13th Bachelorette still reached between five and six million people an episode. The topic of Bachelor Nation is nowhere near faded.
What is fading is the notion that feminists can't enjoy the show. In 2017, we saw feminist voices like Roxane Gay and Janet Mock join the Bachelor Nation conversation. Those who live tweet, discuss, and write about the series are not just looking for opportunities to mock a Bachelorette contestant for bringing along a doll that looks like Jordan Rogers, but also honing in on opportunities to have conversations with an audience of millions about important issues like therapy, patriarchal values, agism, sex positivity, female pleasure, and difficult family dynamics.
And by having those conversations en masse, this feminist leaning audience appears to be inspiring the series to shift its approach. After feminists held the series accountable for exposing Bachelorette Kaitlyn Bristowe to slut-shaming and harassment by airing audio of her sexual activity with then-contestant Nick Viall, the series spent a large section of its beloved Men Tell All special calling out slut-shamers for their awful commentary and cyberbullying. When feminists called out the series for including a contestant with racist and sexist tweets on his account on the season with the first ever black Bachelorette, the series made a point to call him out for those opinions on national television. And when feminists questioned whether or not the allegations of sexual misconduct and a potential lack of consent would keep them from returning to the show, the series changed its contestant guidelines and led its cast members through a discussion of prejudice, alcohol use, and consent during Bachelor in Paradise Season 4's second episode.
Now, none of these responses were perfect. Yes, airing awful tweets lobbed at Bristowe on national television felt somewhat sensational, considering the show aired the situation that inspired them. Yes, the show's producers brought Lee onto Rachel Lindsay's Bachelorette season and made dramatic promos about his behavior before attempting to question his past statements. And yes, Bachelor in Paradise's consent discussion on Aug. 15 was lacking substance and context.
But the series is attempting to confront these issues — something the Bachelor Nation of the early 2000s was not exactly famous for. And each time a Bachelor broaches a difficult subject — however shaky the landing — an audience of millions, made up of viewers from all corners of the U.S., confronts them too. At a time when getting people with differing opinions to talk about any social issue is near impossible, The Bachelor and its siblings are offering up social issue starter conversations with a spoonful of escapism. It's not perfect, but it's certainly not nothing.
So, my fellow feminists, perhaps we should lean into those feelings of uncertainty and discomfort. Perhaps we should watch the series through that wary lens and stay vocal about the moments in which we, as Andi Dorfman once famously said in the face of patriarchal bullsh*t, are not OK. Because when we do, and do it loudly enough, Bachelor Nation listens.