Nick Sets The Record Straight About Corinne's Recent Photo & It's Not What You Thought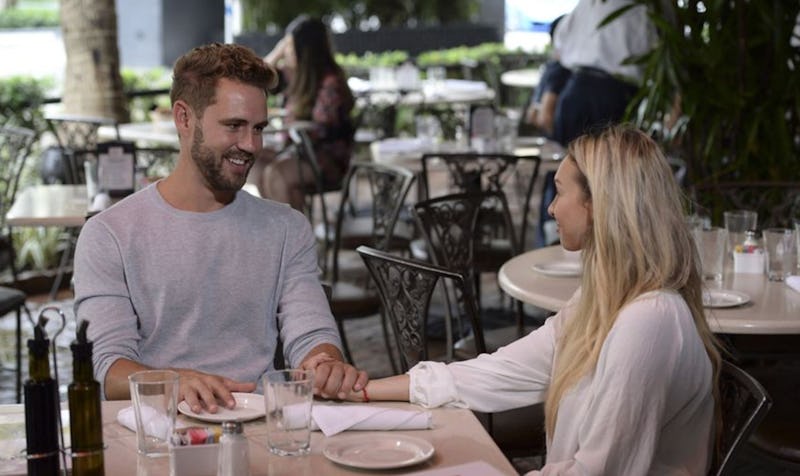 Jeff Daly/ABC
Do you remember where you were when you saw it? "It" being, of course, the photo of Corinne Olympios and Nick Viall that went up on Instagram on Monday, Feb. 5. A little less than a year after she was sent home on The Bachelor Season 21, Corinne shared a pic that sent ripples through Bachelor Nation. And thankfully, a certain two-time Bachelorette contestant has shed light on the pic in question. As People pointed out, Nick left a comment on Corinne's post that more or less put any speculation that they'd rekindled their Bachelor relationship to rest:
"This pic reminds me of your home town date .. oh wait .. because it was."
The whole situation began on Monday when the third runner-up of The Bachelor Season 21 Instagrammed a photo she took with Nick but didn't provide any details about said photo. There isn't a geotag, there isn't an explanatory caption, and there aren't any hashtags. The picture was cast in the internet waters sans context, and many fished for any and all theories.
Understandably, the comments section of this Instagram post turned into a seemingly never-ending series of questions about what the heck was going on. Did Nick and Corn reunite over the weekend? Are they a thing now? What happened with reported couple January Jones and Nick? When was this taken? Where was this taken? What's the full story?
Before the hypotheses could climb into a zero gravity airplane and really spin out of control, one of the people in the picture was gracious enough to offer an explanation. As People noted, Nick addressed those questions a few hours after the post went up with his straightforward Instagram comment about it being from their hometown date.
Well, then. It looks like the two didn't take this picture while they were hanging out at some Super Bowl party or whatever. It appears as though they didn't post this picture minutes after they'd discussed how they wanted to approach going public with their relationship. And it seems reasonable to conclude that they didn't pose for this picture in the middle of an hour-long conversation about how much cheese pasta they'd have to order for their future wedding.
According to Nick, they took this picture over a year ago while they were filming at Corinne's family's home. This was snapped shortly before Nick cut Corinne from the show, not at some recent get-together. It wasn't a reunion. It was a throwback Thursday on a Monday. Corn took trip down Nostalgia Lane and made a quick left at the Bachelor Mansion driveway, but neglected to make that clear when she shared the picture. Sorry, Corn and Nick shippers, but this post is a false alarm.
So, why did she toss up this old pic? And why no caption? Maybe she's celebrating the one-year anniversary of her hometown date episode a few weeks early and though the pic spoke for itself. Or maybe it was an accidental post. Or maybe she just wanted to cause a little harmless mayhem. You never can be too sure with Corn.
And sorry again, Nick and Corn shippers, but it really sounds like they don't plan on ever getting back together. When Entertainment Tonight asked Corinne about Nick in a recent Facebook Live interview, she replied, "I haven't run into him [in Los Angeles] one time. The last time I saw him was [the] final rose... Crazy!" She also said she doesn't believe she "would ever date Nick again." There you have it. Corn and Nick haven't seen much of each other since she was eliminated from The Bachelor, they probably won't try dating each other again, and that photo was taken over a year ago.
But hey, for a few gloriously weird hours, it really did seem like Nick and Corn might've gotten back together. Like that bouncy castle that magically appeared at the Bachelor Mansion last season, it was fun while it lasted.