Did Tom Holland Reveal The 'Spider-Man 2' Title On Instagram?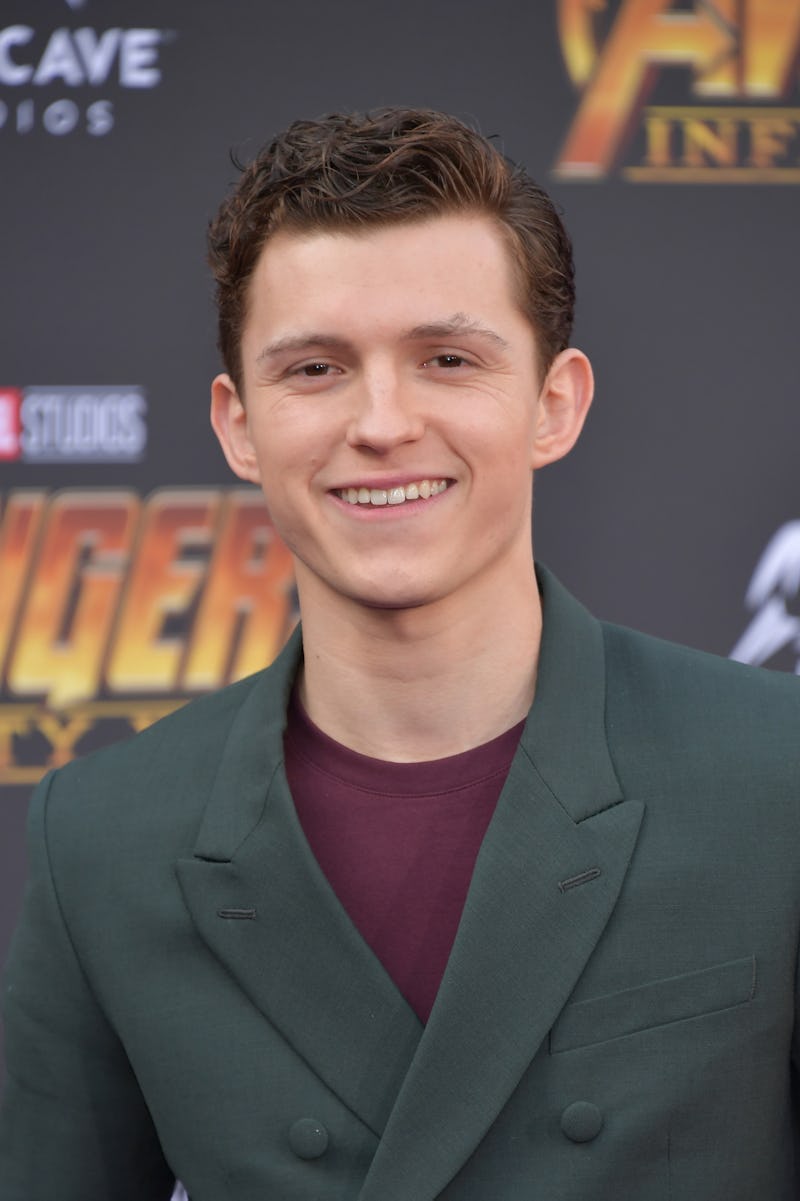 Neilson Barnard/Getty Images Entertainment/Getty Images
Warning: Spoilers ahead for the Marvel Cinematic Universe! If you're not caught up through Avengers: Infinity War, you might want to turn back now.
It broke fans' hearts in Avengers: Infinity War when they realized that Tom Holland's Spider-Man was, you, know, dead. But Tom Holland may have revealed the Spider-Man 2 title in an Instagram video, so, he might not be so dead after all. Considering the film has an official release date, a designated villain, and is rounding out the cast, it's safe to say that Spider-Man is decidedly not dead. And what a relief that is! Holland's hammy, confident, and anxious Spider-Man is an absolute gem; it would be a shame to lose him so quickly. Also, it would be a weird business decision on Marvel's end. So, Spider-Man is alive, he's kicking, and he's got a sequel on the way — but were fans supposed to know the title this early?
In an Instagram video posted from Seattle's Ace Comic-Con, Holland greeted fans and lamented that he didn't have more to share with them. Or did he? The actor held up an iPad that reportedly contained the film's script on it — but more than that, it featured the movie's title. Was it a classic Holland goof, or clever marketing?
"Sorry for no announcements," Holland apologizes in the video, "But I love you guys!" He then held up an iPad that showed off the title page of his Spider-Man 2 script. In it, fans can clearly see the title Spider-Man: Far From Home, which, let's be real, is too good to be a fake out. So let's say that the Spider-Man 2 film is titled Spider-Man: Far From Home, which is basically perfect. It's a continuation of the first film in the new series — 2017's Spider-Man: Homecoming — and implies that this latest entry will provide conflict galore. What's spookier than being far from home? Especially if, you know, your character died.
So, here's what fans reportedly know about the next Spider-Man movie: It's seemingly titled Spider-Man: Far From Home, and will be released on July 5, 2019. Disney/Marvel is clearly anticipating this will be their big summer blockbuster. The Spider-Man 2 nemesis might be played by — get this — Jake Gyllenhaal, who per Deadline is "in talks" to play comic book villain Mysterio.
This is not the first time Holland has come under fire for spilling some top-secret Marvel Cinematic Universe beans. In fact, it might not even be his second or third time. Holland is unintentionally making a habit of being a human spoiler. Not in the Sean Bean sense, where whenever the actor appears in a role, you know the character is doomed, but in the sense of keep an eye on Holland, because he'll say something eventually.
Of course, you can't be entirely sure that this was an accident. It could be a smart marketing ploy by Marvel. After all, the potential news has the internet buzzing. It would be smart of them to literally capitalize on Holland's history of goofing up. But something about this particular Instagram post feels so authentic, so genuine — it has to be real, right? Holland has to have done it again. There's only one way to find out for sure, though, and that's time. Okay, two ways: Time, and/or a statement from Disney/Marvel explaining that it was either an intentionally misleading gimmick or that Holland, once again, is in adorably spouting spoilers.
Whatever the truth is, shout out to Holland for keeping the excitement alive. In his defense, if you found out your character was getting a sequel not long after you died on-screen in a major film, you'd probably want to show off too.