You Won't Believe What Celeb Couple The Rock Takes Credit For Setting Up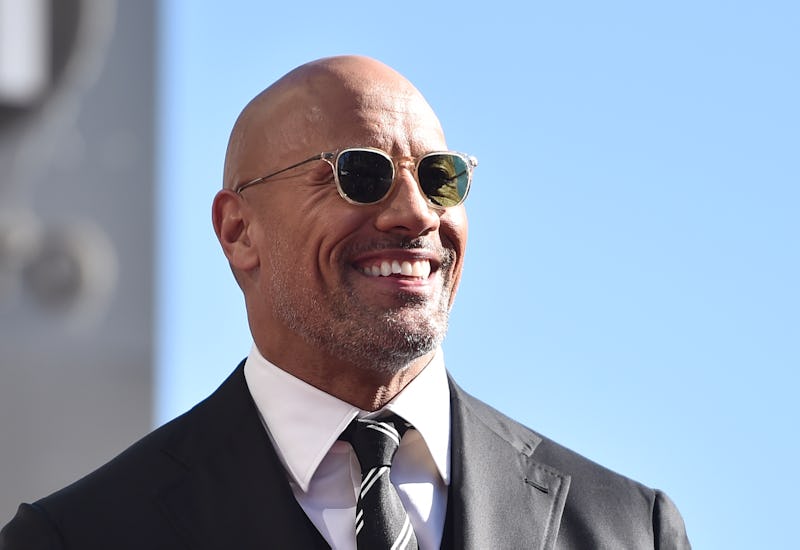 Alberto E. Rodriguez/Getty Images Entertainment/Getty Images
The Rock's got jokes. On July 8, Dwayne "The Rock" Johnson spoke to Entertainment Tonight about his new dramatic disaster thriller, Skyscraper, but the interview itself was low on drama and high on hilarious. After being asked about his former co-stars' new relationship, Johnson took credit for setting up Nick Jonas and Priyanka Chopra. He was kidding, of course, as any #Jopra stan would know, since Jonas and Chopra were actually introduced by another famous friend. (Bustle reached out to Jonas and Chopra's reps for comment on the relationship rumors, but has not received a response.)
When ET's Kevin Frazier asked Johnson, "You brought Nick and Priyanka together. Is that true?" Johnson replied with a question of his own: "Are they happy?" Frazier confirmed, "They're happy," to which Johnson then joked, "Well, then, I take credit ... I did it, yes. If they're happy."
While Johnson's comment was clearly in jest, he is a common thread between the new lovebirds. In 2017, The Rock appeared alongside Jonas in the Jumanji sequel/reboot, Jumanji: Welcome to the Jungle. That same year, he also starred in the big-screen adaptation of Baywatch opposite Chopra. So, is it possible that Johnson could have been the one to set them up?
Yes, it's possible. He didn't, though. That credit most likely goes to another famous mutual friend of the couple's: "this guy Graham" aka Quantico star, Graham Rogers. Back in December 2017, Jonas reportedly told the Indo Asian News Service that he and Chopra were first introduced by a mutual friend on the same day they found out they'd be attending the 2017 Met Gala together.
"[Chopra and I] met through a mutual friend," Jonas said, "who she did Quantico with — this guy Graham — and we met up like, in New York the first time, and the same day I think we found out that we were both going to the Met Gala with Ralph Lauren."
So, Chopra and "that guy Graham" aka Rogers were both on Quantico together. How does Jonas know Rogers, though, you ask? Well, the two guys have actually known each other since at least 2015, when they were co-stars in the erotic thriller, Careful What You Wish For.
Neither Chopra nor Jonas have publicly confirmed that they're an item yet, but the proof is all over their social media pages — and yes, to reiterate, they do look happy. It all started with some supposedly cozy-looking sightings of the couple back in May, which was followed by Jonas and Chopra doing some not-so-subtle flirting in each other's Instagram comments. Not long after, they basically went Instagram official, and now they're reportedly jet-setting all over the globe together.
Not only that, but it seems like Chopra's already been introduced to Jonas' family, not one but two times over the course of their newly-budding romance. The first time was seemingly when the pair attended Jonas' cousin's wedding in New Jersey on June 9, according to Us Weekly. They must have all hit it off, because Chopra celebrated the Fourth of July with the JoBros and Co. less than one month later, as reported by E! News.
Jonas reportedly met Chopra's mom as well, according to People, when the couple visited Chopra's native Mumbai for a mehendi ceremony and a pre-engagement party for two of the Quantico star's friends. "They're very happy," a source for People said of the couple. "It's getting serious."
"Serious" seems like an understatement, considering there are now rumors floating around that the two stars are engaged. Again, they've still yet to confirm that they're officially together. And while The Rock isn't responsible for this reportedly fast-moving romance, if they do end up getting engaged, perhaps he'll at least score an invite to his former co-stars' festivities.