Evan Rachel Wood Will FINALLY Get Equal Pay For 'Westworld' & Honestly, It's Long Overdue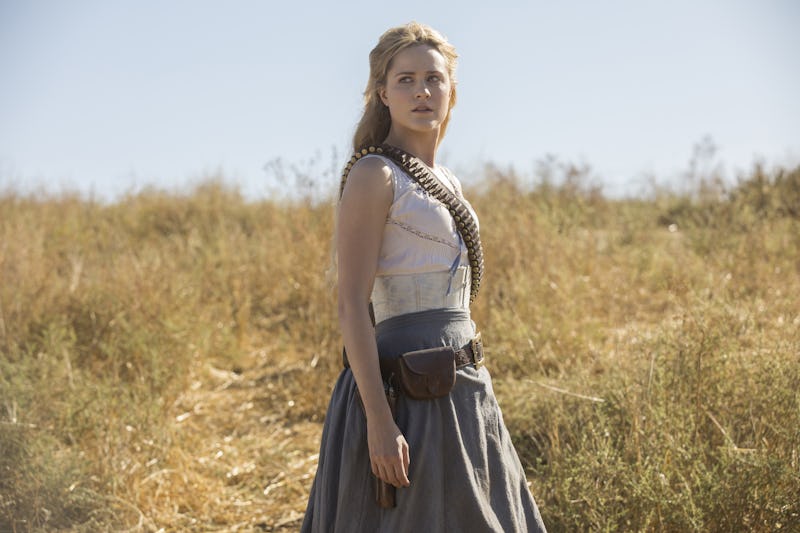 John P. Johnson/HBO
Next season on Westworld, things are going to be a little fairer — at least behind the scenes. Evan Rachel Wood will be paid the same as her male Westworld co-stars in Season 3, according to a new interview with TheWrap. This is the first time Wood has ever received gender parity on a project. No surprise, the actor, who's been working for more than 20 years and whose character Dolores is the heart and soul of Westworld, was emotional over this new development. And while fans are likely excited, there's a good chance they're not surprised that it took this long, since most women in Hollywood are still fighting to get paid what they deserve.
"I've never been paid the same as my male counterparts," Wood told TheWrap, only to have her interviewer, Sharon Waxman, CEO and founder of the publication, disappointedly respond, "Don't tell me that." But, the actor had to, because it was true. "I think I'm just now to the point where I'm getting paid the same as my male costars," Wood said.
It's not something fans of the actor want to hear, but it's why Wood was so surprised to know that in Westworld Season 3, that will all change. Next season, she'll get paid the same as the show's male stars like Ed Harris and Anthony Hopkins. As for how she learned about this change, Wood said, "I was just told, 'hey, you're getting equal pay.'" It was shocking for her, she admits. "I almost got emotional," she said, noting that while she was married to actor Jamie Bell, who she divorced in 2014 after two years of marriage, he was always paid more than her. "And I actually worked more," she added.
As much as Waxman and others don't want to hear it, none of this is all that surprising. In the past year, amid the #MeToo and Time's Up movement, female actors have become more open about Hollywood's gender pay gap. In 2016, Robin Wright revealed how she fought for equal pay on House of Cards. In an interview at the Rockefeller Foundation that May, Wright explained:
"I was like, 'I want to be paid the same as Kevin [Spacey].' It was the perfect paradigm, [because] there are very few films or TV shows where the male, the patriarch, and the matriarch are equal. And they are in House of Cards. I was looking at the statistics and Claire Underwood's character was more popular than [Frank's] for a period of time. So I capitalized on it. I was like, 'You better pay me or I'm going to go public.' And they did."
But, last year, Wright revealed that she hadn't actually been paid equally. "I was told that I was getting equal pay and I believed them," she told The Edit, "and I found out recently that it's not true... so that's something to investigate." The fact that she was reportedly lied to also showed what women in Hollywood are really up against, in the sense that even when they're assured they are being paid equal they can't necessarily believe it.
This was similar in the case of Michelle Williams, who was reportedly paid eight times less than her All The Money In The World costar Mark Wahlberg for reshoots on the film. According to The Hollywood Reporter, Williams was paid just $625,000 to Wahlberg's $5 million.
Last month, it was revealed that The Crown's Claire Foy was being paid less than her male co-star Matt Smith. It was a troublesome realization being that Foy is the one wearing the titular crown, making her the most important person on screen. Foy, though, did get what she deserved. "Going forward, no one gets paid more than the Queen," one of the show's producers made clear during a panel in March. (Bustle reached out to Netflix at the time about the pay disparity, but did not receive an immediate response.)
But, it's not just a difference between what men and women are being paid on projects; Hollywood needs to mind the gap between what white women and women of color are getting paid to make movies or TV. According to Inequality.org, while white women make 80 cents for every dollar a white man earns, black women make 64 cents, something Octavia Spencer had to make clear to her friend Jessica Chastain.
"Here's the thing, women of color on that spectrum, we make far less than white women," Spencer said she told her The Help co-star during a panel at the Sundance Film Festival. "So, if we're gonna have that conversation about pay equity, we gotta bring the women of color to the table." That's what they did; Spencer and Chastain negotiated together for higher salaries on their upcoming joint movie.
This is all to say that these kinds of salary upgrades are a long time coming not just for Wood, but Hollywood in general. "I'm always fighting for that," Wood told TheWrap, explaining that she's "pretty much" made "the same amount of money on things for years," and while she's lucky, this discussion of equal pay is "more about if you're getting paid fairly, or the same, or if you're getting paid less simply because you're a woman, that's not fair."
Wood said she's turned down projects over pay, but with Westworld, she was a little more understanding of the pay discrepancy being the caliber of actors she was working with. "It's like, 'Well, you're Anthony Hopkins or Ed Harris,'" she said. "But I think now we're all doing equal amounts of work and really hard work."
Paying their actors fairly is something HBO started doing only recently, thanks to Reese Witherspoon and Big Little Lies. In a recent interview with The Hollywood Reporter, HBO's president of programming, Casey Bloys, revealed that, in part because of the Big Little Lies cast's involvement with the Time's Up movement, the network is trying to eliminate the gender pay gap in Hollywood across all their shows. "We went through and made sure that there were no inappropriate disparities in pay," Bloys said. "And where there were, if we found any, we corrected it going forward."
As Wood told TheWrap, it's something she appreciates. "There's a lot of politics, but there's a lot of things that are now being talked about in a different way," Wood said, adding, "But this is the first time that somebody made a point of being like, 'Hey you're getting this. And you deserve it.' And that was nice."
Wood is finally get paid what she deserves, which is something to celebrate. But what this news also highlights is how much more work Hollywood needs to do to make sure all female stars are being treated fairly.