11 Awkward Convos You Should Have With Your Partner To Make Your Relationship Stronger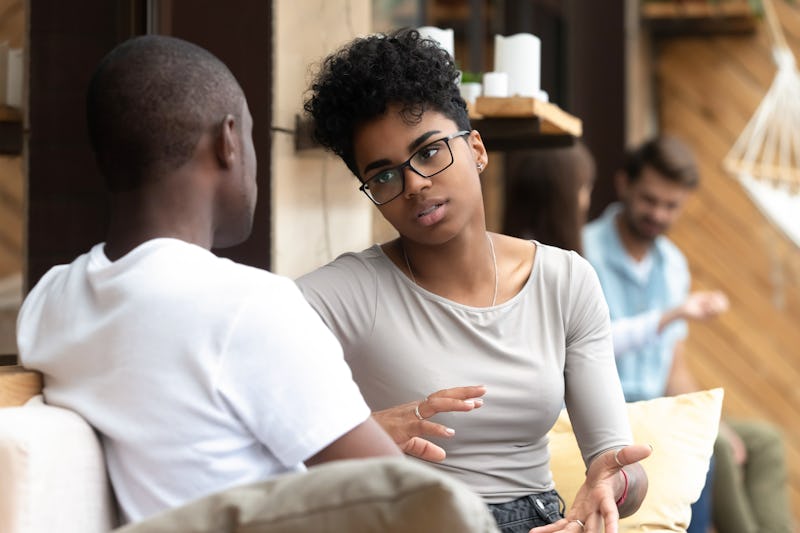 Shutterstock
In order to build a strong foundation for your relationship, it may be necessary to have an awkward conversation or two with your partner. This might include chatting about tough topics like finances, your sex life, and your boundaries. And while it may not be easy to bring these things up, doing so will definitely help strengthen your bond as a couple.
"Being able to communicate about the hard stuff is what separates relationships that last and those that don't," Theresa Herring, LMFT, a Chicago-area couples therapist, tells Bustle. "It is a fundamental skill that all couples need to sustain a long, healthy, and happy relationship."
After all, talking about these things helps ensure you're both on the same page, allows you to make plans for the future, and even creates space to talk about what might not be working, at which point you can try to reach a compromise.
Of course, these conversations don't have to be awkward. You can certainly talk about money without feeling weird, or bring up sex without squirming in your seat. To do so, it can help to chip away at the awkwardness by chatting about these things more often, approaching them at the right moment, and being sure to listen to each other.
With that in mind, here are some potentially-awkward conversations you may want to have with your partner, according to experts, in order to build a strong foundation for your relationship.