This Is The Best Side Hustle For You, Based On Your Zodiac Sign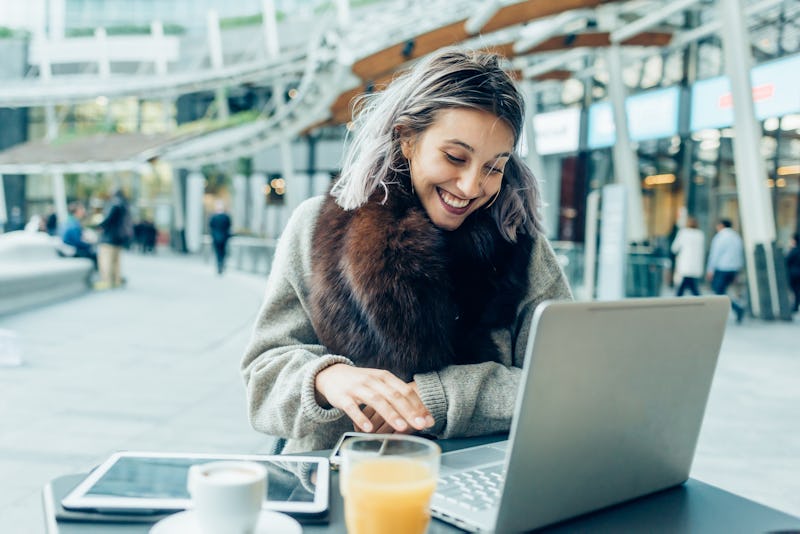 Fotolia
For the third year in a row, Bustle's Upstart Awards are honoring young women who are doing incredible things in the realms of business, STEM, fashion and beauty, the arts, philanthropy, and beyond. Want to be an Upstarts honoree one day? Read on for career tips, insights, and inspiration to help get you there.
The average annual salary per individual in the United States is $55,775. according to a Census ACS survey. And depending on where you live this could be a good, if not a great salary. But, if you happen to live in New York City, San Francisco, or any of the other major cities across the country, you might look at that amount and realize that's about what you spend on rent, or what you might even spend on takeout in a year. What this means is that you may need some extra income. But where do you even begin trying to find a side job? You can start by looking at your zodiac sign.
"Some signs are naturally more adept when it comes to making a little extra green," psychic medium Imelda Green tells Bustle. "Leo, Taurus, and Pisces are all signs that simply exceed at finding opportunity where other signs (especially Aries signs) will simply let the same opportunities pass them by. In my experience, the effect of the Sun on each sign seems to energize signs and pushes them to make more money, with the stronger influence of the sun directly correlating to a stronger desire to earn more."
So if you're considering getting an extra job to pay off your bills and finally put you in the position to invest (adulthood, anyone?), here are the side hustles that will work best for you depending on your sign.
Side hustle: Public relations
Because Aries needs to be in charge and have the attitude to go out there and get stuff done, doing PR work on the side is a great option. PR is a job that never sleeps, so you can easily do it at night or on the weekends.
Side hustle: Dog walker
Stubborn, focused, and not willing to give up, Taurus does best when they don't have a boss breathing down their neck. If ever there were a side hustle that would make bank and help you avoid a micromanaging boss, it's being a dog walker. That pays quite a bit in cities, and also, puppy cuddles.
Side hustle: Freelance writing
With two personalities wrapped into one it only makes sense that Gemini would have more than one job. So while during the day you can feed the technical part of you, at night you can let your creative juices flow; freelance writing is a perfect option.
Side hustle: An after-school program
Because Cancer inherently wants to take care of someone else, a side hustle that will give you that opportunity needs to be one in which you get to express you caring ability. While volunteering is a great option for Cancer, it doesn't pay. Instead, you might want to look into working at an after-school program where you can get paid to, well, care.
Side hustle: Guide
Leo wants to lead and has the energy to do it. That's why being a guide as a side hustle — whether it's around a city, museum, park, etc. — is ideal for you. You want to excite people with your energy and knowledge, as well as be the leader of the pack.
Side hustle: Barista
Because Virgo likes details and does a damn fine job in the service sector, a barista at a trendy coffee shop is the side hustle for you. Why trendy? Well, your attention to detail will thrive in an environment where latte art is truly appreciated.
Side hustle: Retail
As the one sign on here that can sell anything to anyone even if that person on the buying end doesn't need it, Libra's side hustle will best be met in retail. Also, think of all those discounts you'll get!
Side hustle: Tutor
The intensity that Scorpios have running through their body needs to be shared. And, speaking of sharing, Scorpios want to do just that in the hopes of seeing a positive result. Taking a D-student to an A-student is exactly what you need if you're born under the Scorpio sign.
Side hustle: Foreign language instructor
Sagittarius' love for travel has taken you all over the world and showed you a lot of things. It's in these travels that you probably picked up a language or two. Why not share your knowledge? You get to brag about your travels and take home a check. Pretty awesome deal.
Side hustle: Coach
Capricorn wants tangible results that will echo forever, making sure they're not forgotten anytime soon. Stepping in to being a coach or assistant coach of any team and working your magic is the side hustle which you've been dreaming of forever. Once you turn that underdog team around, the town will throw a parade in your honor.
Side hustle: Musician
Aquarius has a deep disdain for everything and anything conventional. So while you may be stuck in a 9-5 job that's too conventional for your bones all day long, on the side you can pursue another path that breaks the mold. Being a musician may not pay the bills if you do it full-time, but part-time it's a great way to make some extra cash.
Side hustle: Arts and crafts teacher
Pisces' artsy nature means you need to express yourself, artistically, by any means possible. While very few of us are lucky enough to have a full-time job in the arts, you can at least get your artsy fix by bringing your creativity to an after-school program as an arts and crafts teacher. Everyone loves macaroni art.
Even if your full-time job pays the bills, sometimes having extra income or a side hustle to break up the monotony of your other job is exactly what you need. It's also a great opportunity to pursue things that your full-time job might not let you — like macaroni art, for starters.