7 Simple Ways To Make Your Makeup Last Through Any Holiday Party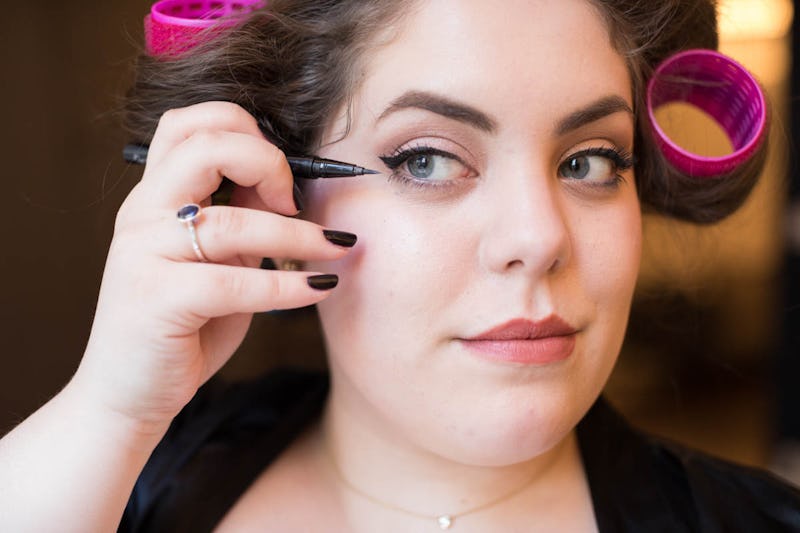 Bustle
New Year's Eve fêtes aren't your average celebrations for a few reasons: There's usually way more champagne, glitter, and cheesy novelty eyewear than you'd find the rest of the year. They're also a rare breed because the peak of the party doesn't happen till midnight — which is also probably when you want to look and feel your best (you know, for the Snapchat selfie).
The trouble is, if you're four or five hours deep into a party when the clock strikes midnight, so is your makeup. But it doesn't have to look that way. To prevent your makeup from fading or slipping by the time you finally get to kiss 2017 goodbye, there are a few measures you can take ahead of time to make sue your makeup looks just as perfect at the end of the night as it did at the beginning.
Sure, the obvious advice here is to opt for long-wear and waterproof products, but let's face it: It can be hard enough to find a trusty foundation or mascara that you love in the first place. So chances are, you're probably not going to hunt for a new version of a product you already have just for the "24-hour" label.
That's where these hacks come in. By adding some new products and practices to your arsenal, you can make any makeup look incredible for hours. Here are seven tips to try if you want to ring in the new year on ***flawless note.
1. Prep Your Skin And Lips By Exfoliating And Moisturizing
Clarisonic Mia 1 Skin Cleansing System, $129, Sephora
A mini DIY facial before you start getting ready can go a long way. Start by exfoliating with a gentle scrub or skin brush to slough away dead skin cells and dry, flaky skin.
This allows a light moisturizer (your next step) to penetrate more deeply. Hydrated skin helps prevent makeup from caking or settling into dry spots, which is a super-common problem in the winter. Think of both of these steps as creating the perfect canvas for makeup that stays put.
And don't forget to exfoliate and moisturize your lips, too, if you're wearing a fun lipstick look to toast 2018. The same concept applies — a smooth, un-flaky pout means better (and longer lasting) lip color.
2. Pre-Game Your Makeup With Primer
Smashbox Photo Finish Foundation Primer, $36, Sephora
Makeup primer is another key step to creating the perfect canvas for all of your other products. Depending on the product, primers can reduce the appearance of pores, mattify or brighten skin, and even "blur" imperfections. Basically, a primer puts a layer of product between your skin and the rest of your makeup, designed to help prevent foundation from settling into pores, give makeup something to "stick to," and create a silky-smooth base for application.
Arguably more important than face primer is eyelid primer — it's a game-changer to prevent shadow from creasing. If you really want to go the extra mile, you can also try eyelash primer and lip primer.
3. Layer Cream Products Under Powder Products
Tarteist PRO Glow to Go Highlight & Contour Palette, $23, Tarte
For dramatic contour and highlighter that stays put and perfectly flushed cheeks that won't quit, double up with your favorite cream or liquid product, followed by your favorite powder product of the same kind. The shades will be super-saturated if you're going for a bold look. (And on New Year's Eve, the bolder, the better.)
A few rules here: Always start with your liquid products first — putting liquid over powder can end up making things look cake-y. After you've used your cream contour, blush, and highlighter, let them dry or blot away the excess before you do a second layer of powder products (this will also help prevent caking).
4. Fill Your Lips With Lip Liner
NARS Precision Lip Liner, $24, Sephora
Using it the way it's intended, lip liner creates a "shield" around your lips to prevent lipstick from feathering and bleeding. However, you might want to color inside the lines if you're wearing a bold New Year's Eve color, too. Filling your entire bottom and top lips with liner will give your lipstick something to adhere to, which means more staying power.
5. Set Your Makeup With Powder
Too Faced Peach Perfect Mattifying Setting Powder, $32, Sephora
Gone are the days where women need to be excused to powder their noses, but that doesn't mean powder is rendered obsolete. Once your masterpiece is complete, use a brush to lightly apply a translucent powder to set everything in place (particularly on your T-zone and a little under your eyes).
You can even use powder to set lipstick — pull a tissue apart, put one ply on your lips, and dust powder overtop.
6. Give Jamsu A Try
Johnson & Johnson Baby Powder, $1.47, Target
If you really want to go the extra mile, you can give K-beauty hack Jamsu a try — it promises to keep your makeup in place like no other. Here's how it works: After you're done doing your makeup, you coat your face entirely in baby powder, then dunk your face in cool water for 15 to 20 seconds. Lightly towel off for a velvet-like finish. (You might want to give this a test run pre-NYE to see if you like the end result.)
7. Spritz On A Setting Spray
Urban Decay All Nighter Long-Lasting Makeup Setting Spray, $32, Sephora
If you want to keep things simple (or you just want to lock in your other steps), spritz on a setting spray before you walk out the door. It keeps makeup looking fresh and glow-y, while holding everything in its rightful place.