Here's How To Stream The Fisher & Reynolds' Memorial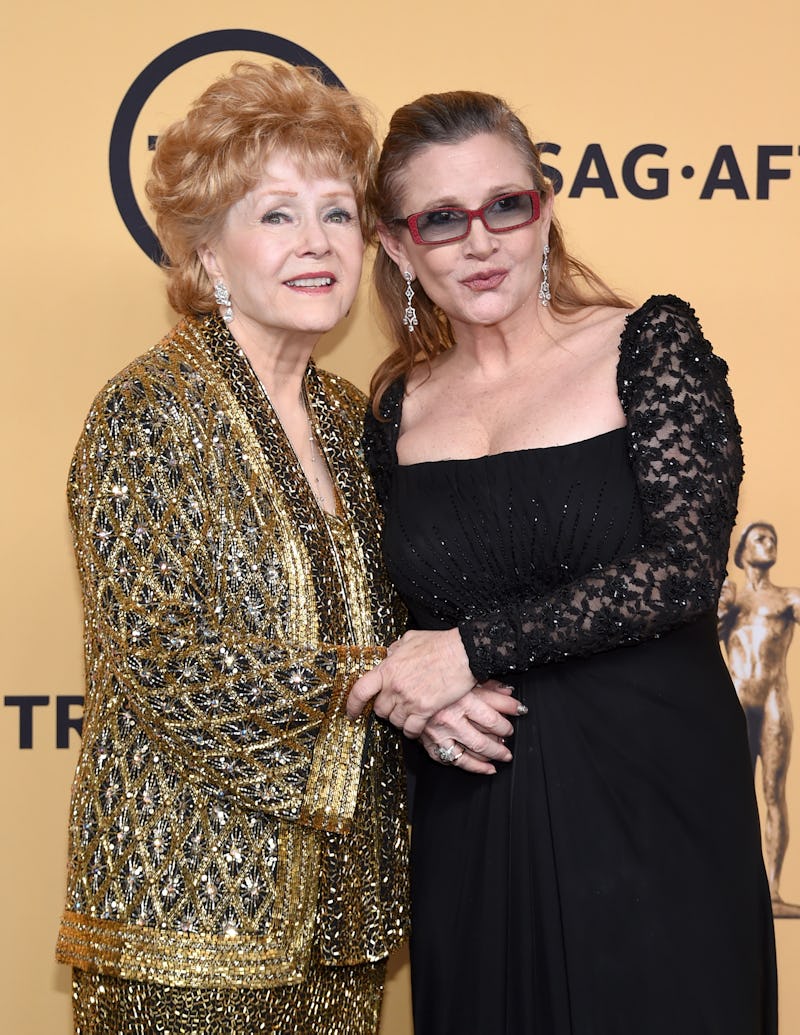 Ethan Miller/Getty Images Entertainment/Getty Images
Nearly three months after the sudden passing of mother and daughter Hollywood legends Debbie Reynolds and Carrie Fisher, fans are getting a chance to pay their respects. A public memorial will be held Saturday at 1 p.m. PST at Forest Lawn, Hollywood Hills, where both stars are buried. If you cannot attend the event in person, finding out how to stream the Fisher and Reynolds' memorial will be simple. Fans can go to debbiereynolds.com to stream the tribute live.
Fisher passed away on Dec. 27 at age 60, after experiencing a medical emergency during a flight from London. Her mother, Reynolds, died on Dec. 28 at the age of 84. Both Fisher and Reynolds were icons in Hollywood; Fisher for her role as Princess Leia in Star Wars and her talents as a writer, and Reynolds as a Golden Age star of hits like Singin' in the Rain. Both women touched the lives of countless fans, both famous and not, and this joint tribute to their legacy will be a celebration of their lives.
According to the official site, the memorial will feature the debut of an original song James Blunt wrote in memory of Fisher. The "You're Beautiful" singer was a close friend of Fisher's, who was also his son's godmother. Carrie's brother, Todd Fisher, revealed the song's final line to Entertainment Tonight. The new song will end, "I'm here to let you know/I'm here to let you go."
In addition to Blunt's song, the memorial will also include a dance tribute by The Debbie Reynolds Studio, and a performance by the Gay Men's Chorus of Los Angeles. There will also be music from Star Wars composer John Williams, and lots of memorabilia from the actors' careers on display. The event is sure to be an emotional, but cathartic, sendoff to two of America's greatest actors.
In January, The Fisher-Reynolds family had a private ceremony after the loss of Carrie and Debbie, and it gave them a chance to mourn privately. This memorial is all about celebrating how these two women impacted lives across the world through their performances and inspiring words. Both Fisher and Reynolds were more than actors, they were performers, writers, comedians, inspirations, and in the case of Fisher, a mental health advocate.
Giving the public — even those who cannot be there in person — a chance to say goodbye is a beautiful way to honor the mother and daughter duo. Head over to debbiereynolds.com at 1 p.m. PST/4 p.m. EST to watch the full memorial live.