If You're Still Having These 11 Arguments, You're Forcing Your Relationship To Work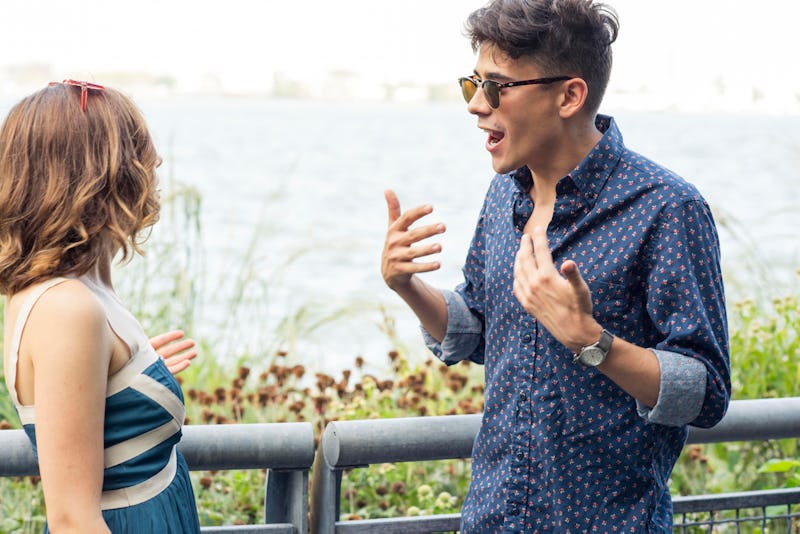 BDG Media, Inc.
If a couple wants or needs to argue over something, they should certainly go for it, as long as they do so in a healthy way. In many ways, having a disagreement can actually be a good thing, since it allows both partners a chance to hash out differences and speak their minds. But if you keep having the same argument over and over again with your partner, or if your arguments are quick to turn sour, it could be a sign you might be forcing the things to work.
It might also mean that you and your partner simply haven't addressed the underlying cause of the argument, in which case a heart-to-heart — or even couples therapy — may be just what you need. "If you fight over the same issue all the time, it doesn't mean the relationship is doomed to fail," Jonathan Bennett, certified counselor and co-founder of Double Trust Dating and Relationships, tells Bustle. "However ... if you can't dig deeper and truly resolve the fundamental issues, then you might be 'forcing' the relationship and staying with it for reasons other than love and happiness."
In order to figure out the difference, it'll be important to find a way to resolve these issues — if you'd like the relationship to work. But if you've tried everything, and the topics below keep coming back to haunt you, experts say it may be a good idea to reevaluate the relationship.